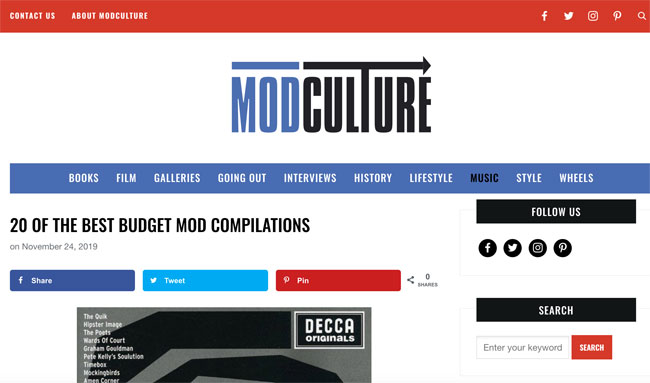 Modculture is a pretty much an online magazine for Mods. Or at least, that's the idea of it in the 21st century.
It's a website that is based around Mods and the Mod scene, as well as covering areas that are likely to be of interest to such people. Oh yes, I have been doing that since February 2000. That's a scary thought.
The site was originally set up out of a need because there wasn't a Mod-related website around at the time. It worked alongside the Northern Mods mailing list in its early days, offering reviews and listings alongside the 'chat' of the mailing list. Back then, it was known as the Northern Mods website (and to some, it still is bizarrely).
After about a year, the site expanded its reach away from just the north of England and took on a new name – Modculture. This has been the name used ever since. Over the years, the site has gone through a number of different looks and layouts, the latest of which launched in January 2020. It has won awards too and hopefully influenced and helped thousands of people around the globe.
The looks might have changed, but the content and the idea behind the site hasn't. The site is still owned and run by Dave Walker, but it relies heavily on YOU for submitting ideas, articles, photos, links and anything else you feel is relevant to the site.
It still covers (and always has covered) the Mod scene in its widest sense, promoting all that is positive and stylish about it. That's likely to be the case for some years yet.
But as I said, it's not just a solo trip. If you want to get involved with the site in any way, please contact me I am always happy to hear from you.
You don't have to be a Mod, you just have to be interested in the things I cover, everything from music and movies to retro design and vintage mobile apps. If that's you, you know where to find me.
Oh yes, it has recently a bit of a makeover, adding in some mobile-friendliness and general ease of use. Hopefully, that will keep things going for some years yet.
Affiliate disclosure:
This is a personal blog written by myself and the contents are my own opinions and thoughts. Occasionally guest writers create content, but this is never commercial content.
Any items or products featured on this site have been found or purchased by myself unless otherwise stated.
But in terms of financing the website, I do use affiliate links, although this does not influence my decision to feature a product. All features are independent of any third party. I state clearly on each post that affiliate links may be present in an article for full disclosure and clarity.
It will always be clear if a product has been given to me in return for a review. As a rule, this very rarely happens, if at all. Whatever the circumstance, the opinions given by me are always honest and my own. Otherwise, the website just wouldn't work.
I do not accept any kind of paid or guest post in return for money or product. If this happened in future, an article would be clearly stated as being a sponsored post.