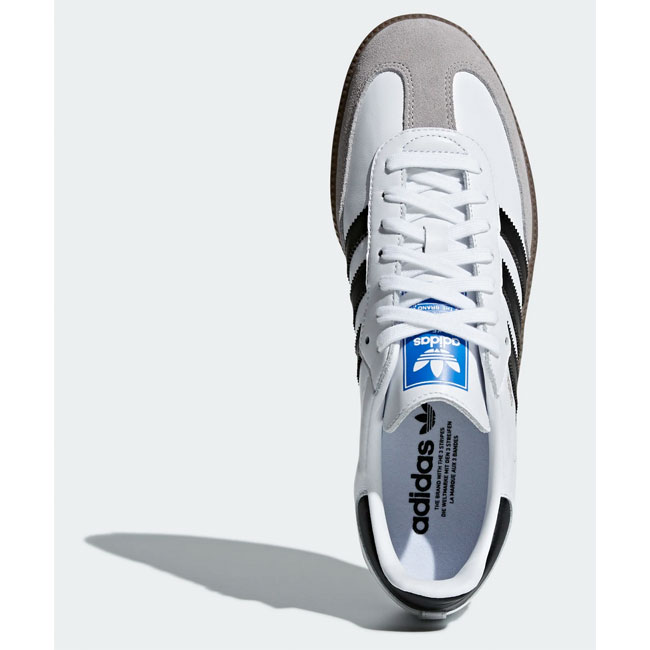 Note that I independently write and research everything in this article. But it may contain affiliate links.
Mods and trainers? It is a thing and here are 10 of the best 1960s-style Mod trainers for you to check out, with most available to buy right now.
The thing about Mod is that history is continually rewritten. Hardly surprising when you are looking at a scene that is pushing 60 years old.
The stereotypical Mod wears a parka, shrink-to-fit Levi's, desert boots and a button-down or Fred Perry shirt. A tailored suit and loafers for a big night out too. But it wasn't quite as formulaic as that.
Mods were all about standing out from the crowd, not fitting into a stereotype. So fashions were far broader than mod folk law might suggest. Trainers? Well, sports shoes were a thing across the board for casual wear. Images across the 1960s, 1970s and 1980s, not to mention the modern eras, bear this out. Don't let the know-all on Facebook with his 1980s rulebook tell you any different.
Have a watch of the Gideon's Way episode called The Rhyme and the Reason (I've sneaked it in above), where a sports shoe belonging to the Mod played by Alan Rothwell is the focal point of the entire episode. Well worth a watch. That shoe was a Converse, which I haven't mentioned here, but is a classic (and likely quite niche at the time) that seems to have long lost its association with Mods.
But sports shoes and trainers, in particular, have continued to play a part for Mods and the Mod scene. From the cover of the original Quadrophenia album of 1973 through to the Britpop years and beyond. Trainers (or sneakers if you are outside the UK) remain a popular casual footwear option.
There aren't any 'Mod trainers' as a defined group, but there are styles that appeal to Mods, and there are a number of styles that were born in the 1960s that remain popular today. So I have largely (but not entirely) gone down that route.
Picking out styles that were available in the 1960s and (mostly) still available to buy today. They might not have been on the retail shelves back in the 1960s, but they all look the part right now.
One last point. If any of the styles below are no longer available, they will almost certainly be available on eBay. The downside might well be a higher price due to rarity, but you might surprise yourself with a bargain too.
So that top 10, in no particular order…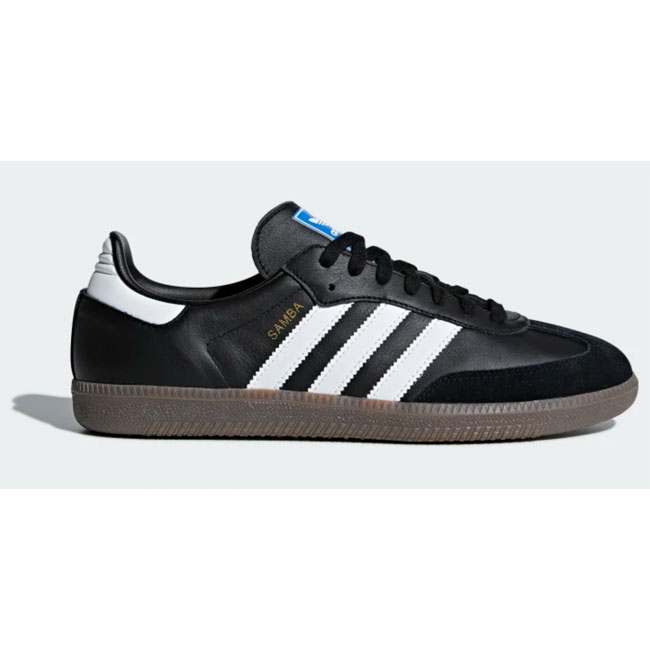 1. Adidas Samba
A classic and one that would have been around to buy in the mid-1960s.
The Samba is an indoor football shoe, a constant presence in the Adidas range and a shoe that is said to have sold over 35 million pairs in its history. It actually dates from 1949, but the design we know is probably from around 1962.
The Samba OG is the one to go for, with a leather upper, contrasting heel and stripes, suede toe overlay and gum sole. Plenty of colours to pick from and all are priced around the £90 mark.
Find out more at the Size? website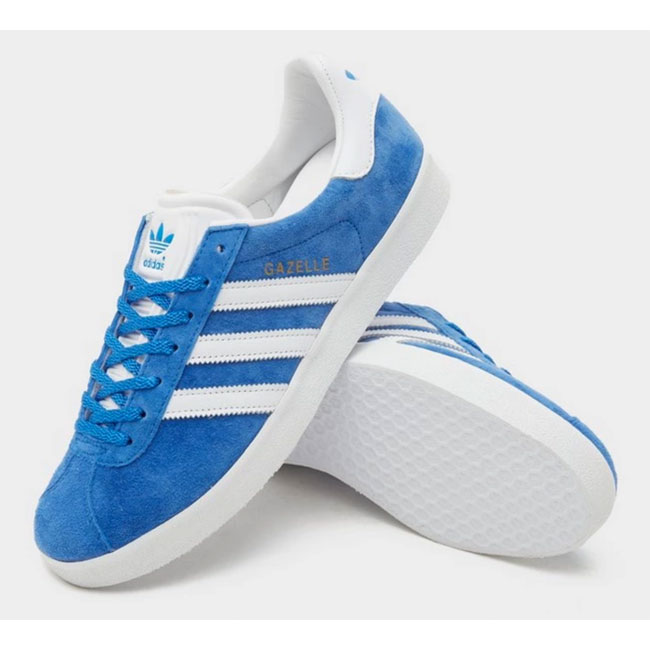 2. Adidas Gazelle
Hard to mention the Samba without mentioning the Gazelle, another hugely popular shoe and continual presence in the Adidas range. But it is a shoe that has changed.
The Gazelle is based on a shoe I'll feature further down the list, but it made its debut in the mid-1960s in suede, which is the most common finish for the shoe. With its contrasting details and T-toe overlay, the Gazelle was a template for many that followed.
The classic was always the Gazelle OG, which was based on the 1960s shoe. But that was followed by a slightly chunkier Gazelle II. However, Adidas has changed things since with just one shoe now, which tends to be based on the 1985 Gazelle. It looks good (especially when it got reissued with the white lace box detail), but it isn't quite the OG.
If you want a pair, you are looking at something between £80 and £100.
Find out more at the Size? website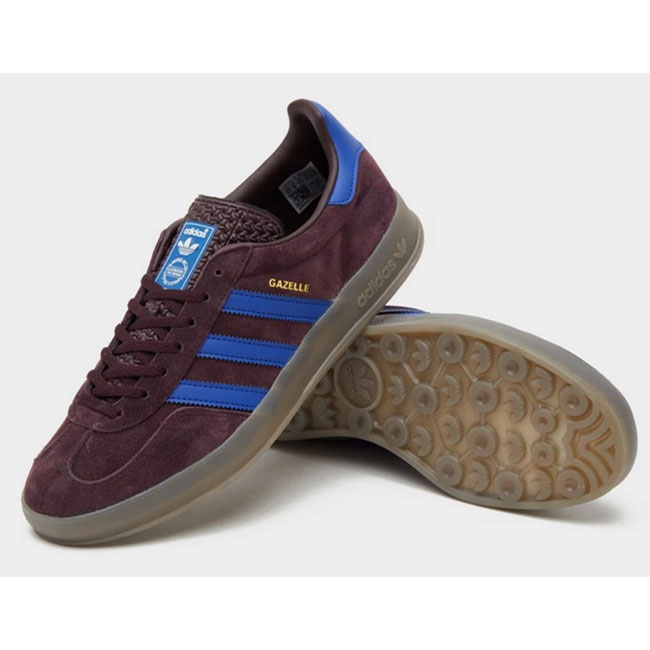 Note also the slightly later variation of the Adidas Gazelle Indoor, which you can see above, and you can order via the same link as above too. Similar price.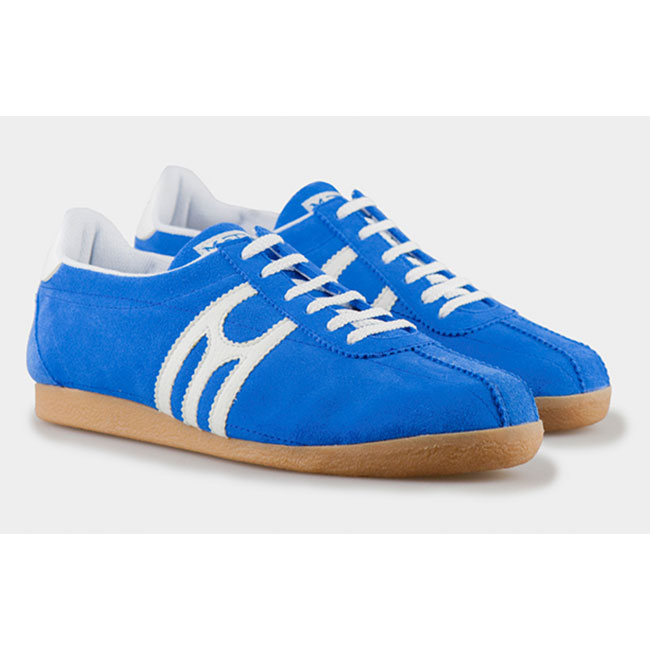 3. Handmade 1960s MaTes Carmel Classic trainers
This is a style that definitely wouldn't have been on the shelves in the 1960s. It was a niche sports shoe then and is only now making itself available to a wider market. That's the power of the internet for you.
Looking a touch like the original Gazelle, this is a shoe from a small maker that managed to get a big reputation for sports shoes from the 1940s through to the 1970s in Spain. But like many makers, sales suffered as the big labels moved in with big money and contracts at major sporting events.
The Carmel Classic is based on an original 1960s sports shoe and is still produced using the same meticulous handcrafted processes developed by Francesc Mates. A suede upper, gum sole and enough originality to stand out from the sea of Adidas. €124 is the price of a pair.
Find out more at the MaTes website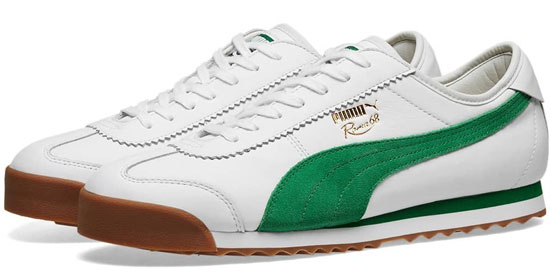 4. Puma Roma trainers
Another classic of its day, but it's a shoe that suffers from inferior makeovers.
The original Puma dates back to 1968 and was produced in recognition of the Italian football team's success at the European Championships of this year. It occasionally returns in OG form, but the inferior follow-ups tend to hog the shelves. Shame really as the original with its leather upper, low heel and the serrated sole is an eye-catcher.
£79 was the price when they were last offered for sale, but as you might have worked out from that, the shoes are no longer in the range. But the good news is that you can pick pairs up fairly cheaply on eBay. From around £30 or so.
Find out more at the eBay website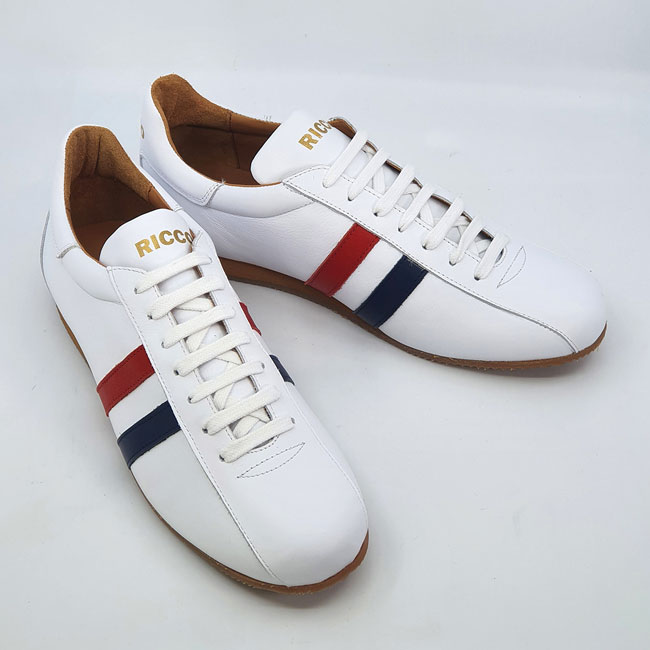 5. Ricco Old School Trainers by Mod Shoes
This isn't a 1960s design. In fact, it's quite a recent one. But a design that takes inspiration from the past.
They are actually inspired by a pair of vintage bowling shoes once owned by the man behind the label. It has been adapted, taking further inspiration from vintage trainers of the mid-20th century, with the end result being what you see here.
I love the white version with the contrasting red and blue stripes (very 'Mod'), but there are plenty of other colours to choose from too. I have a pair, and they are very comfortable for day-to-day wear.
Price? £94.
Find out more at the Mod Shoes website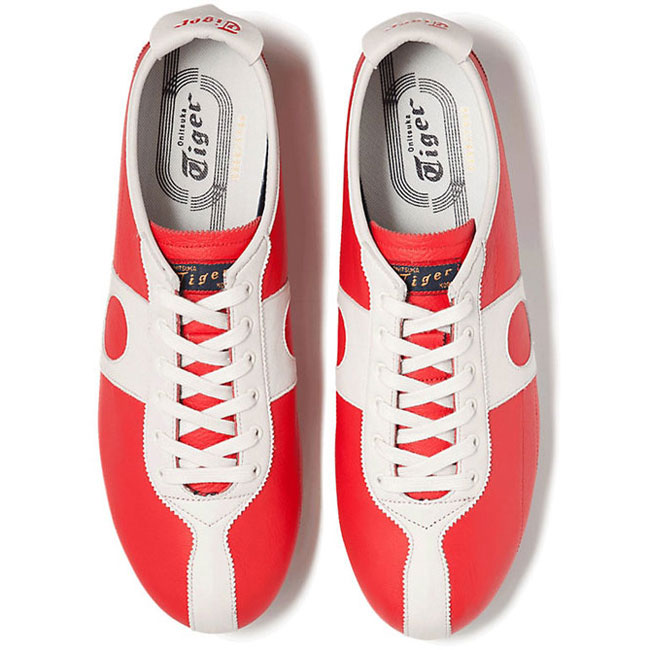 6. Onitsuka Tiger Nippon 60 trainers
I had to put this one in, although it will mean searching around eBay for a pair.
That's because Onitsuka Tiger doesn't seem keen on reissuing these. It was way back in 2007 when I mentioned these on Modculture and stock was snapped up quickly. And it never returned. I did a feature on these on His Knibs in the hope it would attract their attention. It did. They were available for a matter of weeks then disappeared once more.
A very cool style though if you can find them. The shoes were produced in 1960 for the Japanese delegation at the Olympics in Rome of that year, a low-profile shoe that looks like it belongs in a bowling alley. Minimal detailing, but what is there catches the eye. The latest incarnation was high end too, as well as a limited edition of just 1,964 pairs.
Both colours appeal, but if you want a pair of either, do check eBay, as some sizes do appear there. Just not that often and rarely cheap. I would say around £100 for a pair of new or as-new Nippon 60s.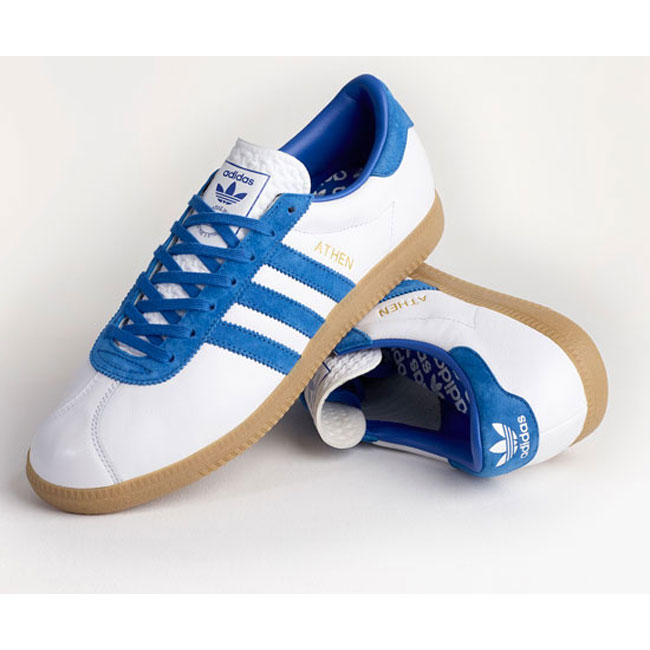 7. Adidas Athen
What happened to the Adidas Athen? It was everywhere in 2017 and then…nowhere. Well, not quite true as some colours do occasionally appear. Just not the original ones.
This is both annoying and a real shame as Adidas finally managed to find a gem in their archive that really needed to be back in the range regularly.
The shoe was originally the Jaguar back in 1967 but got the name Athen in 1968 as Adidas went down the 'city' route for names. Just a dream too in whatever colour you go for, although blue is the original and best-loved. Personally, I prefer the white leather one pictured here. Sadly, not on the shelves right now.
But typically it's a suede upper, white detailing, gum sole and the minimum of fuss. Plenty on eBay in all the colours and from as little as £20 too. So grab yourself a classy bargain.
Adidas Athen at the eBay website
Update: A number of suede colours were reissued by Size? a short time back, and some are in the sale for as little as £45 new. You can check those out here.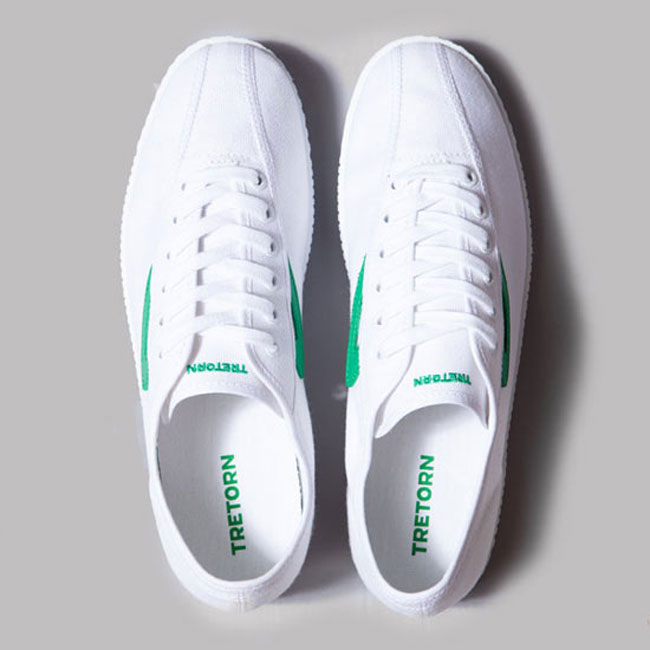 8. Tretorn Nylite
More of a plimsoll but a timeless shoe (or tennis shoe) that has been around since 1967, making plenty of waves along the way. And as I've not featured a plimsoll yet, why not this one?
Of course, if we are talking plimsolls I should also mention the classic Spring Court (famously worn by John Lennon on the Abbey Road cover), but I prefer the Tretorn Nylite.
As I said, a shoe dating from 1967 and worn by Bjorn Borg in his early career on the court. But this has been a preppy/ivy league casual shoe of choice for decades too. The design has hardly changed since the 1960s, so a canvas upper, rubber outsole and the classic Tretorn branding. But the price has jumped a little.
These days you are looking at around £65.
Find out more at the Tretorn website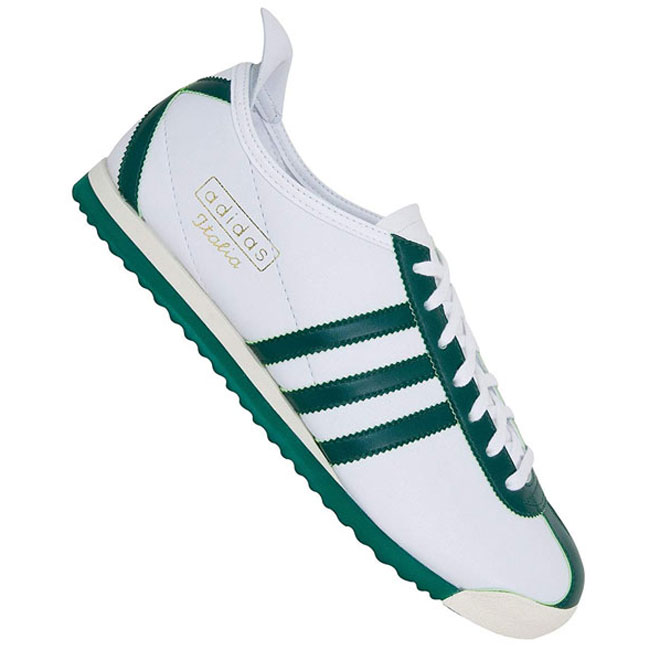 9. Adidas Italia 1960
Another Adidas classic that's becoming harder to find. But it is still out there.
The vintage-style Italia 1960 hasn't been around since 2010 or so, hence the scarcity. Shame really, as the 'bowling shoe' look of this one is hard to find elsewhere, and it has been popular on the Mod scene for some years for that look. Always loved the heel and the cross design on the back. If this came back, it would fly out.
But stock does appear regularly on eBay in the meantime, although you might have to sift through some of the 'well-worn' pairs to get to the good stuff. The white with red, green or blue detailing is the one to have, but for a pair in used condition, you are looking at anything from £90.
Adidas Italia 1960 on the eBay website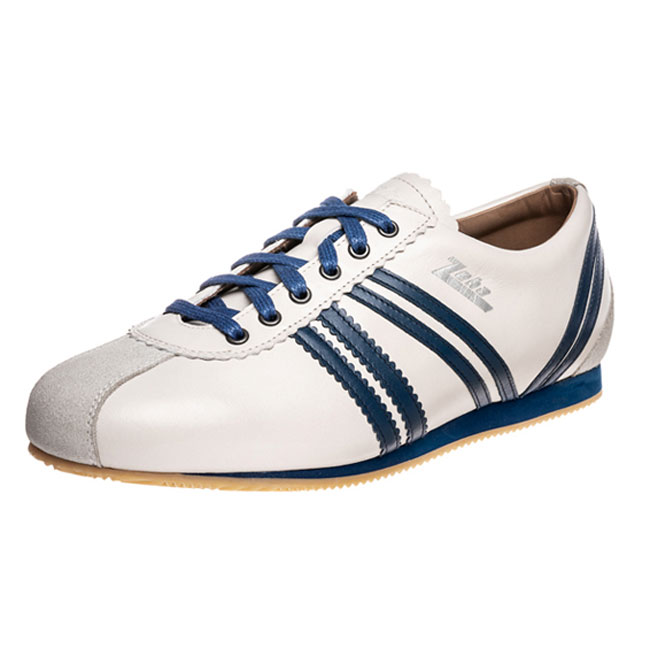 10. Zeha 1960s East German trainers
I debated whether to not to feature these as they aren't as good as they were a few years back due to a change in style. But in the end, I went for it.
Zen was founded in the 19th century by Carl Hassner, producing leather shoes in the early part of the 20th century. They moved onto hand-stitched sports shoes, and after the Second World War, it becomes the main supplier of sportswear in East Germany. After the fall of the wall, the company faded but was picked up by a fan in 2003, which is where we still are.
A large range is out there, and there was a 4010 shoe a few years back that looked impressive. That's now gone, but other retro styles remain, like the Olympia with its leather upper, suede toe, vintage branding and contrast details. €179 for a pair of those.
Find out more at the Zeha website
Note that Tom Kilgallon has now become the UK stockist of this brand if you don't want to order from Europe.
Honourable other mentions:
Perhaps I should also have mentioned the Gola Harrier, a timeless shoe from 1968 and still in the Gola range. That sells for around £85 from the Gola website.
But there are others that have been issued/reissued that are no longer available, and sadly, I don't see them coming back anytime soon. But I'll mention them because there's a chance you could pick a pair up on eBay, which is pretty much the marketplace for the secondary trainer market.
First up…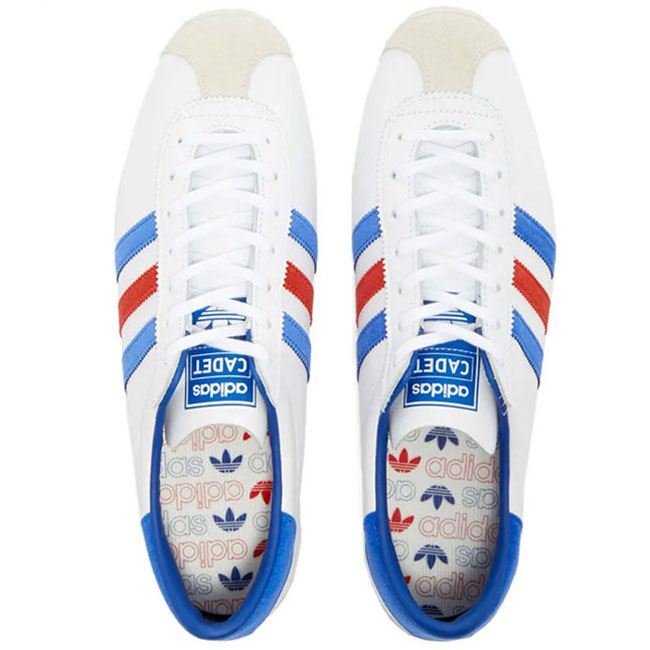 Adidas Cadet OG trainers
Back in 2021, these landed and were snapped up quickly. Not least by members of the Mod scene. A dream of a shoe and sadly, a very short dream.
Adidas reissued this little-known 1974 design for just a matter of weeks in white, with red and blue details. Yes, we should all have bought a couple of pairs as they weren't a limited edition but how were we to know?
Sadly, no longer available officially, but pairs are available on eBay right now. Just not that cheap.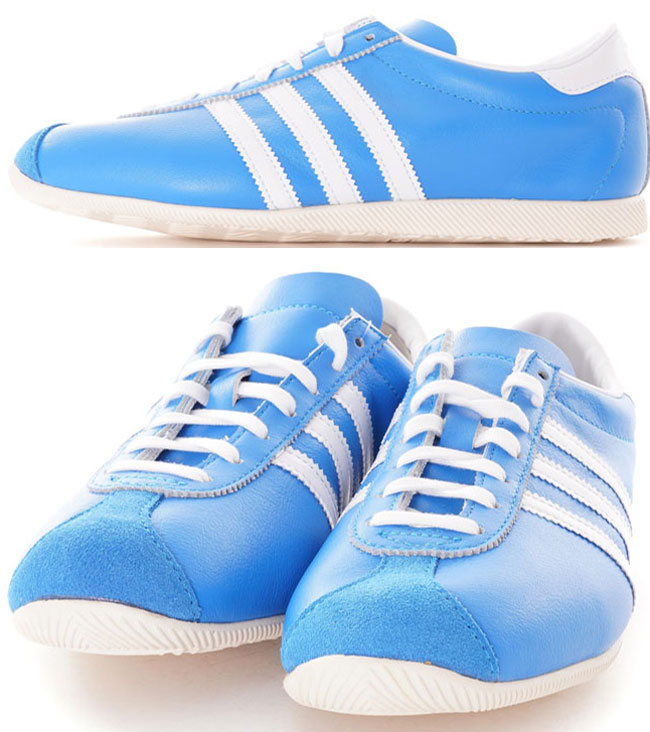 Adidas Rekord trainers
Available in white or blue (the one pictured here), the Adidas Rekord is a vintage shoe that briefly reappeared in 2002 but was made more widely available in 2020.
It was everything classic Adidas does well – style from the simplicity and no unnecessary additions. That simplicity proved popular and the shoe sold out. And hasn't been back since. Just £65 when they were around too.
Plenty of these around on eBay and cheaper than some, with pairs from around £40.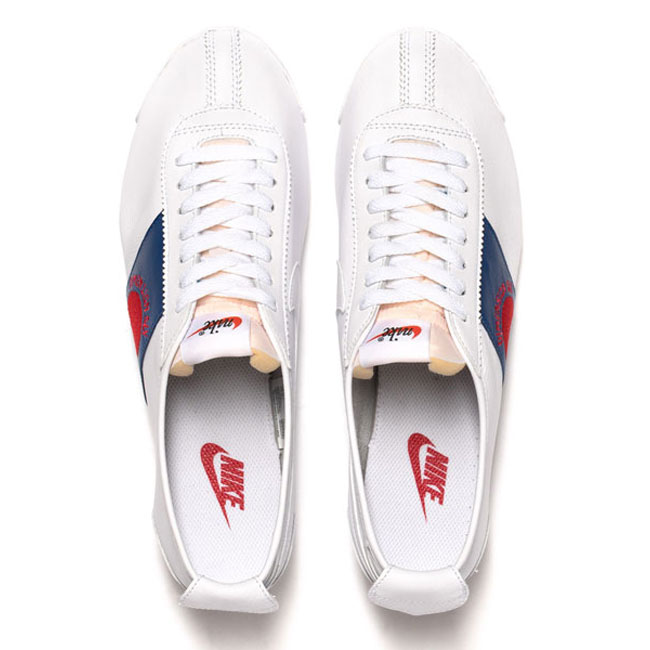 1970s Nike Shoedog trainers
Chances of finding these? Small in the UK, but pairs exist in the US.
You probably weren't expecting Nike to be in here and neither was I. A label that's less 'archive' than many others, although it has been around for 50 years or more. But just to mix things up a bit, here it is.
Back in 2018, the prototype designs for the original shoes from 1971 were remade as limited editions and to be honest, they look pretty good. Not far from Adidas at the time, but with different logos. There are varied logos because their current one hadn't been chosen by then.
So rare 1971 trainers (with a 1960s look), some of which are available on eBay via the US from around £50.
1960s Karhu Trampas trainers
Actually, these are still available. And even better, in the sale too.
I know they look like the MaTes trainers I featured in the main rundown, both in terms of shape and logo. I think that's more of a coincidence. But these Finnish shoes come at a much cheaper price.
This 1960s style was out of the range for many years but has come back of late and is available in the UK. The original price was around the £100 mark.
Saying that, the sale at End Clothing has them down as low as £65. A nice alternative to a Gazelle.
Find out more at the End Clothing website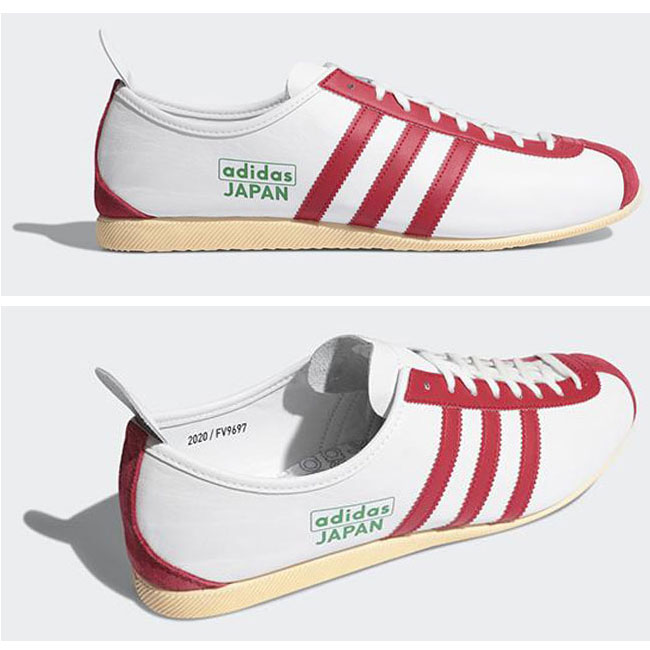 Adidas Japan trainers
Here's a thing. I have a pair of these in a box, unworn. Basically, because they're just too nice to wear.
Another thing of beauty from Adidas, which was last reissued back in 2020 and promptly sold out. Again, secondary sites have new and used pairs for sale.
This is a shoe that first made its mark back in 1964 when it was launched at the 1964 Olympics in Tokyo, and almost 60 years on, it still looks stunning. Perfect for the summer.
Prices vary, but you can pick up a pair as low as £40 if you keep an eye on eBay (and ignore the big price tag versions). You can view the current pairs for sale on eBay here.
And then there are the Adidas City Series trainers.
So many to choose from, so let's keep it short and sweet. Adidas produced a range of classic trainers named after cities in the 1970s and 1980s. All classically Adidas, many looking like each other (give or take the odd detail) and a good number getting reissued in recent years.
You can see the most recent reissues here, and you can buy some of them now. But they do come and go quite quickly.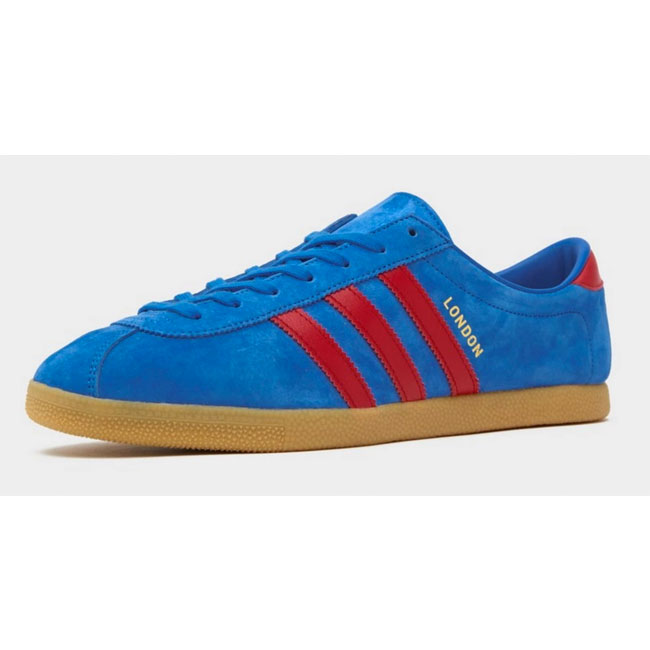 Just to give you an idea, the Adidas London has just been reissued in various new suede finishes and is pictured above. The shape is typical of many. If you want that, you can pick it up from the Size? website for £90.
Note also that if you want to keep up with the latest heritage trainer/sneaker releases, do keep an eye on the His Knibs website. You can also follow via Twitter, Facebook, Pinterest and Instagram too.
Love Modculture? If you enjoy what you read or have benefitted from it and want to
help with the ever-increasing costs of the site and newsletter
, you can always
buy me a coffee at Ko-Fi
. Every penny is helpful and appreciated.