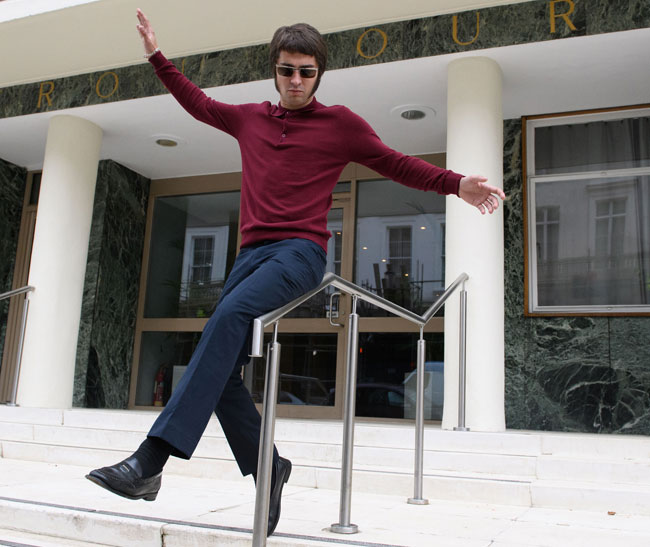 Note that I independently write and research everything in this article. But it may contain affiliate links.
It isn't the 1960s, time has moved on and so have clothing labels. With that in mind, here are 25 Mod labels for the 21st century.
That's probably stating the obvious. You can't just pop down to see John Stephen for the latest shirt or trousers today. But you can take advantage of the internet, as many new labels have done. Small artisan makers were once hidden away, selling only to a local market. But these days you can be small and sell big. Open an online store and you can sell to the world.
Add in some of the big names who have been around for years and you have quite a vibrant Mod clothing scene. Not all the big names still cut it (you might notice a few obvious absentees from this list), but some labels are still producing clothing with one eye on their heritage, even if they don't really market to a Mod clientele these days. But why should they? Mod is and probably always will be a niche market.
Which ones are missing and which made the cut? Read down the list and see for yourself. There is no particular order to the list, but everyone who is on it is worthy of your time, whether you want men's clothing or a stylish women's range.
I have also updated the rundown. After all, labels come and go and the Mod clothing scene is always evolving.
Oh and one final point. You really don't need to limit yourself to certain labels. Mod is about individual style and picking out interesting pieces from a wide range of labels will help you stand out from the crowd.
Items, as varied as the 1960s Mates Carmel trainers, the Maison Kitsune windbreaker, the women's knitted t-shirts at Boden and the Ham Yard Vintage Breton tops, have all been popular in the past and other items will soon come and go too. Just keep your eyes and your mind open. If I see one-offs I'll always try to post on Modculture or if it's a little more leftfield, on the His Knibs clothing blog.
But before I do that, do have a look through this rundown too for some sartorial inspiration…plus a few that are worth a look, even if they didn't make the cut.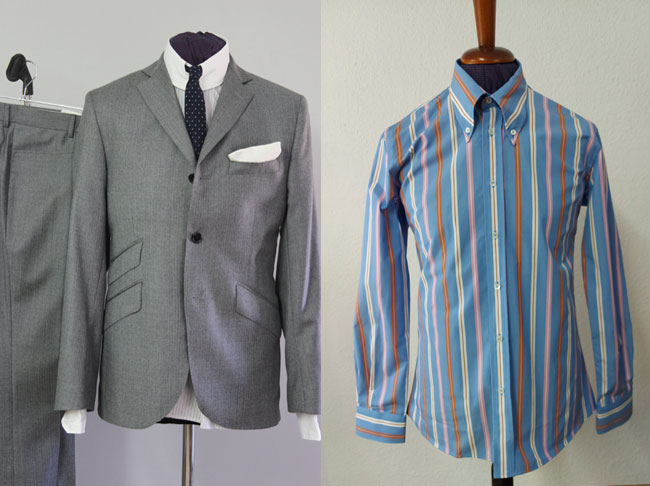 1. DNA Groove
DNA Groove has been around in some form or another since the 1980s. But it became more widely known as a retailer thanks to the growth of the internet.
That helped the Italian clothing store, run by Claudio De Rossi, to spread its wings and sell worldwide, bringing to us some bold and unique Mod clothing that was a million miles away from what was traditionally being pitched to Mods in retail stores.
The range constantly changes and isn't just a Mod range anymore – clothing and footwear takes inspiration from different eras of the 20th century. But this is still a 'go to' shop for top-end Mod clothing, including suits, shirts, knitwear and footwear, produced by skilled craftsmen in limited numbers.
A template for some makers who have followed since. You can read an interview I did with Claudio here.
2. Bass Weejuns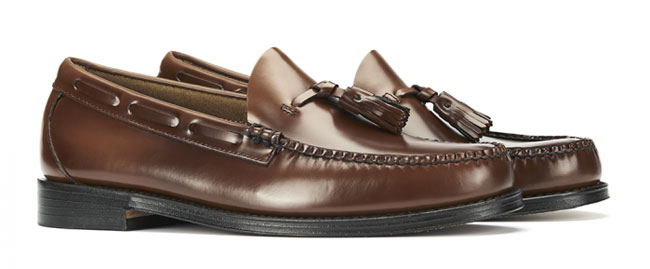 Classic and timeless loafers loved on both the Mod and ivy league scenes. Everyone needs a pair of Bass Weejuns in their wardrobe. You just do. Other loafers come and go, but few match up.
Well made, always stylish, but often expensive. However, they don't have to be expensive.
There are sales on the official GH Bass site, but these often appear on the TK Maxx website at heavily discounted prices. So don't despair if the RRP is eye-watering.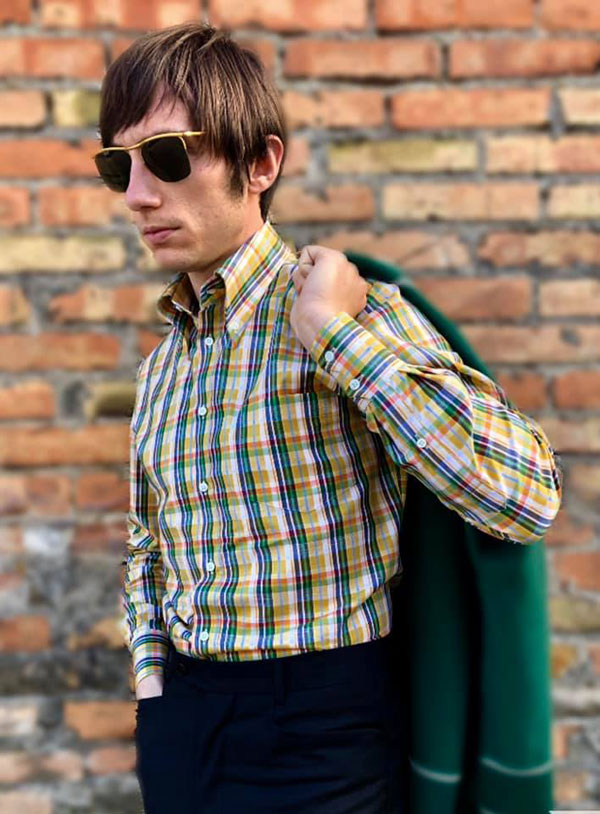 3. Capirari
A fairly recent Italian label and one that has had a lot of press of late thanks to Paul Weller's patronage.
That was because Weller wore the label's Tahiti short-sleeve henley collar shirt, which isn't actually typical of Lorenzo Salvatori's label.
The big draw here, for me at least, are the superb button-down shirts, as well as spear point shirts, pin-collar shirts and tab-collar shirts. Knitwear and denim too, all with Italian Modernist style. Again, this isn't a budget label. But it is well worth investigating if you have the funds available.
4. Fred Perry
There isn't a lot to say about Fred Perry that hasn't been said before. A British and Modernist institution and a shoo-in for the Mod labels for the 21st-century rundown.
Where Fred Perry has gone right and others have gone wrong is ensuring a quality range of clothing has been maintained over the years. It's all too easy to sit back and sell the same thing and reduce your quality of product to save money. But Fred Perry doesn't do that.
The premium range, especially the Reissues range, has kept an ever-changing archive of classics readily available. Ok, not everything is marketed towards Mods and some of the collaborations might not be to your taste. But there is always something interesting from a Mod perspective in the Fred Perry range.
Of course, as long as Mod carries on the Fred Perry polo shirt will be one of its main calling cards. Still available and still an iconic piece of clothing. But look beyond that too, this is a label that still produces the goods year in, year out.
Note that you can get some discounted deals on Fred Perry at End Clothing when the sales are on. Always goods to shop around.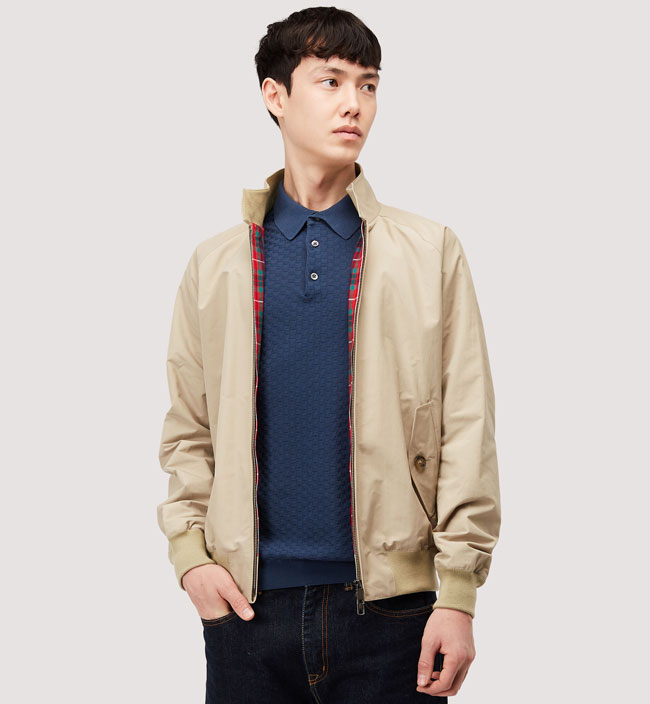 5. Baracuta
Do you know what I just said about Fred Perry? I could probably say much the same about Baracuta. A Mod institution.
Originally based in the north of England, Baracuta is best known for another of those Mod staples, the G9 Harrington Jacket, a timeless jacket with an appeal over the Mod and ivy league scenes.
They do other jackets, as well as knitwear and accessories (and all are worth a look) and some collaborations that probably don't fit the Mod ethos. But at the end of the day, Baracuta is all about the G9. They did it first and do it best, even if the price can be on the high side. But to balance that out, the quality of a Baracuta jacket is now far above what it was a few years back when the label was under previous ownership.
Note that Baracuta does occasionally do its own markdowns, but when the sales are on, Stuarts of London is usually the place for a bargain.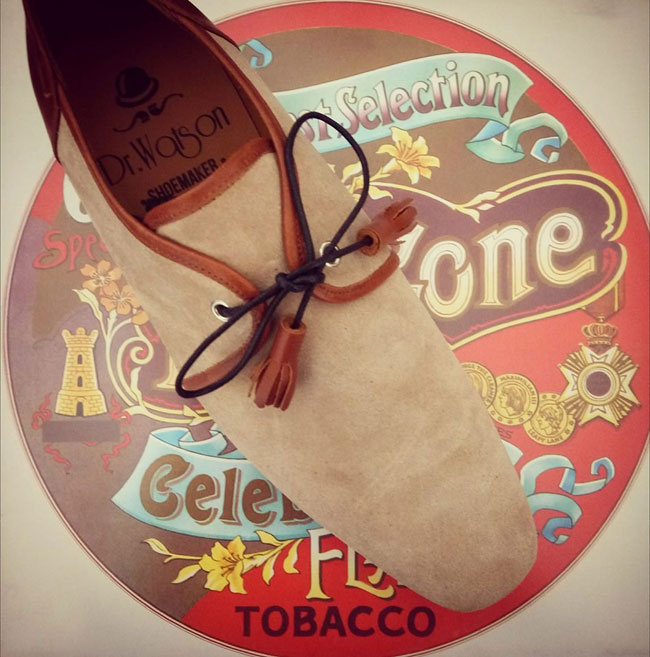 6. Dr Watson Shoemaker
Yet another example of a Mod start-up business doing well. This time in the business of mod shoes.
You would struggle to find better ones out there too. Yes, you might be happy with a pair of desert boots or a pair of Adidas Originals. But if you want some 1960s authenticity on your feet, you need to know about Dr Watson Shoemaker and his amazing and ever-expanding range of footwear.
I have done an interview with Ivan, the man behind the label if you want to know more. But to cut a long story short, he makes handmade shoes with high-end materials based on original styles from the 1960s. Limited editions and each one a winner. If you need shoes (or casual footwear), have a look.
Dr Watson Shoemaker at Etsy website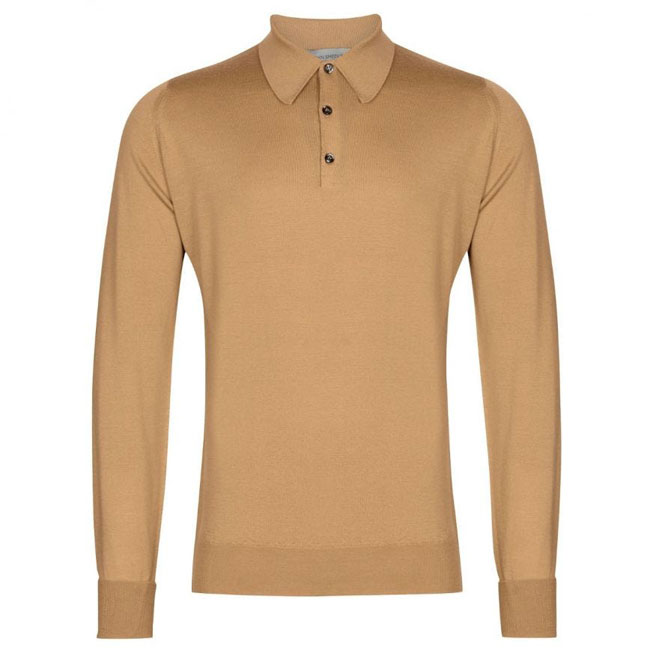 7. John Smedley
Back with an institution and one of the finest makers of classic knitwear out there. John Smedley knits are often copied, but in terms of quality, rarely bettered.
The factory was established back in 1784, making it the oldest manufacturing factory in the world, picking up the royal seal of approval along the way. The range changes, but the short and long-sleeve buttoned polo shirts are always present and to use that phrase again, are 'Mod classics'.
Quality in terms of production and construction, so not cheap at full price. But there is an outlet store selling them at a much more affordable price if you keep an eye on it. Stock in the outlet comes and goes quickly.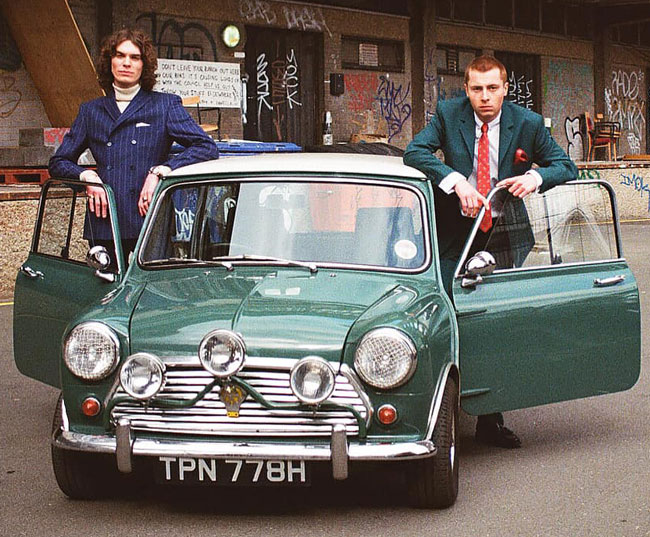 8. Adam of London
A longstanding maker and retailer, but one that has gone under the radar a little. That has changed a little since the retailer moved into Soho, where it has become a much more prominent store.
New store aside, not a lot has changed here for years – and that's a good thing, by the way.
Shener Adam was making clothes for the likes of Lord John, Take 6 and John Stephen back in the day and started the Adam of London label in 1976. Its niche is offering 'ready to wear' Mod suits at a reasonable price. Not always an easy find. In fact, nigh-on impossible these days.
You'll also find plenty of shirts too, as well as coats, trousers, jackets and accessories, all with a strong Mod influence and of course, attention to detail and an eye on quality. Head into the shop if you can or do the next best thing and check them out online.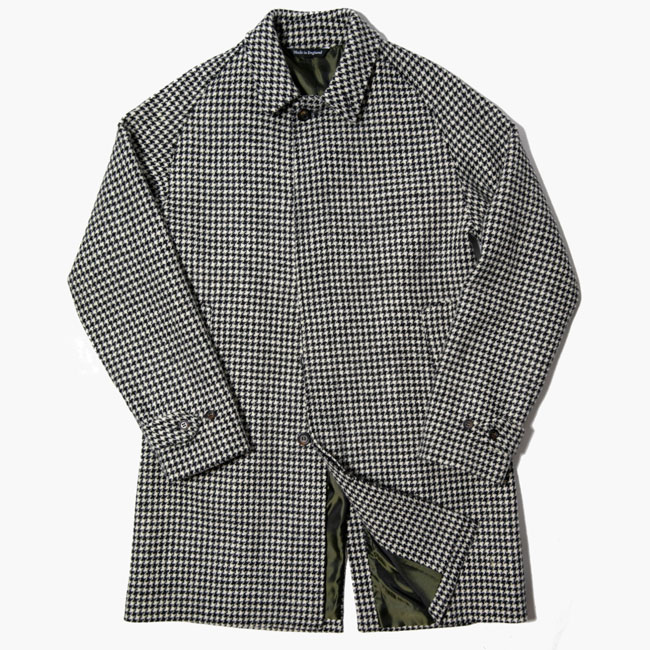 9. John Simons
From one longstanding London retailer to another. In fact, John Simons is the godfather of modern-day menswear.
Of course, the main thrust of the store and the man behind it is the ivy league look. But Mods have been visiting John Simons in his various store for decades and for good reason.
The ivy league look has crossed over and influenced the Mod scene from its earliest years. Much of the stock in John Simons is perfect for the smart Mod, especially with the launch of own-brand clothing, which keeps a constant stock of staples at reasonable prices. Harringtons, button-downs, loafers and much more. Even some Paul Weller collaborations – and he's a man who knows his clothes.
Everyone needs to set foot in John Simons once, if not regularly. It's an institution and with new own-label ranges constantly appearing on the shelves, this isn't a retailer happy to trade on its past. It's all about the present too. That Harris Tweed Houndstooth Overcoat pictured above, which is based on a '60s original, is pretty much Mod heaven during the colder months.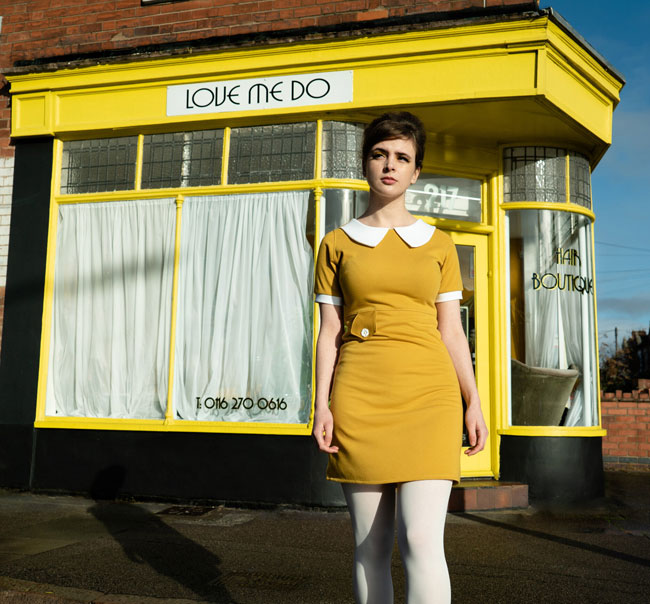 10. Love Her Madly
Despite what you might think at times, Mod isn't a male-only domain. There are plenty of makers and retailers who cater for the women's market too and you will see a few in this list. Including Love Her Madly.
Love Her Madly is a women's clothing boutique inspired by the Modernist movement of the 1960s. The range of dresses is all handmade by owner Melanie and available to buy online in sizes 6 through to 18.
If you want anything tweaking, you can order an exact fit for just £10 extra. A wide range of sizes, with prices around £50. Even cheaper when the sale comes around. If you want to know more, I did an interview with Melanie, which you can read here.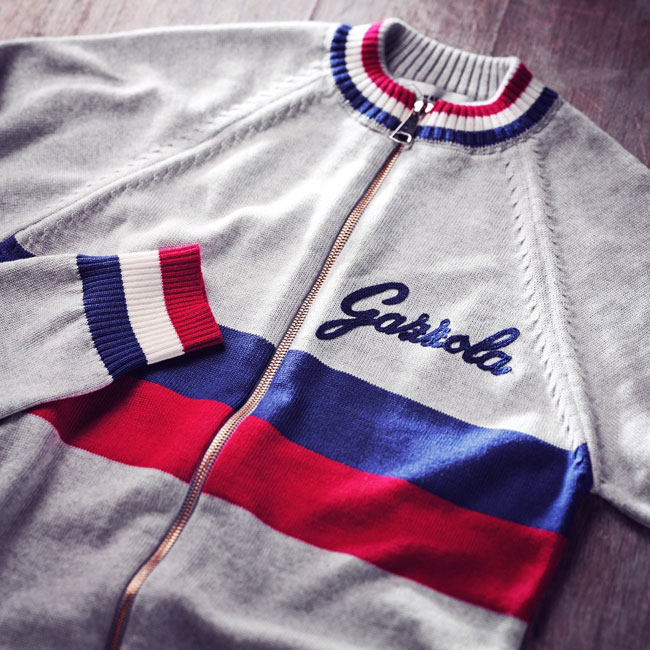 11. Magliamo
Cycling gear is always popular on the Mod scene and in recent years, labels have appeared dedicated to it (there's a section for it on His Knibs). None better than Magliamo for me.
The label is the work of Diederik Degryse, with a focus on classic cycling clothing and an eye on the quality of the clothing produced. But it doesn't forget the people who love the look but perhaps don't want the performance gear.
Yes, you can wear the clothing on a bike, but items like the wool track tops are great for everyday wear too. Paul Weller is a big fan and has been photographed in a vary of designs from the label. New designs are constantly appearing, so worth keeping an eye on if you like this kind of thing.
Again, there is an interview with the man behind the label here.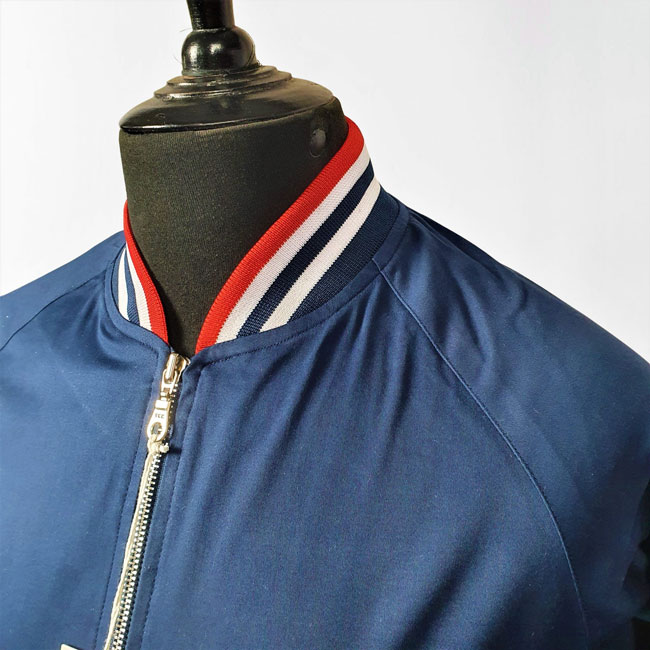 12. Real Hoxton
Something of a breakout star of recent years. Real Hoxton has a formula that works when it comes to Mod-Friendly clothing designs.
The idea is simple. Stick to the staples, make them well and keep the price at an affordable level. The second point is really important here. You can make cheaper Mod clothing, but you can't compromise on quality or no one is coming back. Real Hoxton understands that.
The label produces shirts, trousers, even workwear. But it's the outerwear you are probably most familiar with. Real Hoxton makes some lovely monkey jackets, Harringtons that are up with the best, some lovely raincoats and classic trucker jackets.
If you are a label snob you might prefer to go elsewhere. But I just want good quality classics at the right price and you'll find that here. A big favourite of mine right now.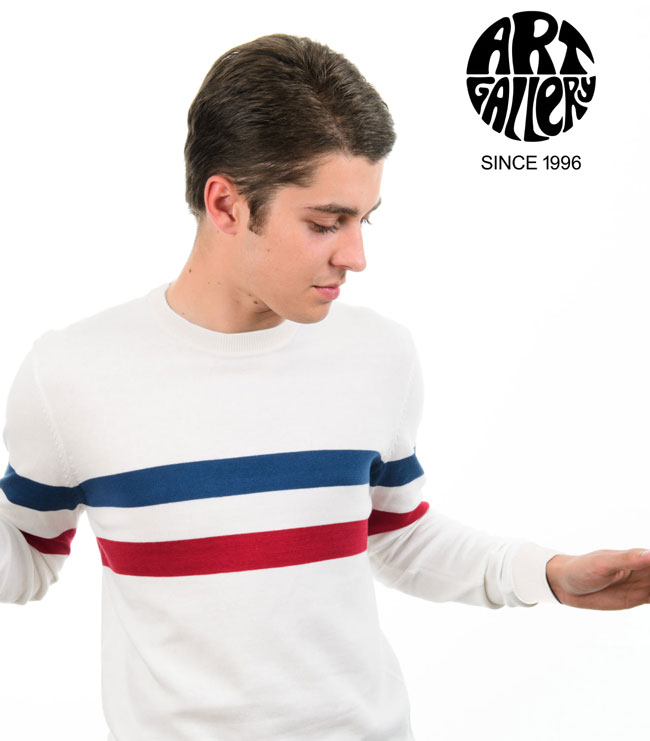 13. Art Gallery Clothing
You might have noticed the image at the top of the page. The wonderful Art Gallery Clothing, which continues to produce top-notch knitwear and shirts year in, year out. And without charging a fortune.
If the idea of picking up the kind of knitwear Mods were buying in Carnaby Street in the 1960s grabs you, then Art Gallery Clothing is the label for you. Bold, retro designs that could have come off the shelves of a retailer almost 60 years ago. Ok, updated a little for the modern era, but you know what I mean.
Some lovely button-down shirts too and a wide range that changes every season. Art Gallery Clothing is always worth a browse. There's an Outlet for the end of season and sample pieces too. Links to both retail sites are below.
Art Gallery Clothing Outlet at eBay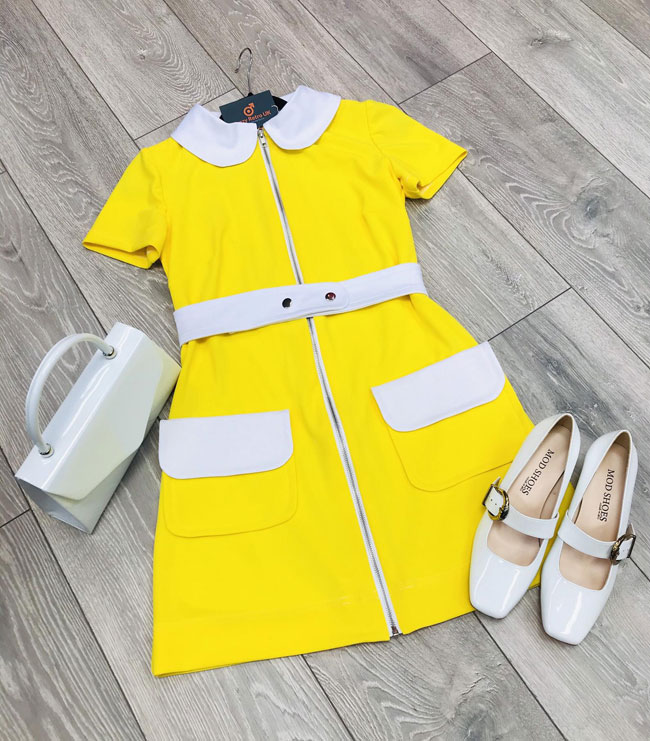 14. Fuzzy Retro Mod-inspired fashion
I have done a wider feature on this label in the past, but suffice to say that this is another wonderful Mod-inspired label for women.
1960s-style dresses are the focus of this label. But you can also get the likes of trouser suits, cardigans, waistcoats, skirts and 1960s-inspired bags and handbags too. A fashion range rather than just a dress range, which really helps it stand out from the crowd.
As you would expect, attention to detail and of course, handmade means made for you. So the option to tweak the design and the sizing if that's what you require. And less chance of seeing someone else in the same design. Reasonably priced too.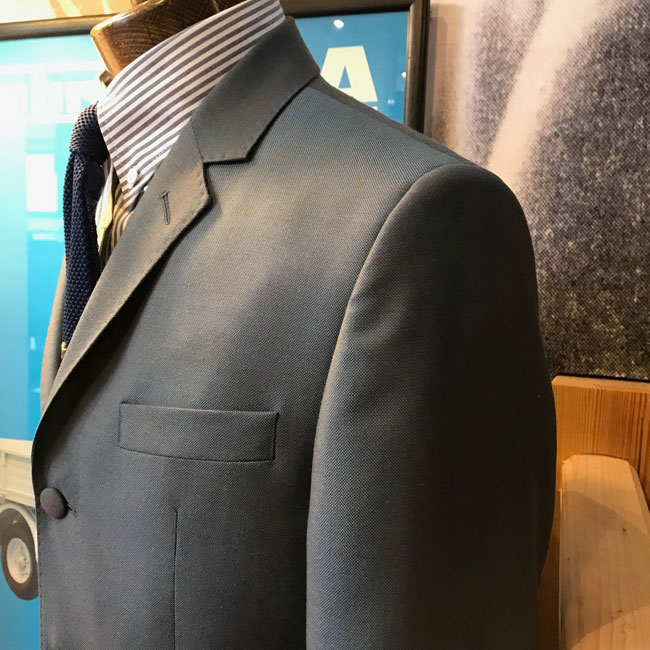 15. Jump The Gun
The Mod labels for the 21st-century listing really wouldn't be complete without another Mod institution, Brighton's Jump The Gun. No ambiguity here. This is all about 1960s-style Mod clothing and has been for over 20 years.
Some external labels are stocked, but the vast majority of clothing on the Jump The Gun racks (and online) is affordable clothing produced in-house.
That's everything from coats, 1960s-style suits, formal shirts and footwear through to knitwear, casual jackets and accessories. The choice is huge and if you are looking for something unashamedly Mod in look, this is a place to go for a reasonable price, whether you can get to Brighton or just want to shop online.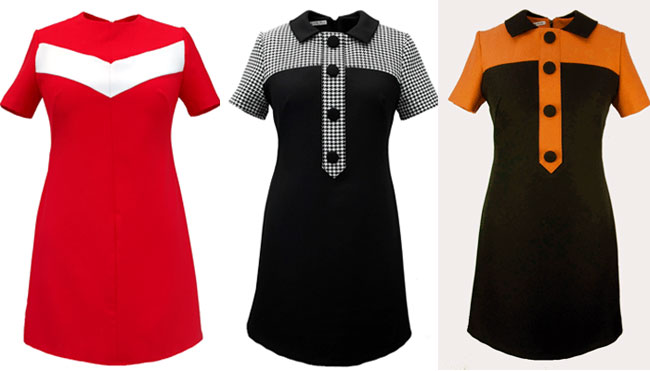 16. Carnaby Streak
Before you press the 'buy' button at Love Her Madly, it makes sense to browse Carnaby Streak first. Both are pitching to the same market and both produce some fine dresses.
Mod-style dresses again here, available in sizes 6 to 18, but also in custom sizes too. The styles are all designed and made in-house by Angela Williams, who has been selling 1960s-style designs since 2002. So not a 'fly by night' retailer.
At the end of the day, it's all about finding a style that catches your eye at either store and the ever-changing (and unique) range at Carnaby Streak is worth keeping an eye on.
The new range for winter has just arrived and sells from around £70.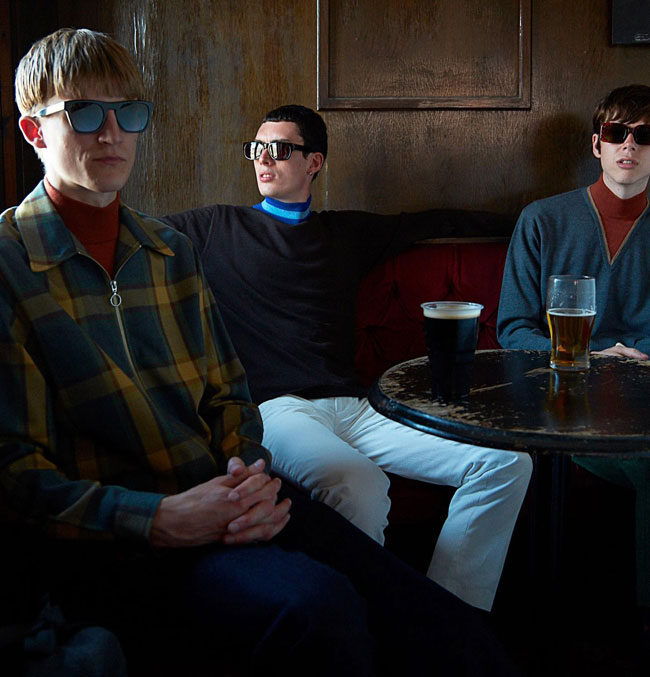 17. Anglozine
Another fairly new label and one that doesn't pitch itself directly to the Mod scene. But there is always much to interest the discerning Mod here. I think the term 'Mod-influenced' is about right.
The work of Reuben Billingham, who some of you will know from Fred Perry and the Mod scene, this is a range of clothing taking inspiration from both the mid-20th century and some of the more hip designs of the mid-1980s.
Like all the best labels, collections change regular, numbers are limited and quality is as good as anything out there. I absolutely love the clothing Anglozine produces and the designs I have picked up are pretty much all still with me. Timeless and made well.
Jackets, shirts, knitwear, even books and accessories too. This is a label to keep an eye on and a website too, which wears its influences on its sleeve.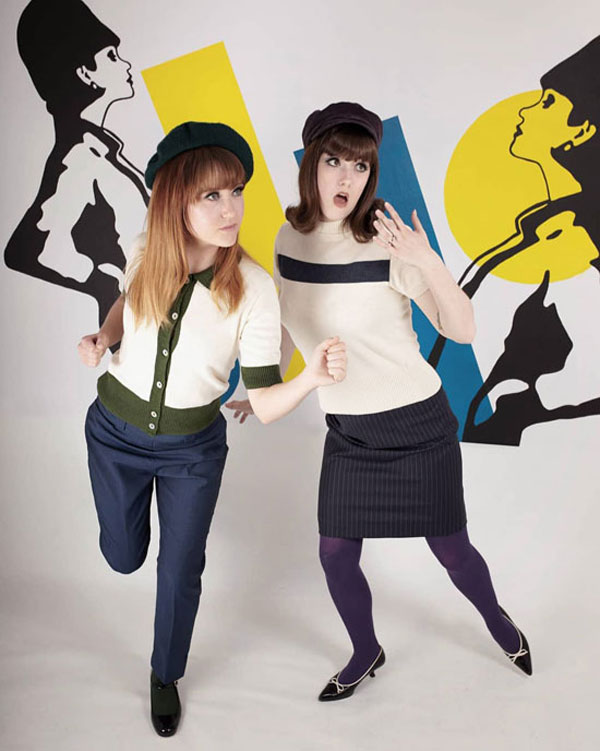 18. Dorian boutique
Another recent arrival. And since I spotted it, the label has moved into menswear as well.
After starting what was a 1960s-focused store in Paris, Archibald Mark moved to Montreal and opened the Dorian Boutique, which is described as a 'space dedicated to the golden age of European chic'.
An in-house range for women followed on from the curated range, which is an absolute joy, taking inspiration from the Mod era and the French Nouvelle Vague. But menswear has now also appeared on the scene, with some lovely knitwear and formal clothing. Worth noting that there are some good discounts here too. Overall, worth checking out.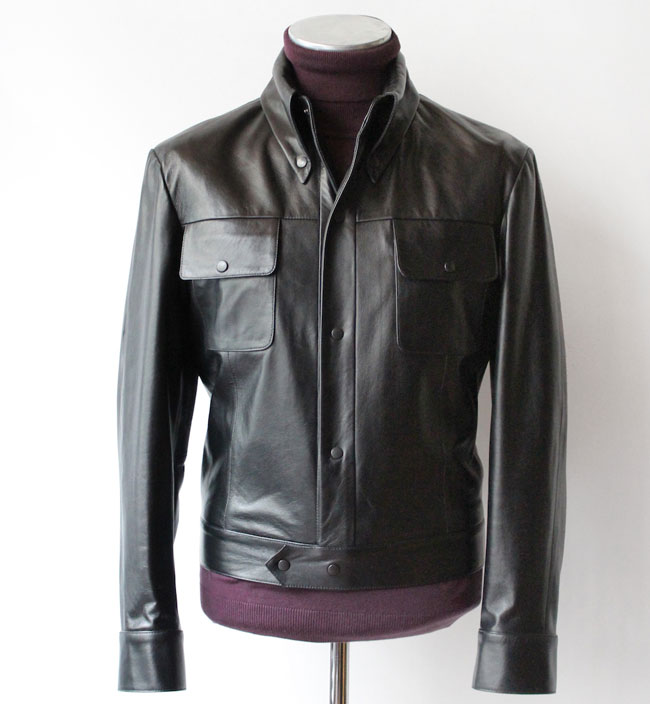 19. Mendoza
More at the 'swinging London' or 'dandy' end of the market, but Mendoza does produce some beautiful clothing.
A lot of the range is very much a mid-to-late 1960s (even 1970s) thing, but not exclusively so. In the past, they have produced rude boy knitted cardigans and some stylish 1960s-style trousers, tab-collar shirts, knitted t-shirts and some eye-catching casual jackets like the one pictured above.
If you want something a little bolder and a little less common, Mendoza is well worth a browse.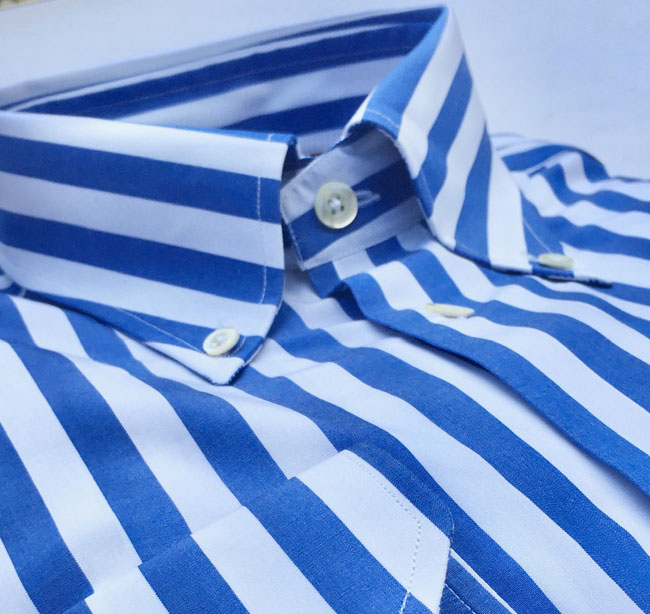 20. Pellicano Clothing
Pellicano is a label I should mention more. Another consistently strong performer.
The label focuses on the classics. Formal and casual shirts, limited editions, knitwear, jackets and accessories, such as college scarves. Again, not a label that sells solely to Mods, but with enough Mod staples to make it worth a regular visit. if you love a button-down or a Breton, have a look here.
Particularly worth a look if you want a bargain too, as its outlet range tends to be pretty well stocked.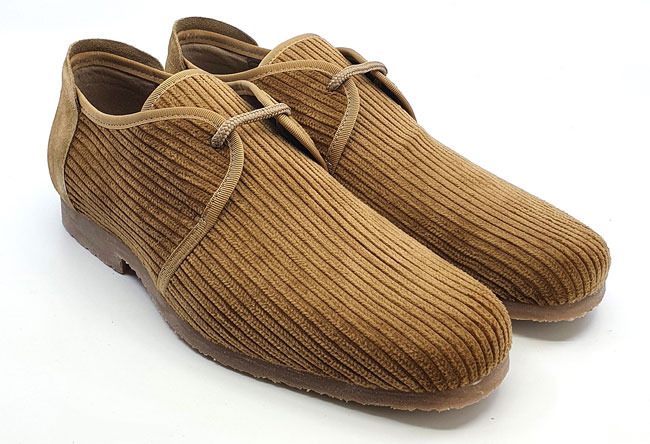 21. Mod Shoes
Don't be fooled by the name. There is more to Mod Shoes than just footwear.
But footwear is where it started and likely where the majority of its sales come from. And why not? After all, Mod Shoes produces what the label says – a range of classic footwear for men and women inspired by the 1960s (and beyond). So if you want a corduroy lace-up, a desert boot or even a 1960-inspired training shoe, then do have a look.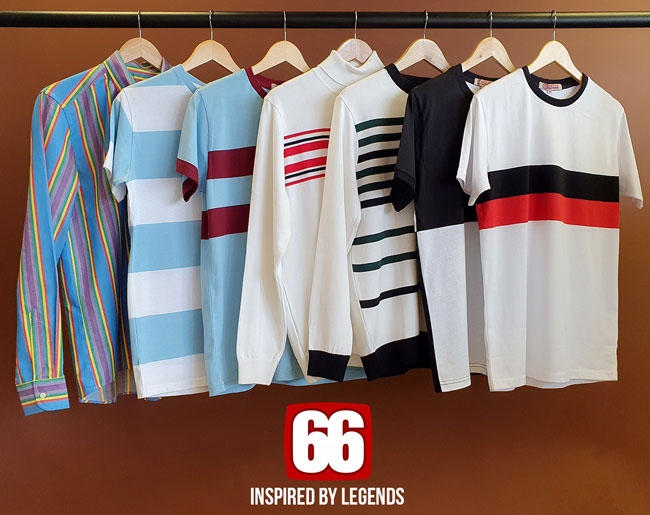 Women aren't forgotten either, with a strong range of boots, brogues, flats and more inspired by s bygone era. And then there are the clothes too. That's a bit of a growth area right now, with the 66 Clothing range offering 1960s-inspired tops, shirts, jackets and more while the Icon Series reworks pieces worn by iconic figures of the past.
All in all, a label to watch.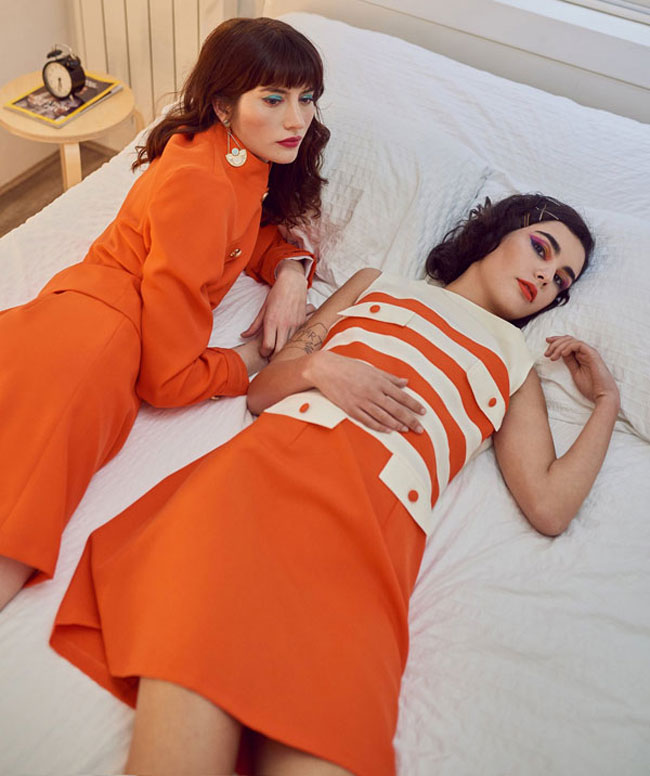 22. Swinging Chicks
Out of Spain and producing some lovely and colourful designs is the Swinging Chicks online store.
Handmade dresses and as you can see, produced with a strong Mod and 1960s influence (although there is also the odd foray into the 1950s and 1970s too).
Everything is made to order, which means you can change the colour and the details of each dress ahead of it being made and you can get a dress custom-made for you if the off-the-peg sizing doesn't work for you.
Not as cheap as some of the others I have mentioned, but the custom nature of the dresses (including reproducing dresses from vintage magazines and photoshoots) means a higher price is inevitable. Not excessively pricey though.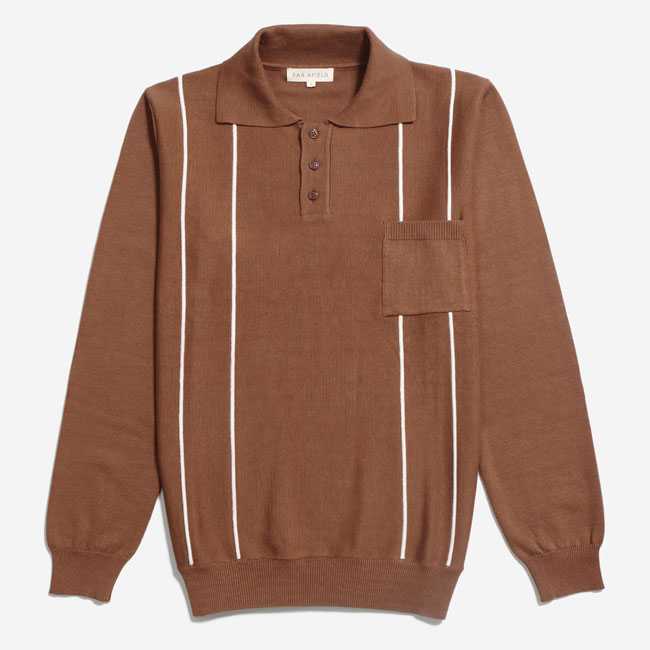 23. Far Afield
Not a Mod label by any stretch of the imagination. But a brand that has been serving Mods for some years now.
In fact, you might recall them as Tuk-Tuk, selling affordable button-downs and custom-made shirts. They still sod shorts now, with the Madras Shirting Company range probably the place to look for those.
But knitwear has caught the eye more in recent years. Always a mixed bag but always something with Mod appeal too, like the Alfaro polo shirt pictured here. Always a good sale on here too. Keep an eye out for that and fill your bag if you want a bargain.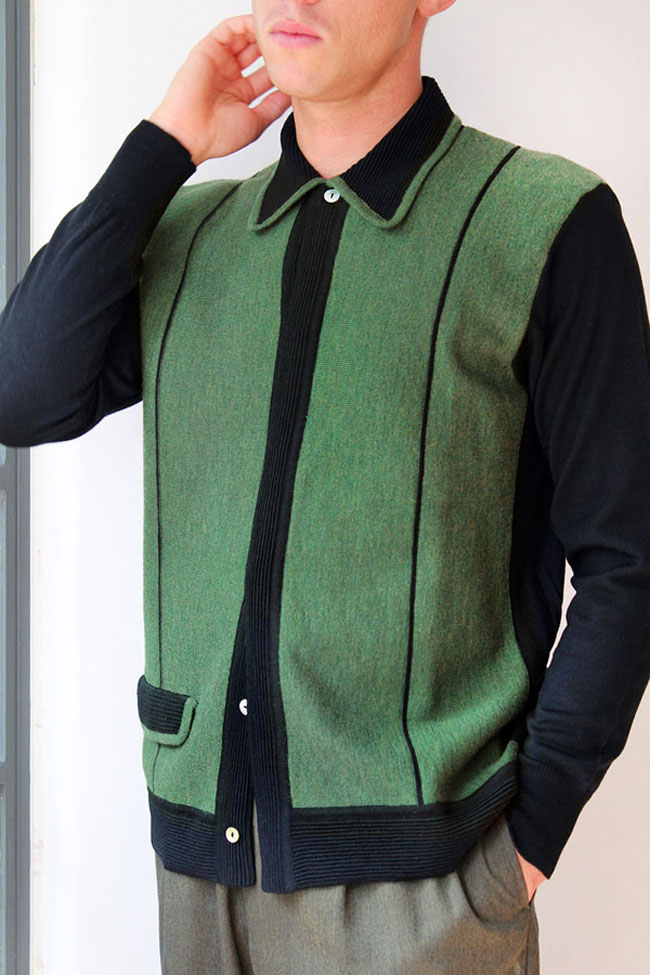 24. Scott Fraser Collection
I know. It isn't cheap. But the knitwear produced as part of the Scott Fraser Collection is just stunning.
The full range isn't a 'Mod' range. But there is a retro vibe across the range and some of the knitwear is the very definition of smart Mod.
I've been trying to justify buying the black and green panelled wool knit shirt pictured here for as long as I can recall. It's a made to order piece with all the quality you could hope for and a 'less is more' amount of details that makes it jump off the page. If you can spare the money, browse the full selection.
Scott Fraser Collection website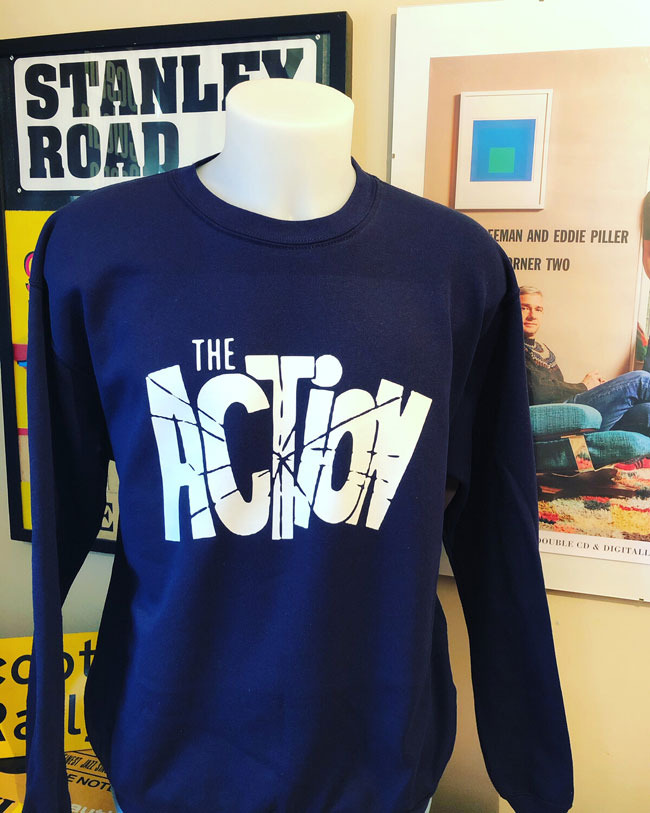 25. Mr B's Soulful Tees
I'm not sure if this counts as a label. But a lot of people are buying designs from Mr B's Soulful Tees, including myself.
Probably sweatshirts more than t-shirts right now, but when the sun shines, there are so many t-shirt options available here. Whether that's classic logos from the past or designs made famous on the Mod scene over the years. Not to mention some ivy league pieces too.
So if you want something like The Action sweatshirt above or one of the many other similar designs, then do take a look.
Best of the rest…
Something missing? A few big names perhaps don't make the Mod labels for the 21st-century rundown, but really that's because they don't do a Mod 'range' as such. So to tidy things up here is a quick recap of brands worth keeping an eye on, even if their core range isn't 'Mod'.
Clarks Originals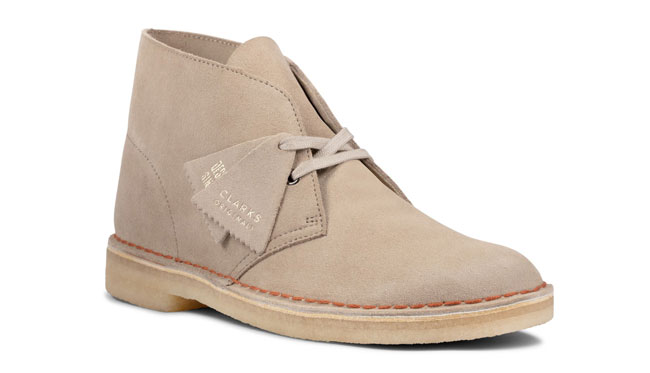 Clarks isn't a Mod label but its desert boots are a Mod classic. Right now you will struggle to find better desert boots than at Clarks. Well, there are the Hutton Boots but they tend to come and go a bit.
Get them at the Clarks website or hunt for a bargain at the Clarks Online Outlet. Either way, hard to argue against these featuring on this page.
Adidas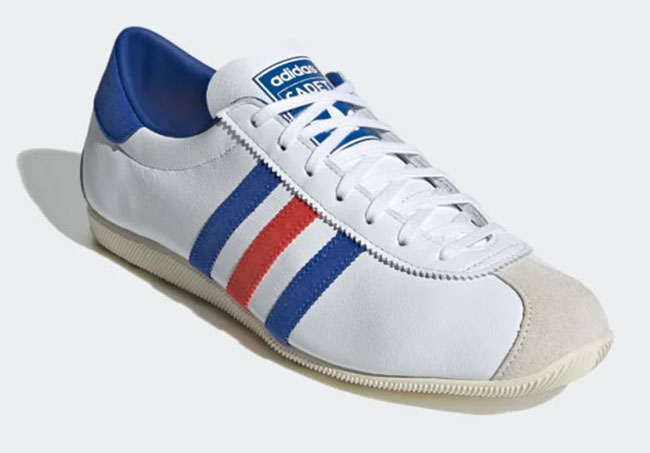 The 'are trainers Mod?' discussion will go on and on and on. Whatever your view, classic Adidas is popular on the Mod scene (I've even done a best 1960s-style trainers round-up) and Adidas deserves a mention.
Saying that classic reissues make up just a small part of the company's range, so not really a contender for the full rundown. But when you see designs like the Adidas Cadet above, it's hard to exclude them.
See all the latest releases on the Adidas website.
Levi's Vintage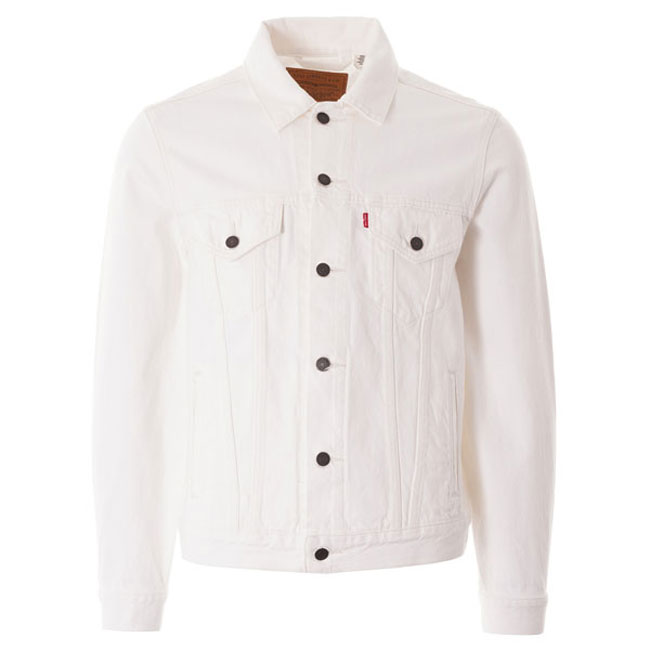 A range that changes constantly. Sometimes all about the 1960s, other times avoiding it completely. One to keep an eye on season to season, especially in terms of knitwear.
Of course, going beyond the vintage range, designs like the trucker jacket (pictured above in white) are timeless classics. More on the Levi's website.
Lee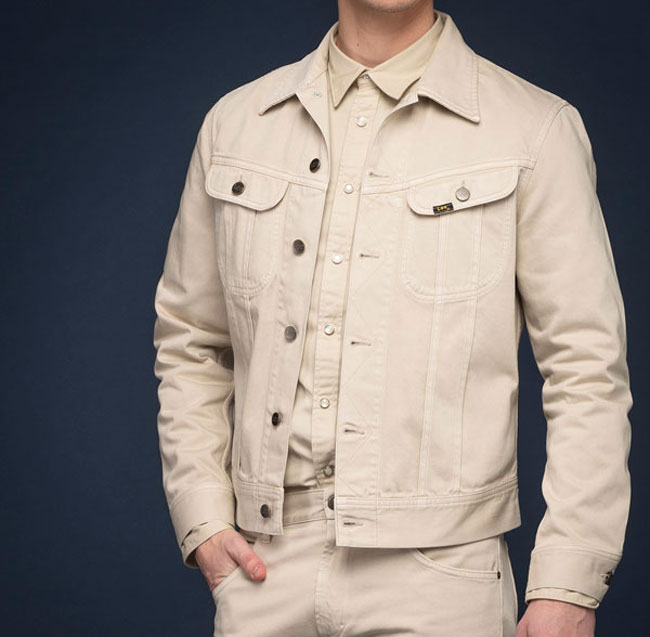 See above really. Skip the fashion stuff and focus on its classic, especially the 101 range. Personally, I love Lee's denim and the denim and cord jackets that drop in and out of the range. Sales are a good time to buy here, so keep an eye on the Lee website.
Tootal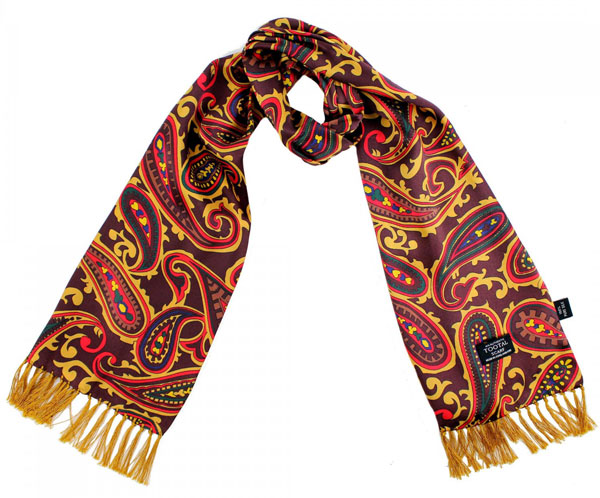 They do a lot of things, but at the end of the day, they produce those scarves that have been worn for decades. There is a lot of competition on that front now and the Tootal scarves don't come cheap. But if you want an original, they are still selling scarves like the 1960s designs online.
See them at the Tootal website. And check out my Tootal alternatives here.
Uniqlo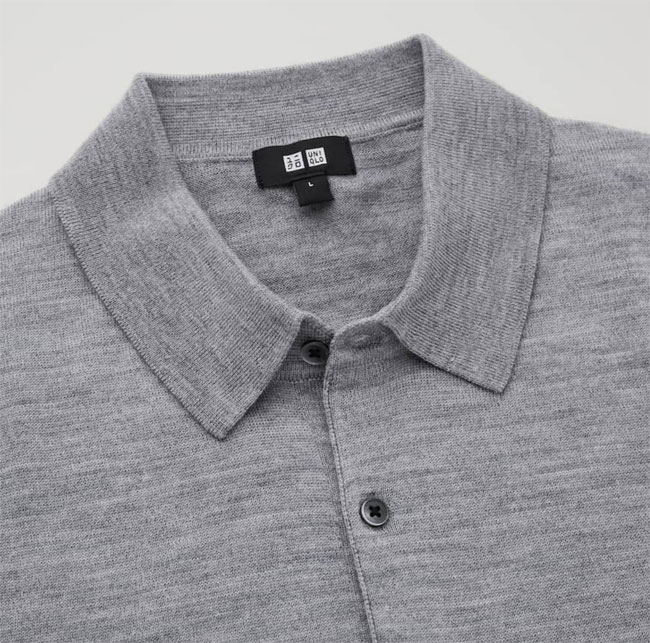 Again, never a Mod label, but a retailer that does its own take on classics at knockdown prices, throwing in some decent quality too.
Button-downs, cord trucker jackets, Harringtons, polo shirts and more have all come and gone in recent months, so if you are on a budget. Pictured above is an extra-fine merino knit long-sleeved polo shirt, available for under £35.
It's worth regularly dropping by or visiting the Uniqlo website.
Ben Sherman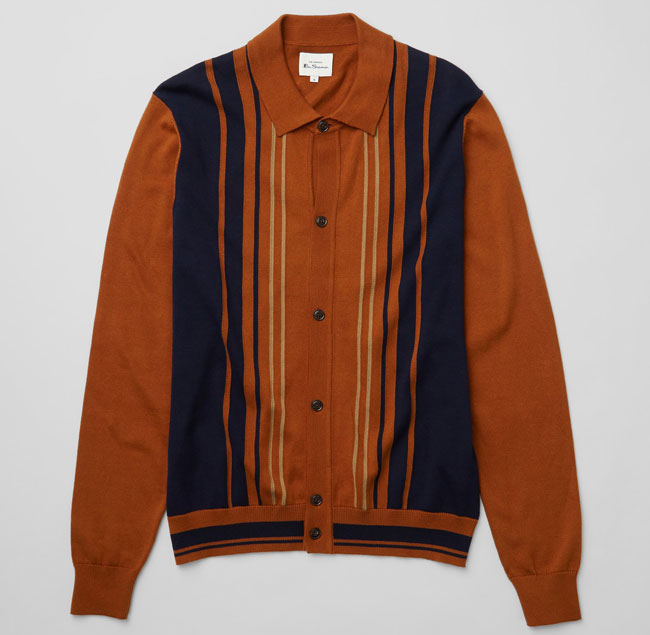 This is probably a label you would have expected in the top 25. But the truth is that Ben Sherman hasn't really been a Mod essential for some years now. It's more of a general fashion label. But despite that, I do check in occasionally because now and again they do produce some decent knits and archive shirts. Saying that the archive shirts seem to have disappeared of late.
But there are some interesting and cheap knits. The button-through polo shirt pictured above is half price right now and there are a few other decent bargains too. Have a look at all of them on the Ben Sherman website.
Love Modculture? If you enjoy what you read or have benefitted from it and want to
help with the ever-increasing costs of the site and newsletter
, you can always
buy me a coffee at Ko-Fi
. Every penny is helpful and appreciated.