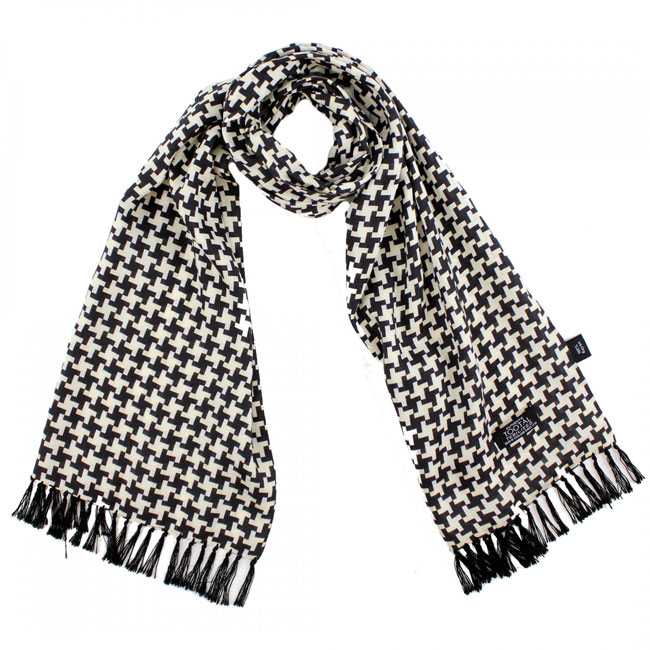 Note that I independently write and research everything in this article. But it may contain affiliate links.
Yes, the Tootal scarf is a classic. But if you want something different and perhaps cheaper, check out my five 1960s-style mod scarves.
Let's be absolutely clear. This isn't a dig at Tootal. The scarves being made by Tootal now are excellent quality and in many cases, copies of the ones you spend ages hunting around vintage and secondhand shops for.
There is something quite exciting about working through a pile of old ties and scarves in a charity shop to find that one solitary Tootal scarf.
But if you can't be bothered doing the legwork, I would recommend having a browse of the official Tootal website here to see designs like the one above. I love that houndstooth scarf, which is the standout for me. The Tootal is an icon of an era and a website that is always worth a browse.
As I said, lovely things, but you can shop around to get a similar look a little cheaper. Or simply stand out from the crowd with something a little less obvious. Probably a good time to be talking about scarves now too. The temperatures are dropping and a scarf goes from being an accessory to an essential.
Anyway, here are five options if you want another option, plus a couple more that might be pricey, but are worth a look too.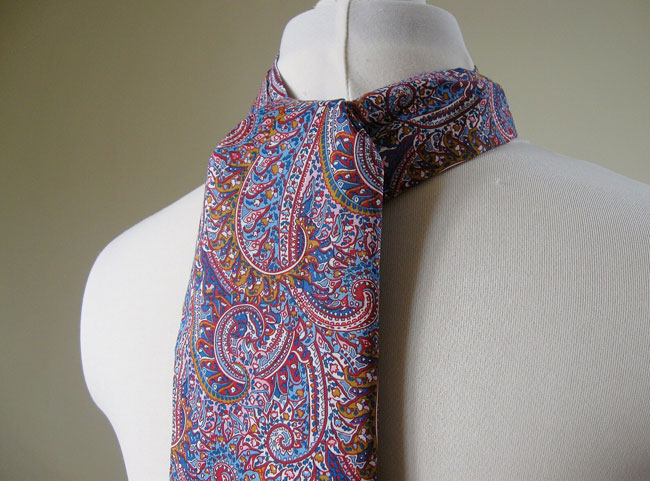 1. Calle Modiste
Calle Modiste produced handmade 1960s clothing and accessories out of Sheffield and within that range, it makes some lovely Mod scarves.
All paisley design (including some Liberty patterns) with a tubular design and finished with short self-fray fringing. Some lovely packaging too, as you can see on its website.
Prices start at £20 and if you want to help a small designer/maker, this should be a label for you.
Find out more at the Calle Modiste Etsy website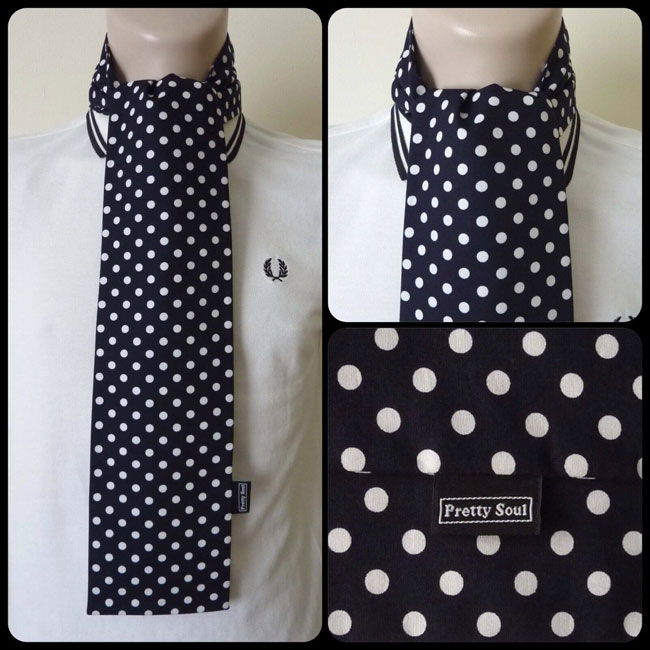 2. Pretty Soul handmade scarves
Another handmade scarf maker/seller, Pretty Soul is very much at the affordable end of the market.
Yes, you get a handmade scarf, but this time made from cotton poplin and with a straight edge on the tubular design. Whether the latter matters depends on how you wear your scarf.
If you want the 1960s look without the big price tag, this could be the one for you. Scarves are generally priced at just £10.95 and they do free postage.
Find out more at the Pretty Soul eBay website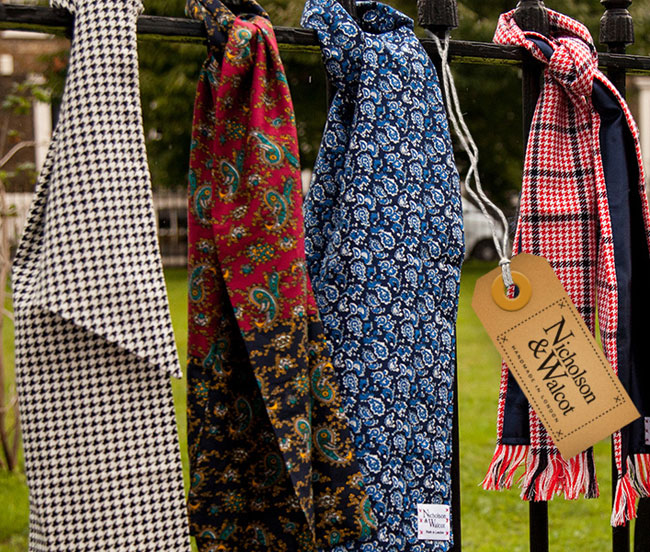 3. Nicholson and Walcot scarves
There's something rather classy about the Nicholson and Walcot scarves, which also offer plenty of character.
These made in London scarves are very 'classic gentleman' and is some cases, for the colder time of year, with many of the designs lined to keep you warm as well as stylish.
Options for tassels, slant edges, linings and even details such as football club badges and a target on your bespoke scarf. The image above hints at the range available, but do check it out yourself. Prices inevitably vary, but you are working from around £30.
Find out more at the Nicholson and Walcot website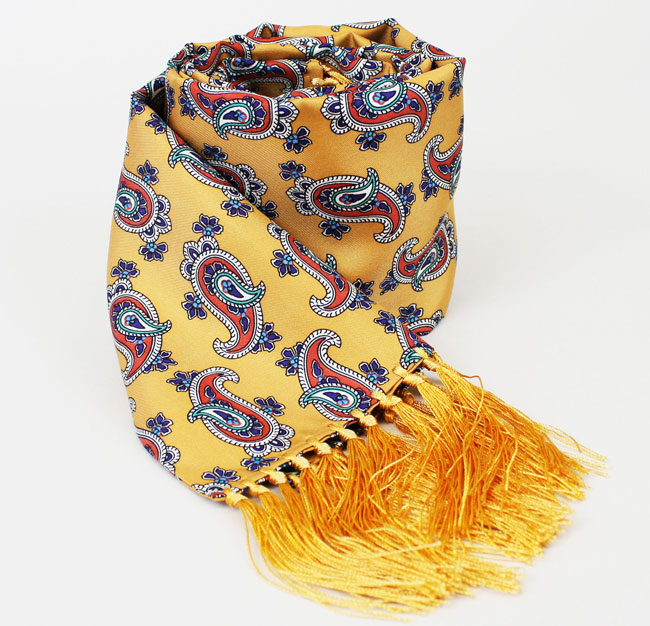 4. Jump The Gun classic 1960s scarves
Of course, Jump The Gun has scarves. Nice ones too.
The shop is a must-visit if you are in Brighton, but if you can't get down, have a look online. Especially if you want a scarf.
Jump The Gun stocks Tootal and other labels, but it also does a few of its own. Some more substantial Merino wool scarves plus scarves that don't look massively different to a Tootal. Although they do come in a little cheaper.
Thought the one above was a Tootal? No, that's a JTG scarf in silk. It retails for £40. see the website for other options.
Find out more at the Jump The Gun website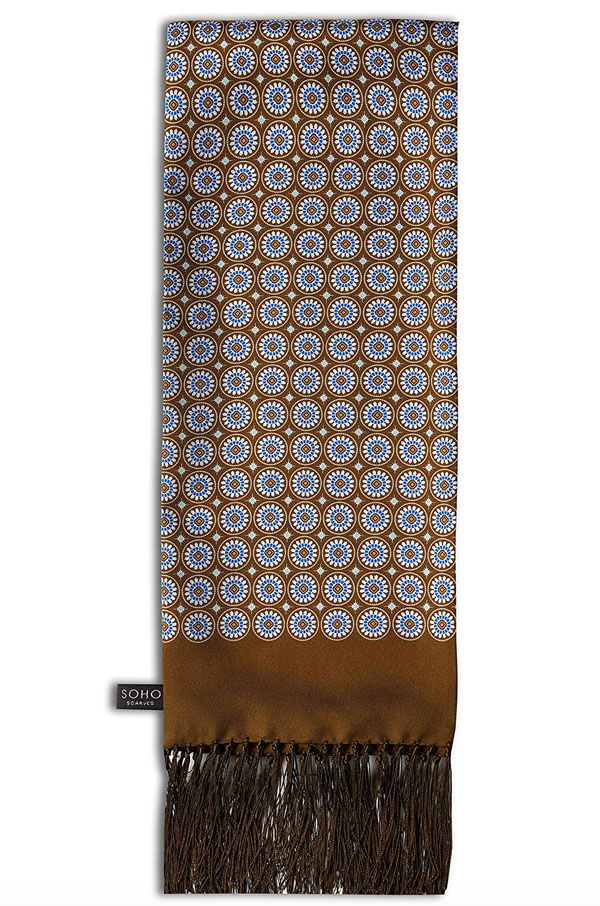 5. 1960s-style Soho scarves
Again, a similar look to Tootal but for less money. And of course, a different choice of cloths.
Silk construction and a tassel at the end, it would pass for a Tootal scarf without question. But it does come in cheaper. Not that you are sacrificing quality. Soho has a lot of fans. Other options too, including wool-backed and plain edged designs.
But if you want that classic 1960s look, the price is around £32.
Find out more at the Soho Scarves at Amazon website
Other contenders…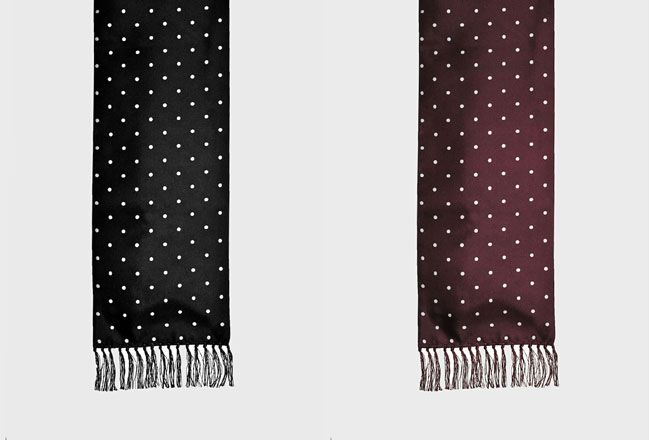 You can get a polka dot scarf from the ever-reliable Art Gallery Clothing. It's narrow, it is silk and it sells for £29.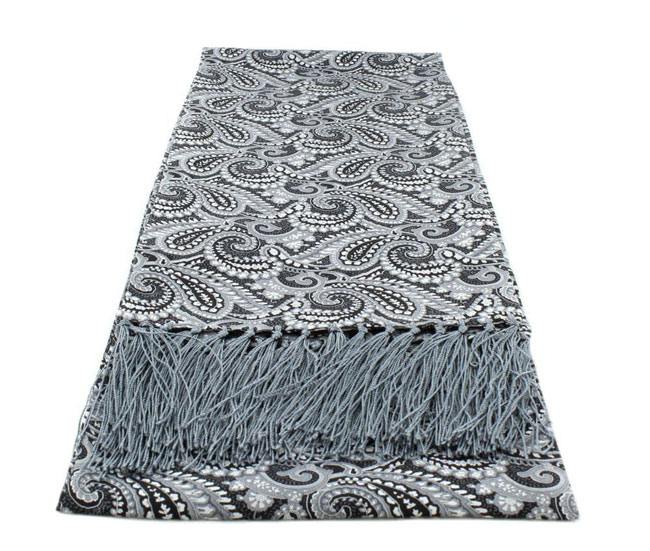 Another label worth a look at is Michelsons neckwear. The paisley scarf pictured above is £20 and is typical of the range. Go have a look.
Oh yes, maybe have a look at Knightbridge neckwear too. A bit pricier than others, but you might see something you like, as they do have some exclusive cloths.
Or you could always buy a vintage Tootal scarf off eBay. There are plenty out there and you might snag a bargain. Alternatively, do the legwork and have a rummage at your local charity or vintage store.
Love Modculture? If you enjoy what you read or have benefitted from it and want to
help with the ever-increasing costs of the site and newsletter
, you can always
buy me a coffee at Ko-Fi
. Every penny is helpful and appreciated.