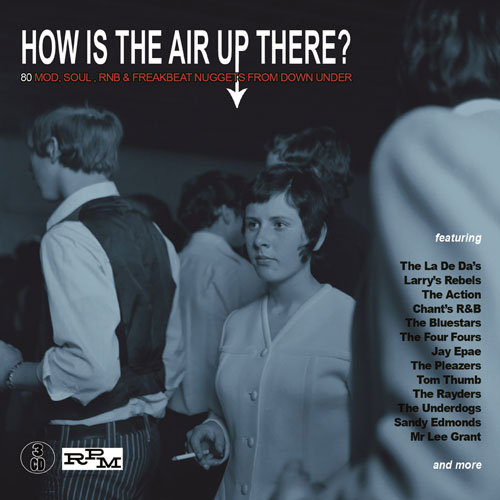 That's a long title, but it tells you much of what you need to know. The How Is The Air Up There? 80's Mod, Soul, Freakbeat Nuggets From Down Under box set is heading your way soon.
According to the initial details from RPM (via Cherry Red), the box contains 80 recordings from over 50 of Australia and New Zealand's well known – and lesser known acts spanning the era 1965 to 1969.
19 tracks are on CD for the first time; six tracks are previously unreleased. As well as the local HMV, RCA and Philips labels it features plenty of own labels too, such as Action, Impact, Zodiac, Allied International and La Gloria.
If you are based there, you might know some of these tunes already If not, this is probably a first chance to own a copy of many of the recordings, not least because well over half the recordings in the box have not been available for decades.
A detailed booklet accompanies the package with biographies of all the artists plus many rare photos, including actual club interiors, and memorabilia courtesy of New Zealand's leading authority Grant Gillanders.
Tracks listed below and if you want a copy, you can pre-order now ahead of the 26th January 2018 release date. It's priced at £19.38.
Find out more at the Amazon website
Track List:
DISC ONE
1. HOW IS THE AIR UP THERE– The La De Da's
2. PAINTER MAN – Larry's Rebels
3. I'M YOUR WITCH DOCTOR – Chant's R'N'B
4. A WORKING MAN – The Rayders
5. GO GO – The Four Fours
6. SOCIAL END PRODUCT – The Bluestars
7. DOWN IN THE MINE – Peter Nelson & The Castaways
8. I NEED YOU – Tom Thumb
9. WOMAN – The Breakaways
10.NO MORE NOW – The Smoke
11.DON'T STAND IN MY WAY – The La De Da's
12.HURTIN ALL OVER – The Pleazers
13.SINGLE MAN – The Bitter End
14.COME AND SEE ME – Sandy Edmonds
15.ANYTHING YOU LIKE – Spectres
16.LIVING IT DOWN – The Deep Set
17.GET OUT OF MY LIFE, WOMAN – The Roadrunners
18.NOW SHE'S MINE – Crescendos
19.I CAN TAKE IT – The Bluestars
20.I CAN'T STOP – The Principals
21.I FEEL GOOD – Larry's Rebels
22. I'M HAPPY TOO – Hubb Kapp & The Wheels
23.HE'S READY – The Clevedonaires
24.IS IT OVER BABY ? – The Pleazers
25.I CAN'T MAKE A FRIEND – The Action
26. CONTROL YOUR LOVE – The Smoke
27. LISTEN TO ME – The Gremlins
DISC TWO
1. ONTOPOFTHEWORLD– The La De Da's
2. GOT LOVE – Tom Thumb
3. DAY BY DAY – The Action
4. THE DEVIL IS A WOMAN – The Deep Set
5. GET THE PICTURE – The Selected Few
6. BABY DOLL – Grim Ltd
7. SHE'S GONNA GET ME – The Four Fours
8. I'LL BE AROUND – The Principals
9. UGLY THING – The Cossacks
10.A HOUSE IN THE COUNTRY – The Roadrunners
11.I CAN'T EXPLAIN – Bari & The Breakaways
12.NOW YOU SHAKE – Ray Columbus & The Invaders
13.HEY JOE – Sebastian's Floral Array
14. LITTLE MISS RHYTHM AND BLUES – Judge Wayne & The Convicts –
15. LOST WOMAN – The Clevedonaires
16.NEVER TRUST ANOTHER WOMAN – The Smoke
17.MILK COW BLUES – Grim Ltd
18.JUST OUT OF REACH – Identity
19.DON'T WANNA BE LONELY ANYMORE – The Bluestars
20. WHAT'CHA GONNA DO – The La De Da's
21.ALL FOR ONE – The Breakaways
22.SHE'S MINE – Larry's Rebels
23.IT'S YOU – The Secrets
24.WOMEN – The Principals
25.I'M GONNA SAY YEAH – The Librettos
26.MR JINX – Tommy Adderley
27.BUS RIDE – Terry Dean & The Nitebeats
DISC THREE
1. ALL NIGHT WORKER – The Newshounds
2. HALLELUJAH – Quincy Conserve
3. I'M GOOD FOR YOU – Troubled Mind
4. LOVE LOVE LOVE – Gene Pierson
5. A LITTLE LOVIN' SOMETIME – The Castaways
6. SOMETHING FRESH – The Action
7. SEE SAW – THE UNDERDOGS
8. JUMP BACK – The La De Da's
9. I'M IN LOVE WITH A STRANGER – The Soundells
10.RESCUE ME – The Librettos 11.LOVE – Mr Lee Grant
12.HURTIN' – Johnny Devlin
13.YOU GOT TO ME – Gene Pierson
14.THINGS GO BETTER – The Challenge
15.OVER YOU – The Newshounds
16.TURN TO STONE – Concrete Lamb
17.LOVIN' LOOK – Quincy Conserve
18.AT A TIME LIKE THIS – The Castaways
19.NEIGHBOUR NEIGHBOUR – Chant's R'N'B
20.GET READY – Le Frame
21.PAINS OF LOVE – Billy Karaitiana
22.SO BADLY BABY – The Spectres
23.SECURITY – The Pleazers
24.NEVER EVER – The Action
25.AS LONG AS I HAD YOU – Lee Grant
26.COFFEE GRIND – Jay Epae