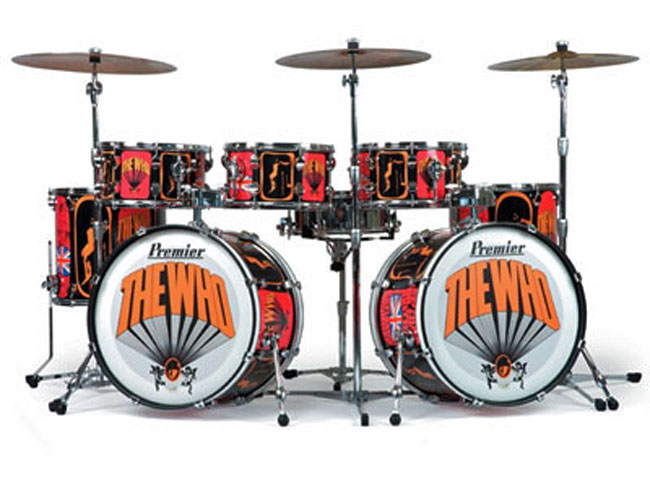 Yes, you can buy a Keith Moon drum kit and live out your fantasy as the wildman of Mod legends, The Who.
Yes, if you have fancied yourself battering a drum kit like Keith Moon now is your chance if your bank balance is in a fairly healthy state.
Not just any Keith Moon set. This is the Premier reissue of the limited edition 'Spirit of Lily' drumset in tribute to the legendary "Pictures of Lily" kit made by the company for Keith Moon in the 60s. You know the one. It's pictured above and it's an absolute, bona fide classic.
As you would expect, the original kit has been painstakingly researched to ensure absolute authenticity of the new kit.
The 'Spirit of Lily' drumset features Premier Series Birch drums with authentic replica artwork finish with Premier Series lugs, fittings and die-cast hoops.  The set up matches the original 8-piece setup and is made up of:
14″ x 8″ Mounted Toms x 3
16″ x 16″ Floor Toms x 2
22″ x 14″ Bass drums x 2
14″ x 5.5″ Steel Snare Drum
Each kit comes complete with an accompanying Collector's Edition colour booklet too. But that's the last thing you will be concerned about. You will want to get this set up and go at it the minute it arrives. I know I would,
It's a limited edition, available for just 14 months (one for each year that Moon worked with Premier) and judging by prices I have found online, it will cost you between £4,000 and £4,500. So serious Moon fans only with this one.

More details and pictures from the Premier website