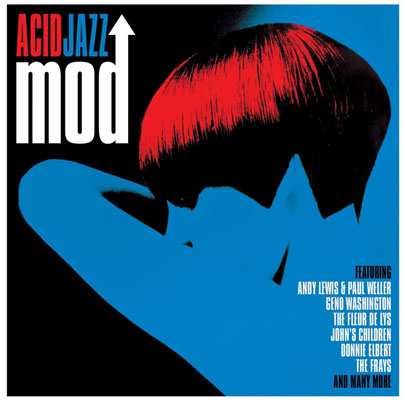 Strangely, this isn't actually on the Acid Jazz label, although the content of Acid Jazz Mod derives from that label.
Confused? You should be. Anyway, let's clear things up. The album is released by a label called Not Bad Records, with this collection being a two-CD affair covering 40 tracks in total.
The output is pretty much a mix of mod-friendly releases from the Acid Jazz catalogue (Paul Weller and Andy Lewis, The Moons, Mother Earth and so on) missed with some of the tracks from the label's Rare Mod series. All of which is available for what you would probably called a mid-price.
Or bearing in mind this is two CDs, possibly touching on budget at £8.99 for 40 tracks.
Anyway, tracklisting below, with pre-orders now available ahead of the 1st September release date.
Find out more at the Amazon website
Tracklisting:
Disc 1
1. Are You Trying To Be Lonely – Andy Lewis & Paul Weller
2. Pandora – Men Of North Country
3. Left Right & Centre – Lord Large & Dean Parish
4. Everyday Heroes – The Moons
5. I Got The Buzz – John's Children
6. I Like What I'm Trying To Do – Waygood Ellis
7. Fahrenheit – The Dilemmas
8. E-Type – Corduroy (Live)
9. Holding On (With Both Hands) – Geno Washington
10. Be Selected – Mother Earth (Live)
11. Confusion – Planet
12. I Want You Girl – Broken Vinyl Club
13. Knockout – The Filthy Six
14. Two Can Make It Together – Tony & Tandy
15. Car Chase – The James Taylor Quartet
16. Mercy – The Third Degree
17. Out Of The Blues – Pleasure Beach
18. Juicer – The James Coburn Cool
19. Wait For Me – The Fleur De Lys
20. Shine On Me – Long Tall Shorty
Disc 2
1. Caught In A Storm – The Elements
2. The Magic Lounge About – Kitchener
3. Indian Rope Man – Phaze
4. Gotta Get Enough Time – Sharon Tandy
5. No More Heroes – Night Trains
6. Who Belongs To You – Maxine
7. Clutching At Straws – The Red Inspectors
8. Don't Start Crying Now – The Frays
9. Liar Liar – Satisfaction (Radio Edit)
10. Morning Brings The Light – Grand Union
11. Keep Me Covered – The Frays
12. Theodalight 9 – Danger Mod
13. This Old Heart Of Mine – Donnie Elbert
14. Tired Feet – Smoove
15. I'll Go Crazy – Kenny Bernard
16. Wormin' – The Clique
17. Theme From The New Avengers – Snowboy
18. Looking Good – Jimmy James & The Vagabonds
19. White Elephant – Action Band
20. Sara, Crazy Child – John's Children