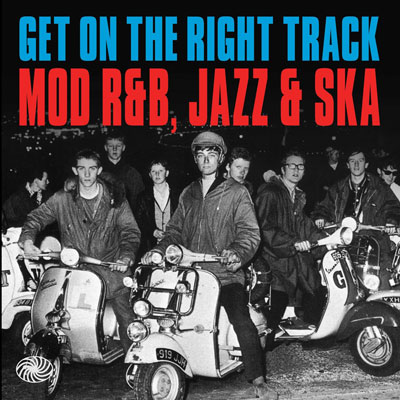 The first of a few mod-related box sets coming your way, this one being the Get On the Right Track mod, R&B, jazz and ska box set, which is released by Fantastic Voyage.
According to the pre-release publicity, this three-disc box has been ompiled by Lois Wilson (Mojo, Record Collector), offering up 90 tracks of classic 1960s R&B, with some added jazz and ska thrown in for good measure.
It's intended to showcase the sound of the early to mid-60s club scene.
The description adds:
"When Jamaican born Duke Vin, a former DJ on Tom The Great Sebastian s Beat Street System, set up his own system in 1955, he got the place jumping. The sound system was like nothing London had witnessed before. It was loud, exciting and had no curfew. Duke Vin inspired Count Suckle, another Ladbroke Grove resident, who set up a rival system and the pair soundtracked the first generation West Indians blues parties with a playlist of US R&B 45s.
Club Eleven and the Flamingo attracted newly settled Jamaicans too. Out of these clubs and sound systems, mod grew. These mods were defined by their impeccable music taste and their smart clobber. They would dance their nights away at the Scene, to records spun by Guy Stevens, the UK Sue label manager and one of mods main pivots. They also frequented the Marquee and Count Suckle's Roaring Twenties. "
The first two discs bring together the sounds you would have heard at these clubs, while disc three captures a similar sound using tracks from the era that have been 'discovered' since and are heard in mod clubs today.
Full tracklisting below, with pre-orders for just £9.43. The album comes out on 14 April.
Find out more at the Amazon website
Update: There is also a Limited edition two-disc version on vinyl
Tracklisting:
Disc: 1
1. Boom Boom (John Lee Hooker) – John Lee Hooker
2. My Babe (Little Walter) – Little Walter
3. I Wish You Would (Billy Boy Arnold) – Billy Boy Arnold
4. You Can t Judge A Book By The Cover (Bo Diddley) – Bo Diddley
5. Beautiful Delilah (Chuck Berry) – Chuck Berry
6. Shimmy, Shimmy Walk, Part 1 (The Megatons) – The Megatons
7. Shake Your Moneymaker (Elmore James) – Elmore James
8. I Got Love If You Want It (Slim Harpo) – Slim Harpo
9. Messin With The Man (Muddy Waters) – Muddy Waters
10. The Walk (Jimmy McCracklin) – Jimmy McCracklin
11. You ll Be Mine (Howlin Wolf) – Howlin' Wolf
12. Homework (Otis Rush) – Otis Rush
13. Oh Carolina (The Folkes Brothers) – The Folkes Brothers
14. Dumplins (Byron Lee and The Dragonaires) – Byron Lee & the Dragonaires
15. Housewife s Choice (Derrick and Patsy) – Derrick & Patsy
16. Rockin Pneumonia And The Boogie Woogie Flu, Part 1 (Huey Piano Smith and The Clowns) – Huey 'Piano' Smith and The Clowns
17. A Certain Girl (Ernie K-Doe) – Ernie K Doe
18. She Put The Hurt On Me (Prince La La) – Prince La La
19. The Wallflower (Roll With Me Henry) (Etta James and The Peaches) – Etta James & The Peaches
20. I Done Woke Up (Louisiana Red) – Louisiana Red
21. Don t Start Cryin Now (Slim Harpo) – Slim Harpo
22. You Need Love (Muddy Waters) – Muddy Waters
23. Baby What You Want Me To Do (Jimmy Reed) – Jimmy Reed
24. Dimples (John Lee Hooker) – John Lee Hooker
25. Hide Away (Freddy King) – Freddy King
26. Smokestack Lightning (Howlin Wolf) – Howlin' Wolf
27. I m Talking About You (Chuck Berry) – Chuck Berry
28. Poison Ivy (The Coasters) – The Coasters
29. Hitch Hike, Part 1 (Russell Byrd) – Russell Byrd
30. Boppin With Sonny (Sonny Boy Williamson) – Sonny Boy Williamson
Disc: 2
1. Last Night (The Mar-Keys) – The Mar-Keys
2. Shout And Shimmy (James Brown and The Famous Flames) – James Brown & The Famous Flames
3. Money (That s What I Want) (Barrett Strong) – Barrett Strong
4. Do You Love Me (The Contours) – The Contours
5. Hitch Hike (Marvin Gaye) – Marvin Gaye
6. I ve Got A Claim On You (Betty Everett) – Betty Everett
7. I m Blue (The Gong-Gong Song) (The Ikettes) – The Ikettes
8. A Fool In Love (Ike and Tina Turner) – Ike and Tina Turner
9. I ve Got A Woman, Part 1 (Jimmy McGriff) – Jimmy McGriff
10. I Know (You Don t Love Me No More) (Barbara George) – Barbara George
11. Baby It s You (The Shirelles) – The Shirelles
12. Devil In His Heart (The Donays) – The Donays
13. The Hoochi Coochi Coo (Hank Ballard and The Midnighters) – Hank Ballard & The Midnighters
14. She Said Yeah (Larry Williams) – Larry Williams
15. Shout Bamalama (Otis Redding and The Pinetoppers) – Otis Redding and The Pinetoppers
16. You Can t Sit Down, Part 1 (Philip Upchurch Combo) – Philip Upchurch Combo
17. Ya Ya (Lee Dorsey) – Lee Dorsey
18. Don t Mess With My Man (Irma Thomas) – Irma Thomas
19. You ll Lose A Good Thing (Barbara Lynn) – Barbara Lynn
20. Cry To Me (Solomon Burke) – Solomon Burke
21. Get On The Right Track Baby (Ray Charles) – Ray Charles
22. The Seventh Son (Mose Allison) – Mose Allison
23. Foxy (The Mar-Keys) – The Mar-Keys
24. Sweets For My Sweet (The Drifters) – The Drifters
25. Delilah (Major Lance) – Major Lance
26. Gypsy Woman (Derrick and Patsy) – Derrick & Patsy
27. Cleo s Mood (Jr Walker All Stars) – Junior Walker & the All Stars
28. I Pity The Fool (Bobby Bland) – Bobby Bland
29. Young Man Blues (Mose Allison) – Mose Allison
30. Jack, That Cat Was Clean (Dr Horse) – Dr. Horse
Disc: 3
1. I m Shakin (Little Willie John) – Little Willie John
2. Daddy Rollin Stone (Otis Blackwell) – Otis Blackwell
3. Just A Little Bit (Tiny Topsy) – Tiny Topsy
4. I ve Got A Feelin (Big Maybelle) – Big Maybelle
5. Burnt Toast And Black Coffee (Mike Pedicin) – Mike Pedicin
6. Sugar In My Tea (Cream In My Coffee) (Piney Brown and His Blues Toppers) – Piney Brown and his Blues Toppers
7. It s Your Voodoo Working (Charles Sheffield) – Charles Sheffield
8. Keep On Loving Me, Baby (Otis Rush) – Otis Rush
9. Think (The 5 Royales) – 5 Royales
10. Have Love Will Travel (Richard Berry and The Pharaohs) – Richard Berry & The Pharaohs
11. Oo-Ma-Liddi (J.J. Jackson and The Jackaels) – J.J. Jackson and The Jackaels
12. I Found You (Yvonne Fair and The James Brown Band) – Yvonne Fair and The James Brown Band
13. Looking Back (Johnny Guitar Watson) – Johnny 'Guitar' Watson
14. That s A Pretty Good Love (Big Maybelle) – Big Maybelle
15. Uh Uh Baby (No No Baby) (Little Willie John) – Little Willie John
16. Why Don t You Do Right? (Mark Murphy) – Mark Murphy
17. Oasis, Part 1 (The Majestics) – Majestics
18. I m Going Home (Prince Conley) – Prince Conley
19. I m Tore Down (Freddy King) – Freddy King
20. That s It Man (The Valentines) – The Valentines
21. She s Mine (John Lee Hooker) – John Lee Hooker
22. Mess Around (Ray Charles) – Ray Charles
23. All Around The World (Little Willie John) – Little Willie John
24. What Kind Of Man Are You (Dolores Johnson) – Dolores Johnson
25. When You See Me Hurt (Carl Lester and The Showstoppers) – Carl Lester and The Show Stoppers
26. Louie Louie (Richard Berry and The Pharaohs) – Richard Berry & The Pharaohs
27. I m A Little Mixed Up (Betty James) – Betty James
28. Seven Day Fool (Etta James) – Etta James
29. Chain Gang (The Sound Of My Man) (Theola Kilgore) – Theola Kilgore
30. Burnt Biscuits (The Triumphs) – The Triumphs