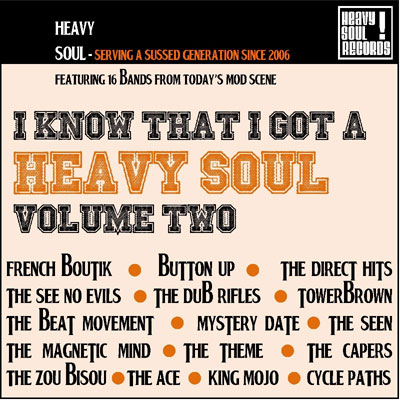 Credit to Adam at Heavy Soul for constantly promoting new bands, some of whom have done pretty well for themselves since (like The Strypes for example). Anyway, if you've never bought any of the label's releases, the I Know That You Got A Heavy Soul Volume 2 CD is a good and affordable place to start.
It's a selection of modern-day, mod-friendly bands, with a couple of exceptions (those being a couple of rarities from the 1980s). And it probably covers most bases too, from the laid back grooves of French Boutik to the R&B of Towerbrown, Button Up and King Mojo through to the psychedelia of The Magnetic Mind.
Full tracklisting below. If you want to pre-order a copy, you can do just that right now at the Heavy Soul website. It retails for just £4.99.
1. FRENCH BOUTIK – Posse au crime
2. THE SEEN – There's no two ways about it
3. BUTTON UP – I'm Going Home
4. TOWERBROWN – Aloo matar
5. THE ACE – alone
6. THE DIRECT HITS – I feel the earth move
7. THE DUB RIFLES – No town, no country
8. MYSTERY DATE – Lightspeed romance
9. THE THEME – Hits the sky
10. THE CYCLE PATHS – Isabella
11. THE BEAT MOVEMENT – coming after you
12. THE MAGNETIC MIND – It's gonna be alright
13. THE CAPERS – Oh so fine
14. THIS HAPPY BREED – Snakes and ladders
15. KING MOJO – Ejector seat
16. THE SEE NO EVILS – Losing streak
17. THE ZOU BISOU – Genie