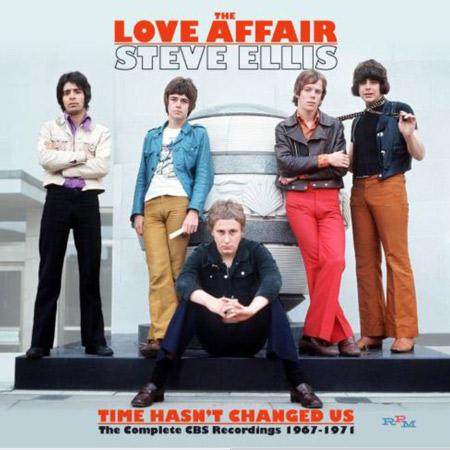 A glimpse down the new releases from Cherry Red brought up this gem, the Love Affair / Steve Ellis – Time Hasn't Changed Us The Complete CBS Recordings 1967-1971 box set.
The much-loved Steve Ellis is celebrated in a three-disc box that takes in  The Love Affair's entire recordings between 1967-1970 as well as Steve Ellis' subsequent solo recordings. Essentially, it is the full story of their time with CBS Records. That also includes material on disc three that features sessions for a Steve Ellis solo album, which was abandoned at the time.
The entire package has the sleeve notes you would expect, as well as quotes from Steve Ellis. The shelf date is 29th June 2015, but you can pre-order now if you like to plan ahead. The three-disc set is £12.99.
Track listing is below.
Find out more at the Amazon website
DISC 1: THE LOVE AFFAIR
1. EVERLASTING LOVE
2. GONE ARE THE SONGS OF YESTERDAY
3. RAINBOW VALLEY
4. SOMEONE LIKE ME
5. A DAY WITHOUT LOVE
6. I'M HAPPY
7. HUSH
8. 60 MINUTES (OF YOUR LOVE)
9. COULD I BE DREAMING
10. FIRST CUT IS THE DEEPEST
11. SO SORRY
12. ONCE UPON A SEASON
13. TOBACCO ROAD
14. THE TREE
15. HANDBAGS AND GLADRAGS
16. BUILD ON LOVE
17. PLEASE STAY
18. TALE OF TWO BITTERS
19. ONE ROAD
20. LET ME KNOW
21. BRINGING BACK THE GOOD TIMES
22. ANOTHER DAY
23. IO SENZA TE (Rainbow Valley)
DISC 2: THE LOVE AFFAIR
1. BABY I KNOW
2. ACCEPT ME FOR WHAT I AM
3. TIME HASN'T CHANGED US
4. UN GIORNO SENZA AMORE (A Day Without Love)
5. ALL ALONG THE WATCHTOWER (BBC Colour Me Pop, 2.8.69)
6. A DAY IN THE LIFE (BBC Colour Me Pop, 2.8.69)
7. WALK ON GILDED SPLINTERS (BBC Session, D.L.T., 10.11.69)
8. LINCOLN COUNTY
9. SEA OF TRANQUILITY
10. SPEAK OF PEACE, SING OF JOY
11. BRING MY WHOLE WORLD TUMBLING DOWN
12. NEW DAY
13. WALKING DOWN THE ROAD
14. GEE'S WHIZZ
15. GYPSY
16. GOODBYE BROTHER, FAREWELL FRIEND
17. HURT BY LOVE
18. BAD GIRL
19. NINE TO FIVE
20. THANK YOU BEAN
DISC 3: STEVE ELLIS
1. LOOT (from Loot)
2. MORE MORE MORE (from Loot)
3. EVIE
4. FAT CROW
5. TAKE YOUR LOVE
6. JINGLE JANGLE JASMINE
7. HAVE YOU SEEN MY BABY (alias Hold On)
8. GOODY GOODY DANCING SHOES
9. GOOD TIME LIVIN'
10. SOMETHING'S GOTTEN HOLD OF MY HEART
11. IT'S A MAN'S MAN'S MAN'S WORLD
12. BREAD AND WINE
13. LEAN ON ME
14. RAINY NIGHT IN GEORGIA
15. HOLLY HOLY
16. CHARLEY PATTON RIDES THE DELTA
17. I DON'T KNOW WHY
18. GIMME SHELTER
19. PISCES APPLE LADY
20. WAY UP ON THE HILL
21. I GOT A FEELIN'
22. CAN'T STOP WORRYIN' CAN'T STOP LOVIN'
23. TAKE ME TO THE PILOT