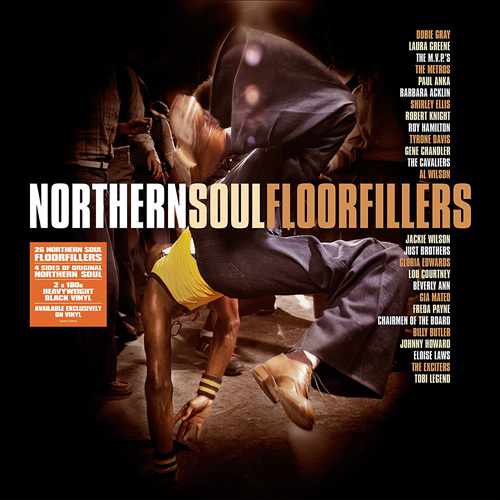 If your collection is lacking any, you might want to check out the upcoming Northern Soul Floorfillers double heavyweight vinyl, which is heading your way via Demon.
Basically it is what you expect. That's a double heavyweight vinyl package of northern soul classics, all packaged in a gatefold sleeve featuring artwork from Elaine Constantine, the BAFTA nominated director of the award-winning 2014 British Film, Northern Soul.
The only other thing you need to know is the chosen track listing. You'll find that below. Oh yes, the release date is 14th April, with pre-orders now open, selling for £16.32.
Find out more at the Amazon website
Track listing:
Disc: 1
1. Dobie Gray – Out On The Floor
2. Laura Greene – Moonlight Music and You
3. The M.V.P.'s – Turnin' My Heartbeat Up
4. The Metros – Since I Found My Baby
5. Paul Anka – I Can't Help Lovin' You
6. Barbara Acklin – Love Makes A Woman
7. Shirley Ellis – Soul Time
8. Robert Knight – Love On A Mountain Top
9. Roy Hamilton – Crackin' Up Over You
10. Tyrone Davis – Turn Back The Hands Of Time
11. Gene Chandler – There Was A Time
12. The Cavaliers – Hold On To My Baby
Disc: 2
1. Al Wilson – The Snake
2. Jackie Wilson – The Who Who Song
3. Just Brothers – Sliced Tomatoes
4. Gloria Edwards – My Love Keeps Getting Stronger
5. Lou Courtney – Trying To Find My Woman
6. Beverly Ann – He's Coming Home
7. Gia Mateo – If You Can't Say Anything Nice
8. Freda Payne – Band Of Gold
9. Chairmen Of The Board – Give Me Just A Little More Time
10. Billy Butler – Right Track
11. Johnny Howard – The Chase Is On
12. Eloise Laws – Love Factory
13. The Exciters – Blowin' Up My Mind
14. Tobi Legend – Time Will Pass You By