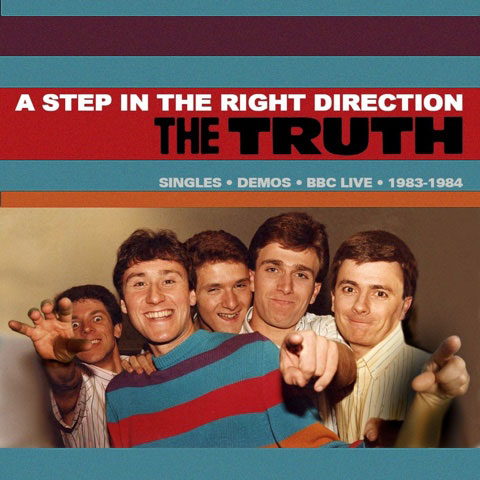 The band that followed Nine Below Zero are given the full retrospective treatment by Cherry Red. Specifically that's The Truth A Step In The Right Direction Singles, Demos, BBC Live 1983-1984 box set.
It's a set that does two things. Firstly, it brings to CD much of the band's output (very little has actually made it to CD) and it also brings together pretty much everything ever put to tape over the three discs, including live material and unheard demos.
In fact, disc two is a combination of two BBC concerts while disc three is another live gig, recorded back in the day at the Marquee club. You can see the full tracklisting of the set below.
Dennis Greaves and Mick Lister have been involved with this release, with additional sleeve notes from Mojo's Lois Wilson. The box is released on 22nd January 2016 but available to pre-order now. It sells for £13.99.
Find out more at the Amazon website
Tracklisting:
DISC ONE
THE FORMATION SINGLES
1.    CONFUSION (HITS US EVERYTIME)
2.    ME AND MY GIRL
3.    A STEP IN THE RIGHT DIRECTION
4.    BEAT GENERATION
5.    WHAT YOU WANT ME TO SAY
6.    SECOND TIME LUCKY
7.    NO STONE UNTURNED
8.    FLESH AND FANTASY
9.    DON'T TELL ME
10.    LOVE A GO-GO (Live)
11.    FROM THE HEART (Live)
12.    NOTHING'S TOO GOOD FOR MY BABY (Live)
13.    I GET SO EXCITED (Live)
BONUS TRACKS
14.    COME ON (Demo) *
15.    IF I EVER FIND LOVE
(Demo) *
16.    INSTRUMENTAL (Demo) *
17.    LOOK MY WAY (Demo)
18.    SWEET SENSATION (Demo) *
* Previously unissued
DISC TWO
LIVE AT THE BBC
In Concert at the Paris Theatre, London 19/11/83:
1.    EXCEPTION OF LOVE
2.    LISTEN TO WHAT I SAY
3.    ALWAYS ON MY MIND
4.    IS THERE A SOLUTION?
5.    BEAT GENERATION
6.    THE SWEETEST FEELING
7.    YOU PLAY WITH MY EMOTIONS
8.    SECOND TIME LUCKY
9.    A STEP IN THE RIGHT DIRECTION
10.    JUST CAN'T SEEM TO STOP
Live at Goldiggers, Chippenham 14/1/84:
11.    CONFUSION (HITS US EVERYTIME) (excerpt)
12.    EXCEPTION OF LOVE
13.    LISTEN TO WHAT I SAY
14.    ALWAYS ON MY MIND
15.    IS THERE A SOLUTION?
16.    NO STONE UNTURNED
17.    A STEP IN THE RIGHT DIRECTION
18.    SECOND TIME LUCKY
19.    IT'S A MIRACLE
20.    YOU PLAY WITH MY EMOTIONS
21.    JUST CAN'T SEEM TO STOP
22.    FLESH & FANTASY
All tracks previously unissued
DISC THREE
LIVE AT THE MARQUEE
1.    LOVE A GO GO
2.    LISTEN TO WHAT I SAY
3.    ME AND MY GIRL
4.    OUT OF THE DARKNESS
5.    ALWAYS ON MY MIND
6.    IS THERE A SOLUTION
7.    CONFUSION (HITS US EVERYTIME)
8.    YOU PLAY WITH MY EMOTIONS
9.    WHAT YOU WANT ME TO SAY
10.    IT'S A MIRACLE
11.    DON'T YOU JUST KNOW IT
12.    COME ON
13.    JUST CAN'T SEEM TO STOP
14.    NOTHING'S TOO GOOD FOR MY BABY (LIVE)
15.    REACH OUT I'LL BE THERE
16.    I'M IN TUNE
BONUS TRACKS
17.    HOUSE PARTY (Live)
18.    I GET SO EXCITED (Live)
All tracks previously unissued