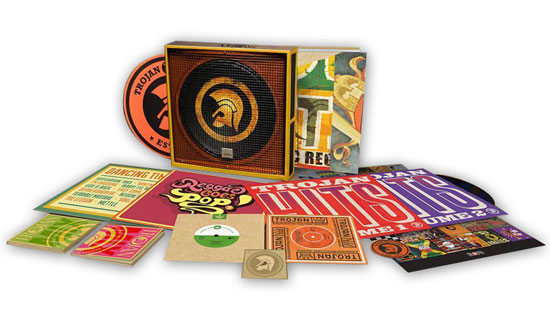 Hot on the heels of the book comes the box set. Specifically, the Trojan Records 50th anniversary box set.
It's quite a thing too, especially if you love the Trojan label's output. Hefty is a word I would probably use.
According to the label, this box is 'an array of vinyl and CD titles', mixing together all the major UK hits, numerous Jamaican best-sellers, hundreds of rarities that see issue for the first time in decades, and two brand new recordings from the new record label, Trojan Reloaded.
The contents are as follows:
Two 3CD collections, featuring over 130 tracks with 69 making their digital debut.
Four vinyl LPs, showcasing the hits, rarities and rare 'commercial reggae' tracks.
Two 7" singles, highlighting previously unreleased and brand new recordings.
A book featuring essays and full scale reproductions of 50 of the most iconic Trojan album sleeves from the past 50 years.
High quality Trojan slipmat
Stunning A2 poster
Stylish Trojan patch
Wooden Trojan 7" single adapter
I'll add the track listing below, but a quick word on buying it first. I have seen this on the Trojan site and on Amazon. At Trojan, you get an 'exclusive 8-Track CD Featuring Rare & Unreleased Trojan Tracks. At Amazon you don't, but it looks to be significantly cheaper at Amazon without the extra disc.
It's your call and I have put links to both so you can make up your own mind. As for those prices, £100 at Trojan and £84.33 at Amazon.
The box set at the Trojan Records shop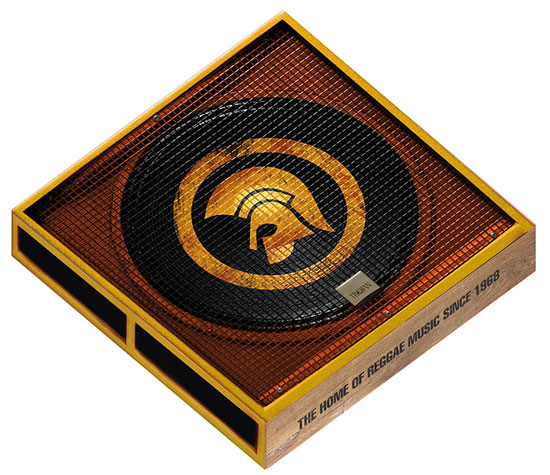 Track listings:
Trojan Hits Vol.1 (LP):
Side A:
1. Red Red Wine – Tony Tribe
2. Return of Django – The Upsetters
3. Skinhead Moonstomp – Symarip
4. Long Shot Kick De Bucket – The Pioneers
5. Liquidator – Harry J Allstars
6. Sweet Sensation – The Melodians
Side B:
1. To Be Young Gifted and Black – Bob & Marcia
2. Monkey Man – The Maytals
3. Love of the Common People – Nicky Thomas
4. You Can Get It If You Really Want – Desmond Dekker
5. Black Pearl – Horace Faith
6. Double Barrel – Dave & Ansel Collins
Trojan Hits Vol.2 (LP):
Side A:
1. Rain – Bruce Ruffin
2. Pied Piper – Bob & Marcia
3. Black and White – Greyhound
4. Monkey Spanner – Dave & Ansel Collins
5. Let Your Yeah Be Yeah – The Pioneers
6. Moon River – Greyhound
Side B:
1. Give and Take (Give a Little, Take a Little) – The Pioneers
2. I Am What I Am – Greyhound
3. Suzanne Beware of the Devil – Dandy Livingstone
4. Big Seven – Judge Dread
5. Everything I Own – Ken Boothe
6. Help Me Make It Through the Night – John Holt
Dancing Time (LP):
Side A:
1. Sufferation 1969 – Justin Hinds & The Dominoes & Tommy McCook & The Supersonics
2. Dancing Time – Desmond Dekker & The Aces
3. I'm Shocking – The Ethiopians
4. (Baby) I'll Be Yours – The Gaylads
5. Lick It Back – Winston Samuels
6. Easy Come, Easy Go – The Pioneers
Side B:
1. Do the Boogaloo – The Maytals
2. Soul Love – Joey & Group & Tommy McCook & The Supersonics
3. Reggae to Jeggae – Tommy McCook
4. Terrible Mistake – Eric Morris
5. The Lesson – The Teacher Man & Tommy McCook & The Supersonics
6. Mettle – The Pioneers
Reggae Goes Pop! (LP):
Side A:
1. What Am I to Do – Tony Scott
2. Got to Come Back – Delano Stewart
3. Feel a Little Better – Lloyd Parks & The Techniques
4. Fire and Rain – The Gaylads
5. Lonely Man – Dave Barker
6. Weep – Bob Andy
Side B:
1. Funny – Rupert Cunningham
2. Working On It Night and Day – The Aces
3. Suzanne Beware of the Devil – Nicky Thomas
4. A Little Bit of Soap – The Pioneers
5. Lord Pity Us All – Martin Riley
6. Come On Girl – Jackie Edwards
7"
1. You Have Caught Me – The Melodians
1. The Little That You Have – Justin Hinds & The Dominoes
7"
1. Real Reggae Music – Reggae Roast Soundsystem
1. Real Reggae Music – Reggae Roast Soundsystem
Trojan Mix 1 (3CD):
CD1:
1. Thunderstorm – Karl "King Cannonball" Bryan
2. This Life Makes Me Wonder – Delroy Wilson
3. Mind Yourself – The Royals
4. Denver – Clyde McPhatter
5. Pickney Gal – Desmond Dekker & The Aces
6. Bread On the Table – Count Suckle & Freddie Notes & The Rudies
7. Sugar Cane – Richard Ace & Charles Ross Allstars
8. Montego Bay – Freddie Notes & The Rudies
9. Off Limits – Charlie Ace & The Aquarians
10. Sir Collins' Special – Lloyd Charmers & Sir Collins
11. Brandy – Scott English
12. Chopsticks – The Deltones
13. Hysteriacide – Count Prince Miller
14. Tchaikovsky's Piano Concerto No. 1 – The Neasden Connection
15. Big Six – Judge Dread
16. Think About That – Dandy Livingstone
17. Ain't It Groovy – The Buster Pearson Band
18. Big Eight – Judge Dread
19. Behold – The Setters
20. We Are Not the Same – The Cimarons
21. Passing Strangers – The Marvels
22. Crying Over You – Ken Boothe
23. This Monday Morning Feeling – Tito Simon
24. Running Over – Freddie McKay & Danzak
25. Nothing Is Impossible – The Interns (aka The Viceroys)
CD2:
1. The Voice of the Father – Glen Washington
2. Nyah Dread – Lester Lewis
3. White Bird Come Down – Thunderball
4. Show I the Way – Jah Woosh
5. Fight Down I – Lizzard
6. Another Moses – The Ethiopians
7. We've Got to Part – Trevor Shield & The Beltones
8. My Love for You Is Over Now – Doreen Murray
9. I Don't Want to Be a Beggar – Rudolph Mowatt
10. Jah Jah I – Diego & The Sons of Jah
11. African Woman – Winston Fergus
12. Key of Keys – Michael 'Bammi' Rose
13. The Slave Trade – One Love
14. Peace Pipe Dub – Joe White
15. Stranger in Love – Eli Emmanuel
16. Happiness – The Dingles
17. Dignity & Principle – Big Joe
18. I'm Still In Love With You Girl – Alton Ellis
19. Opportunity – Earl George (aka George Faith)
20. Segregation – Tony Sexton
21. Right Road to Zion – The Jahlights
22. Let's Spend the Night Together – Teddy & The Discolettes
23. Tell the Children the Truth – Jimmy Riley
CD3:
1. Barberman Bawling – Well Pleased & Satisfied
2. Nothing Gained (From Loving You) – Marie Pierre
3. Why Won't You Come On – Bim Sherman
4. Liquid Horns – Vin Gordon & The Corner Shots
5. Ghetto-Ology – Sugar Minott
6. We've Got to Make It – David Isaacs
7. How Can a Man Be Happy – Tristan Palma
8. Fight, Fight, Fight – The Sowell Radics
9. Take Five – Val Bennett & The Revolutionaries
10. Time Is Important to Me – The Viceroys
11. Give to the Poor – The Majesterians
12. Killerman Jarrett – Winston Jarrett
13. Sensi for Sale – Sandra Robinson & The Tuff Tones
14. Pirate – The Ethiopians
15. Dancing Shoes – George Dekker
16. (Who Is He) What Is Man – Vivian Weathers
17. Jailhouse – Private Tabby
18. Original Man – Andrew Tosh
Trojan Mix 2 (3CD):
CD1:
1. Ska Beat – Rico & His All Stars
2. Who La La – Glen Brown
3. Party Tonight – The Silvertones
4. Girls Galore – Phil Pratt & The Caltone All Stars
5. Time Marches On – David Isaacs & The Race Fans
6. Creature from the Moon – King Horror
7. Too Experienced – Owen Gray
8. Girl I've Got a Date – Winston Francis & The Rudies
9. Green River – Anonymously Yours
10. My Desire – The Yardbrooms
11. Dread It – Glen Walker
12. Tennessee Waltz – Hugh Hendricks & The Buccaneers
13. Do the Moonwalk – The Rudies
14. Hey Jude – The Dynamites
15. Deep in My Soul – Rick
16. Sycilidin – Sir Collins All Stars
17. Wide a Wake In a Dream – Al Barry
18. Bush Beat – Lloyd & The Prophets
19. Just My Imagination – Dave Barker
20. Soul Inspiration – Glen Adams & The Hippy Boys
21. Loving Feeling – I Roy
22. Old Man River – Ansel Collins
23. Lonely for Your Love – Nicky Thomas
24. Niki Hoeky – The Marvels
25. You Have to Pay – Linval Thompson
CD2:
1. Having a Party – Dennis Walks
2. Nana – The Slickers
3. You Know What I Mean – The Inspirations
4. Burial of Longshot, Part 2 – George Lee & The Rudies
5. Whisper a Little Prayer – Audley Rollen
6. Angel – The Vibrators
7. Piccadilly Hop – The Hippy Boys
8. Everytime – The Itals
9. You, Yes You – The Reaction
10. Don't Play That Song – Delroy Williams
11. Equal Rights – The Cables
12. Crazy Rhythm – Winston Wright
13. Love You the Most – Lloyd Clarke
14. I'll Be Right There – The Sensations
15. Little Boy Blue – Verne & Alvin (aka The Maytones)
16. Africa Is Paradise – The Conscious Minds
17. A Little Love – Jimmy London & The Impact All Stars
18. I'll Be There – Alton Ellis
19. Lollipop Girl – Derrick Harriott
20. Bogus-ism – The Cimarons
21. Sounds of Babylon – Samuel the First
22. My Best Dress – Tommy McCook & The Supersonics
23. (Woman) Don't Try to Use Me – Horace Andy
24. You're the One I Love – Dorothy Russell
25. Darling Dry Your Eyes – Barrington Spence
CD3:
1. Donkey Returns – Brother Dan All Stars
2. The Bullet – Rico Rodriguez & The Rudies
3. Fire Corner – King Stitt
4. Put a Little Love in Your Heart – Marcia Griffiths
5. Wear You to the Ball – U Roy
6. You Can't Wine – The Kingstonians
7. She Want It – Dave Barker
8. Satisfaction – Carl Dawkins
9. What Greater Love – Teddy Brown
10. 54-46 Was My Number – The Maytals
11. Blood and Fire – Niney
12. East of the River Nile – Augustus Pablo
13. Follow the Leader – Greyhound
14. Mother and Child Reunion – The Pioneers
15. The Further You Look (The Less You See) – John Holt
16. Money In My Pocket – Dennis Brown
17. Lonely Woman – Horace Andy
18. S.90 Skank – Big Youth
19. Stalag 17 – Ansel Collins
20. Fire Burning – Bob Andy
21. None Shall Escape the Judgement – Johnny Clarke
22. Love Is Overdue – Gregory Isaacs
23. Hurt so Good – Susan Cadogan
24. Sad and Lonely – Ken Boothe
25. Keep It Like It Is – Louisa Mark