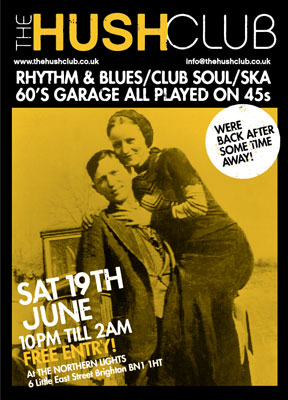 Matt Wright talks us through Brighton's Hush Club.
1. When and why did you set up the club?
I started doing the Hush club in Brighton in January 2009.  There was nowhere else playing late 50s, early 60s harder edged RnB and Ska. There was a lot of '60s nights' but generally playing more commercial 'scene' stuff than I am into.
2. Who are you DJs? Do you have guest DJs coming in too? If so, anyone we might know?
The mainstays are myself, Matt Wright, Sam Waller and Scott Ogden. We've had a few guest DJs in the past e.g. Jamie Parr and Leon Hewitt. When choosing guest DJs I prefer the younger guys because they're keeping it fresh and not just playing the same old 45s.
3. What kind of musical territory do you cover?
50s, early 60s RnB, Rockin' Blues, Ska and Garage.
4. Give us an idea of a few tracks you might hear if you dropped in?
My set would include:
Muddy Waters- Diamonds at Her Feet
The Crystals- I Got a Man
Milton Trenier- Gonna Catch Me A Rat
Larry Darnell- Who Showed My Baby How To Love Me
Chuck Bownes- Are You In The Same Mood
5. What do you think you offer that other clubs might not?
A relaxed place where anyone can come and dance to really good DJs without having to worry if their lapels are narrow enough! We have a great mixed crowd from Mods to general music lovers. We have nothing to prove so individuals from any scene will feel welcome.
6. Your current venue – how long and have you been there and how does it work for the club?
We've just found a great little venue called the Northern Lights at 6 Little East Street Brighton. It's a small, sweaty, hotbox of a dancefloor with a Swedish vodka bar downstairs and it's free to get in!
7. And how many people do you tend to attract for each night? Do you think anything might put people off coming along?
About 50 people, which keeps the dancefloor full all night. If you like good music and a friendly venue there's nothing not to like!
8. What's your view on the current state of mod/soul nights?
Over the top dress codes and scene snobbery are putting the next generation off from getting into the scene. A lot of people seem to have forgotten that this is about the music first and foremost. I'd like to see originality in DJ sets and a friendlier atmosphere in most clubs.
9. What's the best and worst thing that's happened with the club?
Best thing: someone coming up to us at the end of the night, drenched in sweat form dancing and saying 'I'd never heard this kind of music before but I f**king love it!'
Worst thing: stale old mods making bitchy comments
10. Finally, we need the lowdown on the club – listing details, how often, how to get in touch, that kind of thing.
Were back!
At THE NORTHERN LIGHTS 6 Little Street, Brighton from 10 – 2, playing Rhythm & Blues, Club Soul, SKA and Garage.
DJs are Milton Wright, Scott Ogden, Sam Waller.
Its now Free entry to get in and it has a great space for dancing.
See you there
http://www.facebook.com/event.php?eid=116280138406115&ref=ts
http://www.thehushclub.co.uk