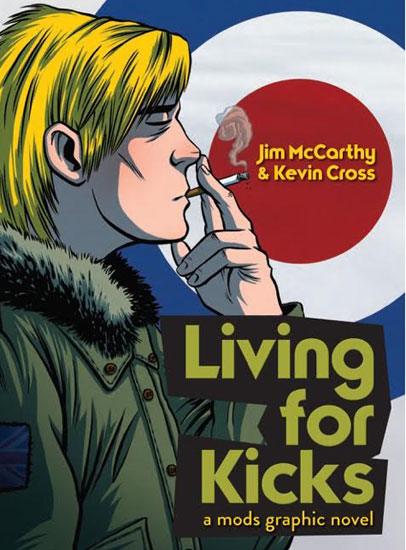 Note that I independently write and research everything in this article. But it may contain affiliate links.
Two new mod-related graphic novels will be on the shelves soon – Living For Kicks and Who Are You? The Life & Death of Keith Moon. We talk to the man behind both of them, Jim McCarthy.
Thanks for agreeing to talk to us Jim. First up – and this might be of interest to a lot of talented illustrators – how did you start off in the field of illustration and what was your first big break?
I was interested in illustration from about the age of nine and I started obsessively drawing all over my schoolbooks all time, which got me to a lot of trouble at school.
The thing that got me into drawing mostly in the beginning was comic book illustration and I found a fascinating. I either liked the UK work of Dennis McLaughlin in the Buffalo Bill annuals. Or artists in the Valiant or the Lion and other comics like that; the UK weeklies. I realise now one of their names as Jesus Blasco who drew The Steel Claw.
Also I liked the guy that did Kelly's Eye and Maxwell Hawke. I loved the original artist on Spiderman and Dr Strange; his name was Steve Ditko. His work entranced me very much as a child, I think I discovered him around the age of 10 or 11 maybe or maybe a bit later than that. I also liked the writing of Stan Lee at Marvel comics. Slightly irreverent and pun-filled style of writing coupled with Ditko's extraordinary artwork was an eye-opener for me.
I also became interested in fine artists such as Van Gogh, Paul Gauguin, The Surrealist artists such as Magritte and Max Ernst. I would say generally I was interested in looking at any form of work that had really good, or what I considered to be good illustration or arts styles and I was very open.
But definitely the American comic book style of work led to me enjoying many of the artists and there are too many to mention but I will mention a few. People like Gil Kane, James Steranko, Joe Kubert, Carmine Infantino, Jack Kirby, Wally Wood, Nick Cardy, and just so many others.I also loved the sound of their names. I think the first actual illustration I got published was the cover of Nursing Times believe it or not, and that was in a quite a jokey pencil work style.
I know we have probably touched on it already, but who or what influenced you as an artist / illustrator?
All of the above, and so many, many more. Also my brother Brendan (co-writer and artist on Mad Max-Fury Road – the recent dazzling film from George Miller) and our friend Brett Ewins (RIP) were local artists and they were doing great stuff in comic book styles as well as interesting conceptual fine art events and happenings. There was a lot going on.
I also really dug Hammer movies. I thought the 1958 Dracula film with Peter Cushing and Chris Lee was one of the very best things I had ever seen and still do! How they made those movies in that small studio in Bray, near Windsor fascinated me? So much so, that I got my dad to drive me and a friend out there to Bray once and we bunked in over the studio wall and wondered around there for hours. Before we got caught—lol.
Music is obviously a strong influence too, with much of your recent work taken up with music-based graphic novels. Was that an intentional career path or has it been a case of one success leading to another?
A mixture of both; a lot of peeps are maybe into one thing but throughout my life, I have loved a lot of different styles of music and it's a deep connection for and with me. I liked a lot of mod-based music as a kid, particularly the Small Faces and as a skinhead I continued to like R&B Motown early Ska and Blue Beat which was evolving into reggae music.
I also used to go to the Farx blues club in Southall in West London to see the young bands like Led Zeppelin, Free; who were young and unbelievably cocky and brilliant. Blossom Toes and many more of the head type bands. I was also into Afro-rock like Osibisa in the UK. I love the Latin rock sound of Santana from the USA. My friend Landy, went to the States in 1971 and Landy brought back What's Going On by Marvin Gaye before it came out here and we really loved it, with the US double fold-out sleeve that you didn't get in the UK. I also like Sly and the Family Stone and all the psychedelic soul sounds, the Norman Whitfield produced Motown psych stuff was great. I loved The Move, The Small Faces, The Action, The Nazz, then as labeled as all those kind of Mod styled bands in the UK and USA, which kind of evolved into freak beat.
I also got hipped into jazz at a young age and I listen to it a lot still, Miles Davis, Joe Henderson, whatever, it's another long list.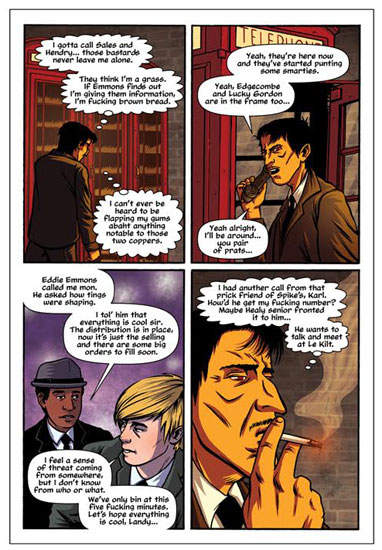 Music takes us nicely into two of your upcoming projects, the mod-based Living For Kicks and Who Are You? The Life & Death of Keith Moon. Let's start with the 'mod' book first, how did that come about?
It came about from a conversation with my managing editor David Barraclough. We thought an original stand-alone graphic novel based on a mods theme would work really well. They had already had a very good selling book on mods the year before, Mods: The New Religion
and I believe it did very well for the publisher.
Both David and I were very interested in a Soho, London and UK based book set in that mod time and era. Also this is a first from the publisher as it's their debut fiction graphic book.
Without giving too much away, what is the plot for the book? Is it based on fact or fiction?
The plot of the book involves the young alpha male Spike Spellane, who is trying to set up a new record label to capitalise on the emerging Mod scene. He and his friends are really excited and Spike is involved in trying to find ways to raise money to get the label off the ground. To sign new artists and become a young entrepreneur, in the fast moving mod scene. Things go well at first but Spike is drawn into a world of serious danger and resulting consequences.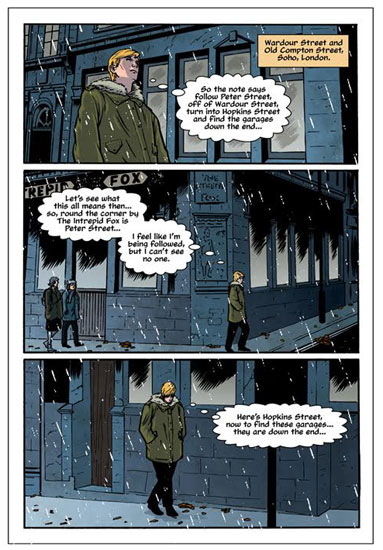 Is the mod scene something you are in any way acquainted with or has there been a need to do some research first?
I am acquainted with the mod scene, in the sense that when I was very young and before I became a skinhead I would be interested in buying hipsters, white moccasins, and I had my hair cut in a certain Small Faces way but I was too young to be actively involved. After this and being a skinhead, to me in certain ways, felt that it was almost a continuation of the mod thing, there were a lot of similarities, not least in the use of amphetamines. The need for sharp clobber, brogues and Sta-prest, Ben Sherman shirts, all of that stuff.
Is the end result something aimed at a mod audience or has it been produced for a wider range of readers?
Obviously, it would be nice to get a mod audience with the book but like any book its aim is to get as many people to read it as possible. No publisher or author wants to put limits on sales and themselves by just aiming at a niche market but obviously if people that are interested in the ongoing or historic mod culture like it, that is a huge bonus.
There are other mod-based graphic novels out, notably The Originals by Dave Gibbons and Getting Grand – Memories of a Smalltown Mod by Tobias Dahmen for example. Have you been tempted to check those out ahead of working on Living For Kicks?
I had seen Dave Gibbons book
quite a long time ago but I didn't reread it. I didn't see the other book you mentioned. The first thing I did was re-watch Quadrophenia on DVD
. And although I enjoyed that film again after about 25 years of not seeing it, there were certain things that I didn't like. I didn't like what happened to the Phil Daniels character towards the end but I absolutely loved the colossal amount of swearing in the film. The use of vernacular, so to speak, was pretty well done I thought and it captured pretty much how I remembered people speaking around that time. I did not like the Sting character either.
Are you and co-author Kevin Cross happy with the end product?
I think with every finished project there are always things but perhaps could've been a little better. But overall I'm very happy with the project and I really love the story and I like my writing. I like the characters, I think they are well thought out and stand out well and for me the dialogue is very naturalistic.
I would imagine Kevin as the artist on the project, probably has panels here and there that he wished you could do better but overall I think he/we did a great job. He is a second-generation mod, coming in around the late 70s at of the time of The Jam I imagine and he is an artist based in Portland, Oregon in the USA. I originally saw him doing the comic strip called Mod Monkey and I thought this guy is excellent and his art style was just right for this job. We contacted him and he was was able to sign the contract to do the work, which is great. I am generally very happy with his and our work. I think so far people that have seen and read it, like it a lot. We have had very, very good comments about it and very good feedback.
Is this a standalone project or does Living For Kicks leave the door open for a sequel if sales are good?
I think the keyword was sales in your question. It would be great to do another book like this. We'll see how things pan out and as I said so far the reaction pre-publication has been great.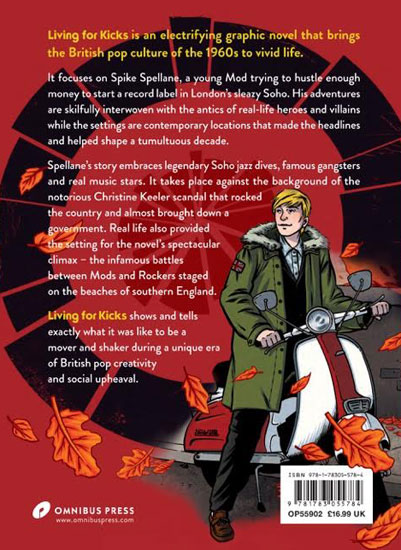 Finally, when can we expect to see the finished work and how can we get a copy?
The book will be published at the end of June and should be available in all the usual places: comic shops, regular bookshops, Amazon and other Internet sellers. These books usually get an iTunes and Kindle e-book edition release also.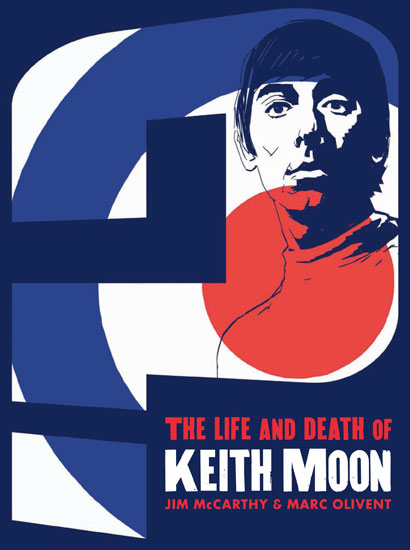 I know there is already one (loosely) related project already well underway, which is Who Are You? The Life & Death of Keith Moon. Why Keith Moon and not a graphic novel on The Who?
The Keith Moon book that the publisher already printed was one of their best sellers. It was a crossover book too, not just a music book read, so to speak. During editorial meetings it was felt it was possibly a no-brainer that Keith Moon's life would translate well into graphic novel form. The original book has done very well for them but as I said because there was already a presence within the company due to the Keith Moon book, we thought that was the one to do.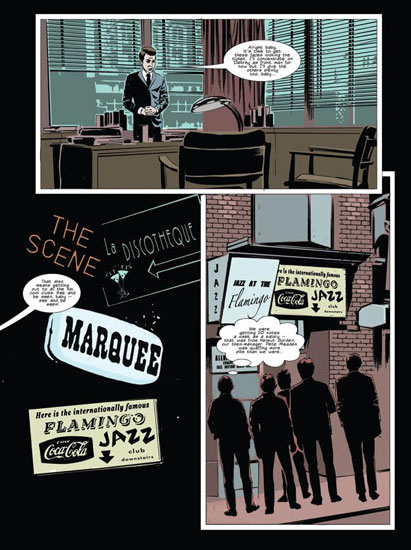 This one is co-produced with Marc Olivent, can you tell us more about him?
Marc Olivent is another young artist based in Lincoln in the UK that I discovered through researching online. I absolutely love his work and we've already done a Guns and Roses book together. That one was called Reckless Life. That was released last September in the UK, and has an American distribution deal through Overlook Press in New York. Also the rights have just been bought for a foreign- language edition in Argentina, just recently at the London Book Fair. Mark is an artist whose work I like very much, he reminds me slightly of Mike Mignola, the artist who did Hellboy. He has a lovely line technique. I'm a great lover of line with colour applied over the top as opposed to an incredibly painterly style of comic book work.
I know the graphic novel is influenced by Tony Fletcher's wonderful Dear Boy book. How easy has it been to go from that 'epic' into a smaller form graphic novel?
Tony's book
was about 600 pages long and my graphic book is 144 pages. So with Tony's book, I needed to both condense and magnify all the major aspects of Keith Moon's life. As it is a story that fascinated me and also because Tony's book was very well written, it wasn't so difficult to write.
There was a certain story arc I wanted to tell without losing the impetus of his life and without losing the detail of his life. Obviously one has to make a call on what wants to represent with it and I think I believe I did that focusing on his natural talents, and also obviously his very destructive lifestyle behaviour. Which I believe was an attempt to try and come to terms with his success and fame and also I thought he felt a lot of guilt about how easily things came to him. He was a very complex, naturally gifted and highly insecure character.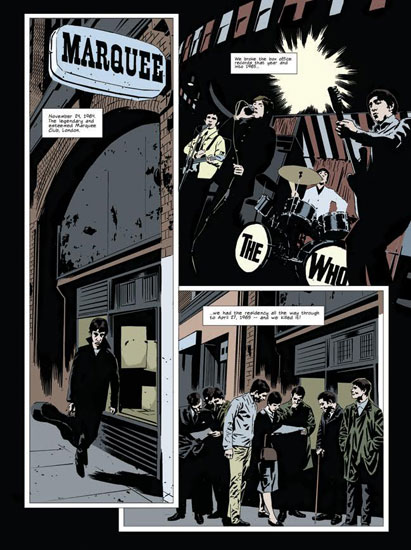 I read somewhere that Tony Fletcher might be doing the foreword for the book. Is this still the case?
Tony now is on the world trip with his family as far as I know and won't be doing the foreword. I have met Tony, he is a great guy, We swapped books at one stage and he really liked my Ramones book and I really liked the Keith Moon book; I think it is very well written.
The foreword is actually now being written by Doug Butler, Keith Moon's famous right-hand man for very many years (read a Modculture interview with him here). Apparently he really likes the book although I haven't spoken to him, David at the publishers is dealing with him directly.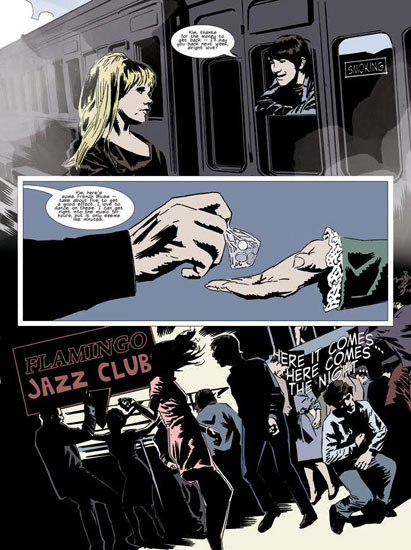 How will the book pan out? Are you using a timeline of Keith Moon's life, a snapshot of his life or something entirely different altogether?
The book condenses his entire life. But obviously I have emphasised aspects of his life, that which interests me. As I have said before in other interviews there is no point in writing just a straight biographical graphic novel. I think it would be quite tedious and boring. I found his interaction with other people, his mischievous and humorous life, the interaction with his long-suffering wife Kim all of note.
Obviously the descent into drug and alcohol addiction is a central aspect of the book and obviously hastened his life to end at the age of 32. Aspects of his life as a young boy, which display a Britain very different to today, were fascinating. There are all kinds of aspects of the British pop story, which come through in these graphic novels and my knowledge of music is such that I'm able to draw on that.
Is it all about Keith or are other related characters making an appearance in there too?
Obviously; The Who, his family, his girlfriends including his wife Kim, the managers Lambert and Stamp, all the main players are included in the book.
Have you had any contact with the Moon family in relation to the book?
None, just with the author of the Dear Boy biography, Tony Fletcher.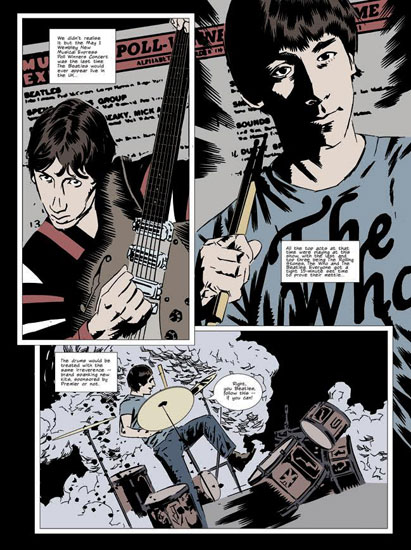 I notice that both your Keith Moon book and the new There Is No Substitute: Keith Moon book by Ian Snowball are scheduled to be released on the same day by the same publisher (Omnibus), just ahead of what would have been his 70th birthday. Happy coincidence or is this an intentional celebration of Keith Moon's life?
It is indeed intentional. However, they are very different projects, with my book being a graphic retelling of Keith Moon's life and There is No Substitute
a photo celebration with contributions from lots of key people in his life (like Pete Townshend, Kenney Jones and Richard Cole) and fellow musicians (Clem Burke, Rick Buckler, Mick Avory, Don Powell and Jack Bruce).
Finally, what next? Anything else that might tick the mod boxes?
The next book on the schedule for publication after Living For Kicks: A Mods Graphic Novel and the Keith Moon book is Wake Up And Live: The Bob Marley Graphic novel. This is scheduled for a Spring 2017 release. As we discussed earlier; some kind of return to that mod scene and a different set of situations would be great.
Thanks again Jim for your time.
If you want to own either of the books, Living for Kicks: A Mods Graphic Novel by Jim McCarthy and Kevin Cross and Who are You?: The Life and Death of Keith Moon by Jim McCarthy and Marc Olivent are both scheduled for release via Omnibus Books on 13th June 2016.
Find out more about Living for Kicks: A Mods Graphic Novel at the Amazon website
Find out more about Who are You?: The Life and Death of Keith Moon at the Amazon website
You can find out more about Jim McCarthy, his past projects and his ongoing work at the Jim McCarthy website.
Save
Love Modculture? If you enjoy what you read or have benefitted from it and want to
help with the ever-increasing costs of the site and newsletter
, you can always
buy me a coffee at Ko-Fi
. Every penny is helpful and appreciated.