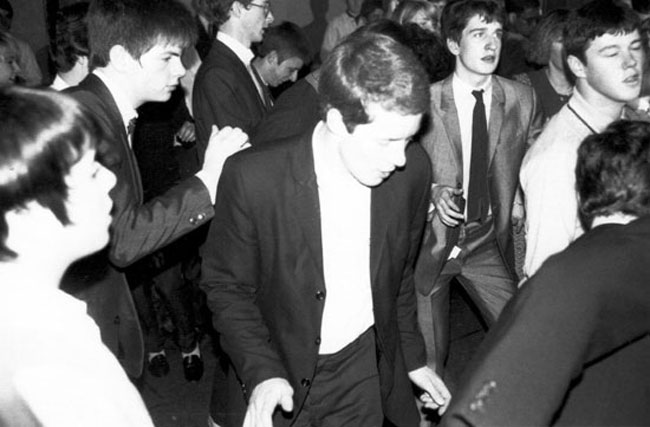 Note that I independently write and research everything in this article. But it may contain affiliate links.
If you didn't know, the legendary Sneakers Club is back in London next month. We talked to Kieran McAleer about the night's past and of course, its present.
How did you first find out about Sneakers in those 'pre-internet' days and when was your first visit?
I first heard out about Sneakers through Seamus Dunne, Darren Sweeney and Jason Glenister, when I started hanging round with the Watford Mods in 1983.
What music were you listening too before you went there?
I was listening to a lot of Northern Soul, Tamla and R&B.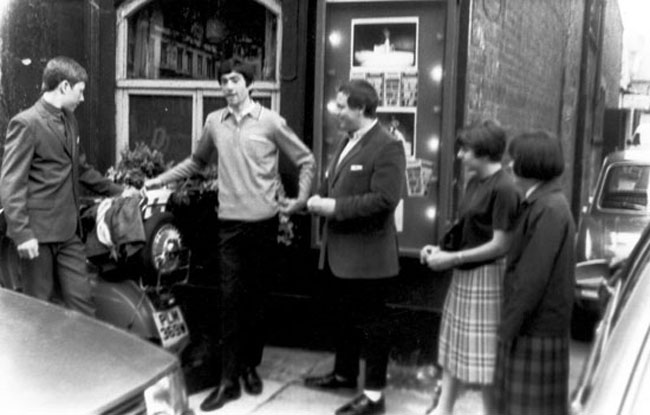 What other clubs were you attending? If others, how different was Sneakers to other local nights?
Well, I grew up in Hertfordshire, and there was a big 60's Soul and Northern Soul scene going on there.
Jon Buck was doing the R.S.G. (Ready Steady Go) nights in Hertfordshire and Bedfordshire, and we all used to go on scooters to those. The venues I most remember were the Elgiva Hall in Chesham, The Ovaltine Factory in Kings Langley, and of course The Queensway Hall in Dunstable.
There were also a lot of independent do's going on in small venues like local football clubs, community centres, etc. We also used to go to The Rangers Club in Luton, Baldock Footbal Club, and The North Orbital Community Centre in Watford, amongst many others.
I was going to a lot of gigs back then, and spent a lot of time at venues like The !00 Club, The Cricketers in Kennington, and The Marquee. I saw Nine Below Zero a lot from 1980 to '82, and latterly The Truth, but loads of other bands as well, such as Makin' Time, The Alljacks, Fast Eddie, The Scene etc.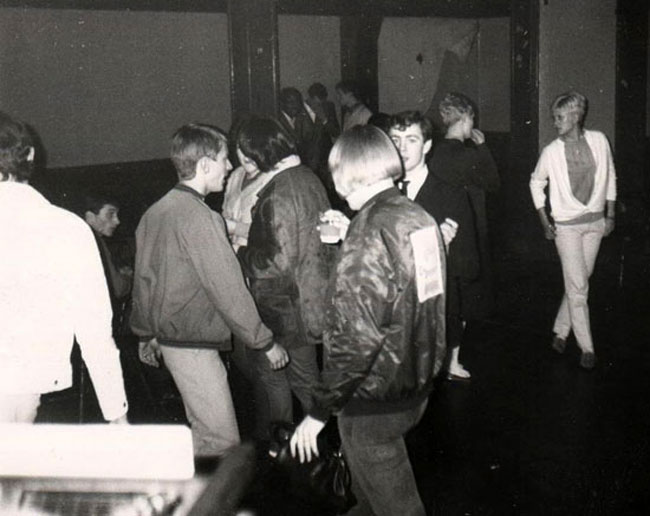 Tell us about your first visit. There was a phone in once on BBC Radio where a young mod lad says he got dressed up drove all the way from Maidstone to Sneakers, got there and felt too scruffy so got back on scooter and drove straight home. Was it intimidating when you first went?
The first night was really exciting. We all went in a big weaving snake of scooters from Watford, and when we got there, you could hear the music from outside. There was an American magazine there, taking photographs of scooters, and they chose mine. They put this gorgeous blonde girl on the back of my Vespa, and we had photographs taken in the alley by the entrance, and down by the scene dock of the BBC Theatre. I never saw the photos though, and I can't remember what magazine it came out in!
I felt incredibly nervous in there the first time, because I was just this 17 year old kid from the sticks, and the clothes and the dancing of all these London kids was amazing. I feel I learnt a lot of things about Mod in a very short space of time, and I was giving a good show of myself pretty soon after!
The peer pressure to look good was quite strong I though, but I took that as part and parcel of being a Mod, and felt it must have been how the original kids must have felt, so I embraced that feeling. I felt we were lucky to be experiencing it.
Any stand out nights at Sneakers for you?
One night in particular… I was standing with Dave Edwards, and a scruffy guy in dungarees came in, and went to the bar. I didn't get a good look at his face, but I remember, (as the snotty little Mod know it all that I thought I was!) saying to Dave that I thought the door policy was getting a bit slack, or this scruffy guy must have snuck in past Jason Parker (Sneakers regular doorman).
I went to the bar, and bought a pint. The scruffy guy turned, and his elbow knocked my pint over. I turned to him, to demand he bought me another drink, and was shocked to find myself face to face with Steve Marriott. Unbeknownst to us, he'd been recording Pop Quiz in the BBC TV Theatre next door (now Shepherd's Bush Empire) and had been invited to come to the club. He was most gracious, and indeed offered to buy me another drink, which I accepted. Well, it's not every day that Steve Marriott offers to buy you a drink. I went back to Dave, and told him it was Steve Marriott. 'I know' he said. 'I was just waiting to see the look on your face when you found out.' Cheers Dave!
What were the stand out records for you?
I know it's not very cool to say it now, but I heard Marsha Gee's Peanut Duck for the first time at Sneakers, which Paul Hallam played. It's always been one of my favourites. I think Paul says he was the first one to play The House Of Bamboo too, which I'd never heard before.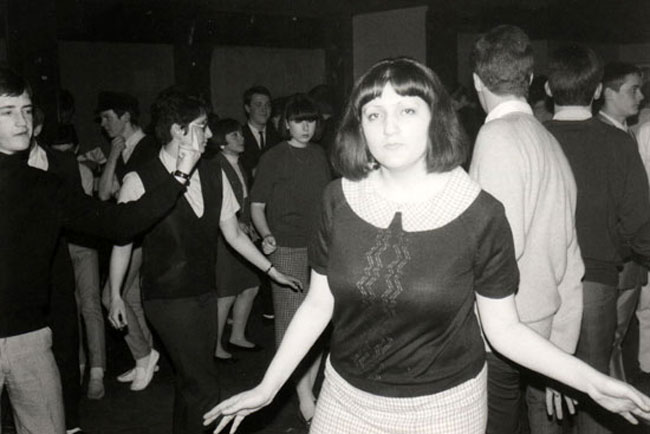 Do any items of clothing stick in your mind all these years on?
Oh yes. Where to start?!! The styles seemed to change on a weekly basis. The chains on Smiler's trousers still get mentioned! There was almost a competition to have the 'lairiest' hipsters. I had a pair of handmade green, white and black ones, which I wore with pristine white basket weave shoes. My sisters were in fits of laughter when I was setting off from Hatfield that night. I still think I looked the business though!
Trevor French and Tony Schokman were the smartest and most authentic looking Mods I'd ever seen. Then of course, there were The Ugly Buglies, who really nailed the true look that the girls had in the early 1960s.
I still think the people at Sneakers were the best and most authentic looking Mods since 1962. We absolutely got it right. The way and speed that clothes were evolving back then too, was what I imagined was almost identical to way things changed the first time round with the original Mods.
Who caught the eye on the dance floor?
Michael (Mick) Ferrante was the best dancer I'd ever seen back then. He brought moves on to the scene that I stole and still use today! He was the Patrick Kerr of his day!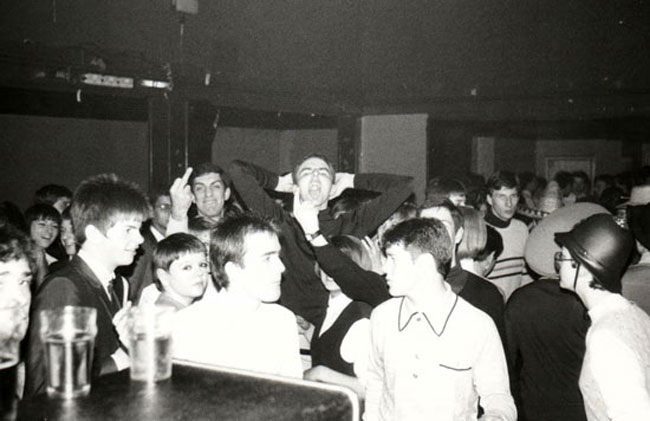 Sneakers had 4 homes – Bush, Clarenden, 79 club and Portlands. Did you go to all of them and were any of them as good as the Bush?
The Clarendon was a big, draughty old ballroom in Hammersmith. It was great for gigs, but not the right venue for Sneakers. The 79 Club and Portlands both had the feel of '80s night clubs, so they weren't my favourites.
Looking back at the back room at The Bush, it really was a bit of a shithole, with flock wallpaper peeling off the walls, but it was the people that made it. It was nice size too, and really unchanged since the '60s so it was my favourite.
What sort of reaction are you hoping for when you do the reunion? How did the reunion idea come about and why isn't Paul Hallam DJing at it?
I must get this out there. This is NOT a reunion.
I can't stand all that trying to recreate something nonsense. I'm all for taking inspiration from what's gone before, and trying to give it forward-looking feel incorporating that inspiration, yet taking things forward. That't the idea Ann (Griffin) Paul (Hallam) and I had when we decided to give Sneakers another run out.
Paul isn't playing simply because he doesn't really DJ any more, and he feels he would enjoy the night more as a punter, rather than getting behind the decks. He's right on board with it though, and he'll be there on the night. Without his Odds & Sods book, there's a chance that this might not be happening at all.
Myself and Ann organised a get-together at The Bush (now The Sindercombe Social pub) back in February to celebrate the launch of the book, and over 80 of the old Sneakers regulars turned up. Paul really didn't fancy bringing Sneakers back full-on, so we just had a few drinks and Shirley and Dave Edwards prepared pre-recorded playlists for the evening. Of course people ended up dancing (Sheri Jeffries!) and we had the idea to give Sneakers a proper go again.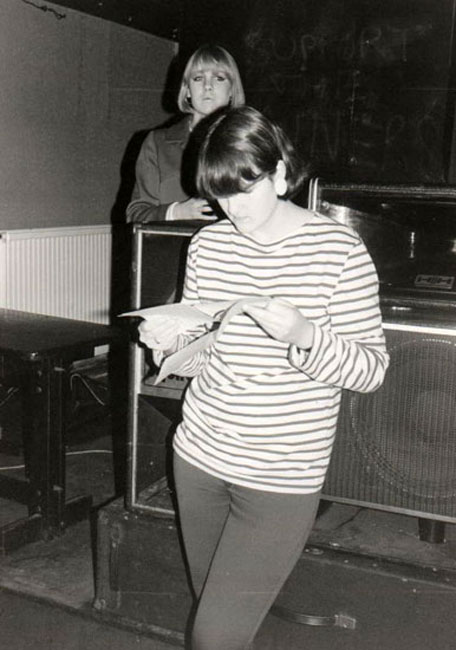 In terms of a reunion, is it just that or do you want to attract people who don't go to the night previously?
Again, it's not a reunion by any means. This is Sneakers for today. We welcome all those who went there in the original days, and we hope they come to the new Sneakers, but we want to attract the young movers and shakers who are getting into the scene today.
A room full of people banging on about the old days isn't really Modernism is it?!! Myself, Ann and Paul have the idea that we want to "pass on" the uniqueness, and the specialness of Sneakers to the new generation, so perhaps they will take on the mantle, and it'll become the special club that THEY remember when they're 50!
That's why we have a mix of DJ's on the night. Richard Early (Shirley) who was one of the original Sneakers DJ's, along with a young man who's doing great things on the scene as a DJ, Lucas Gomersall. That's the ethos of the new Sneakers right there, linking the original days with now, and taking the whole thing forward. Modernism at work!
And of course, we need someone who was an original Sneakers punter, and who is now a DJ in their own right, to represent the rest of us who were there on the dance floor back then. Cue, the inimitable Dave Edwards! It's a fantastic line-up, and were so lucky to have them.
Is this a one-off or do you think the idea has legs for further nights?
At the moment, this is a one-off, but if things go well, (and on the Facebook page, we've got 125 confirmed and over 300 interested!), then who knows?!!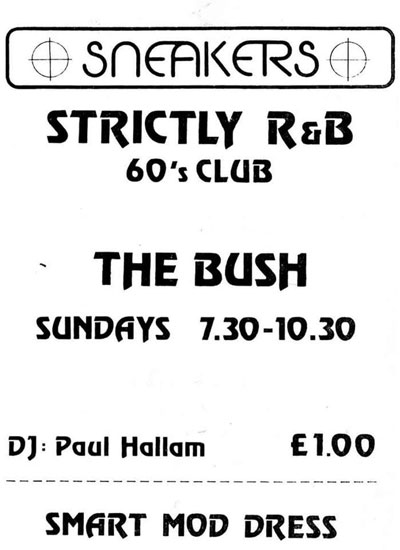 Finally, do you think Sneakers left some kind of legacy?
More than that. A lot of lifelong friendships, some great memories, some of the best music we've ever heard, and a passion to take things forward, with affection and respect for what's gone before. Do it the best you can, and live in the moment.
I also think we owe a great debt of gratitude to Tony Class, Paul Hallam and Richard Early. Without them, Sneakers would never have happened, and our lives were enriched in so many ways by being there.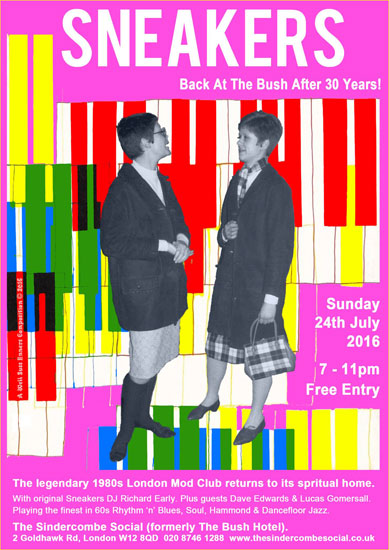 Thanks to Kieran for his time. The Sneakers: Back at The Bush after 30 years night takes place on 24th July 2016 at The Sindercombe Social, Shepherd's Bush, 2 Goldhawk Road, London W12 8QD. All the details can be found here. Thanks also to Chris John (Well Suspect) for the new Sneakers flyer, which features Annabel Lichfield and Anita Stinton of The Ugly Buglies.
Huge thanks to Paul Hallam for his help in putting this article together and for the photos of the original club night. Paul's book, Odds & Sods, is a photographic record of the club and the era. It's available to buy now for £19.99
.
Save
Love Modculture? If you enjoy what you read or have benefitted from it and want to
help with the ever-increasing costs of the site and newsletter
, you can always
buy me a coffee at Ko-Fi
. Every penny is helpful and appreciated.