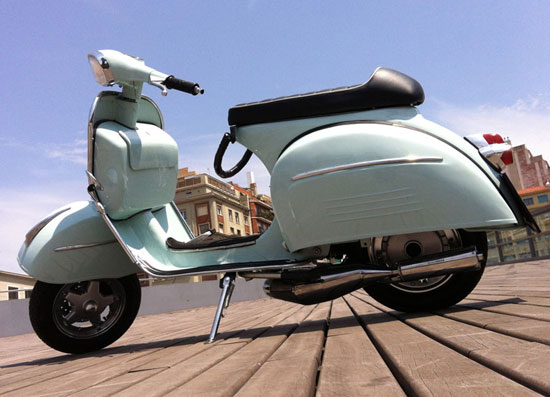 Note that I independently write and research everything in this article. But it may contain affiliate links.
Our second single city mod guide focuses no the super-hip city of Barcelona. Huge thanks to Alberto Valle for all his help in putting together this extensive guide – essential for anyone planning a trip there.
Clubs and Events:
Le Clean Cut
Barcelona's 'mod do', it has been running as a club 'nighter for a couple of years but now, due to its international appeal, has become a weekender, taking place the third weekend of November.
You'll find a live band (R&B, Soul Jazz or Beat) + national and international guest djs, as well as residents (Sara Ramos & Alberto Valle). Music policy is very clear: 60s R&B, 60s Rare Soul, Jazz, Boogaloo, British Beat, Bluebeat to Rocksteady and is aiming to cover all the classic mod spectrum with the best quality both in sounds & atmosphere. Smart dress is being very much appreciated in order to achieve the perfect mod club 'nighter.
More info at facebook.com/lecleancut, lecleancut.wordpress.com or [email protected]
The Boiler
Bi-monthly Rhythm & Soul Club getting very big on the city's nightlife after its 9 years activity. Current promoters Cristina Alonso & Jordi Duró back international & national guest DJs providing the best in R&B, 60s Soul, R&R & Reggae in a great venue such as the JazzRoom club. During the second weekend off July, the anniversary party is taking place with live bands and two sessions.
More info at theboilerclub.com, facebook.com/boiler.barcelona or [email protected]
Movin' On
Bi-monthly Rare Soul club. Born as a rare Grooves & Soul Weekender, Movin' On has now become the house for Barcelona Soul Fans, where to listen to obscure records from the 60s, 70s & 80s featuring Edu Domingo and Cristina Alonso + guest DJs. Great friendly atmosphere!
In November they celebrate their weekender, with some of the biggest international Soul Scene DJs.
More info at facebook.com/movinon or [email protected]
Straighten Up / Boss Sounds Weekend
Promoted by Bazza (All Saints Mod Holiday, Lavarone) and Dani Alphaboys, Straighten Up is one of the most important European Reggae-Rocksteady-Ska clubs. Some 60s soul is also welcome at their sessions. In April, the club becomes the Boss Sounds Weekender, with the most important Reggae selectors
More info at Facebook.com/dani.straightenup or [email protected]
Pile On 45
Not exactly in Barcelona, but very close to the city, in the town of Granollers, a collective of well experimented DJs is providing, one Friday per month, some Jazz, Soul and R&B @ the Anònims: a very cool restaurant & bar. Great food, great music and great company, just 20 min. drive from downtown.
More info at pileon45.blogspot.com.es or facebook.com/pile.fourtyfive
Gam-Beat Weekender
One big 60s across the board weekender taking place the second weekend of September. You'll find plenty of international and national bands, especially 6ts Punk, Psych and Frat, but also some R&B, Soul & Reggae oriented ones, as well as DJs, providing all those sounds.
More info at gambeatweekend.com or facebook.com/gambeat.weekend
Bars:
Minusa Club
C/Valencia 166
A nice night bar in the very heart of the Eixample Esquerre area. If you drop by you'll probably find a good selection of the best soul, R&B and Latin sounds. It is not unusual to find some of the BarSOULona collective DJs spinning their best 45s there.
Bar Ramon
C/ Comte Borrell 81
Tapas, Beers & R&B. This is what you'll find in this very famous bar, downtown Barcelona. Oh! And great gin tonics too! The perfect place for your daytime leisure. You'll find an original signed guitar by Bo Diddley and another one signed by John Lee Hooker.
Barbara Ann Bar
C/ Taquígraf Garriga 163
60s oriented miscellanea for this bar that opened its doors in the late 80s. You can find a session with DJ Tof providing some great Soul, R&B & Boogaloo, or a crazy session by Pep & Fran exploring into Psych, obscure Muzak and Acid Rock or… who knows?
Blues Cafe
C/ de la Perla 37
A perfect corner to get lost on your own. Czech pilseners and some Blues & R&B, perfect for a quiet afternoon, in the heart of the Gracia area.
Milano
C/ Ronda de la Universitat, 35
Cool vintage cocktail with Jazz & Blues live gigs. They do the perfect Negroni.
Tahiti
Joaquín Costa, 39
Vintage cocktail bar. You can drink an excellent Manhattan or Negroni with a rockin' R&B and Soul and Jazz and Exotica Soundtrack.
Flash-Flash
C/ Granada del Penedés, 25
A restaurant that still preserves its original 1960s decoration. It might not be the best place where to eat (they have an excellent variety of Spanish & French omelettes), but it sure pays the visit! You can check it out when going to Le Clean Cut, Real Undersounds or Straighten Up, as the venue is just next door!
Ginger
C/Palma de Sant Just,1
Cocktails, wines, and tapas by British chef Janet Gormally. A very cool place where it is not unusual to find Marcos Juandó (from Discos Juandó), playing some Soul, Funk, R&B, Gospel, Latin and Jazz grooves.
Shops:
Records:
Discos Juando
C/ Lluna 27
Barcelona's top record shop, ran by former Movin' On promoter and top DJ Marcos Juandó. All kinds of vinyl only records, with a special highlight in sought after Jazz, Funk and Soul albums and 45s.
Daily Records
C/ Sitges 9
60s and Street sounds, from R&B, to Rockabilly, from Oi to Mod Revival, from Psych to Reggae, from Soul to C&W. Reissues and originals, Vinyl & CD. Memorabilia available too!
Funk & Soul Records
C/ Ronda Sant Pau 17-19, shop # 8 (Olimpia Gallery)
Hidden and full of surprises! All the best in 50s, 60s & 70s black music sounds. Great selection of Jazz, Funk, Soul, Latin & rare Grooves in album format.
Wah-Wah Records
Riera Baixa 14
A legendary record shop and label. Here you'll find tones and tones of originals and reissues from rare 60s Beat to obscure Prog, Jazz, OSTs, Kraut, Exotica… a prefect place to find out about records you didn't even had the suspect they could exist!
Revolver Records
C/ Tallers 11 and 13
Two shops under one name. The one with the green signal has great 2nd floor where to look for vinyl of all kinds. The one with the red signal has not the same frantic records turnover, but you can find something nice and cheap there too.
Clothes:
Breakaway
C/ Ramon I Cajal 158
Mod/ Skinhead clothing in the Gracia area. Pop and Warrior labels distributors. You can find from shoes to coats.
Lullaby Vintage
C/ Riera Baixa,22
2nd hand clothes and accessories, very close to the Wah-Wah Rds. shop. Joan & Àfrica (two very experienced Barcelona mods) are the owners of this highly recommended boutique.
UK Look
C/ Ample 27
Almost all the basics from Merc, Ben Sherman, Doc Martens are available at this shop, downtown Barcelona.
Britac
Since the Smart & Clean shop closed its doors, there's the possibility to visit their outlet in the Vilapicina area, but it can only be done by previous appointment.
You can get in touch with them through britac.net.
Modern World Shop
Victoria Ochoa is a 60s/mod female dresses designer who lives in Barcelona. In order to checkout her collections and available stuff you can contact her through the site of her Modern World Shop.
Modernworldshop.com
Art:
Galeria Kavel
C/ Nàpols 309
British artist Kavel Rafferty owes this small gallery in the Eixample Dret area, very close to La Sagrada Família. You can see and buy stuff by Kavel or by other artists like Lord Dunsby.
Scootering:
Only Scooters
C/ Gran de Gràcia, 258 –
Only Scooter offers repair shop for all types of motorcycles (2-stroke and 4-stroke), spare parts and accessories for Vespa and Lambretta, restoration, customisation, purchase and sale of motorcycles, and scooterist miscellaneous (clothes, patches, stickers, buckles…). One of its scooters is pictured at the head of this page.
More at onlyscooter.com
Harry Scooters
C/ San Fructuós, 59
Since 1997, repair, spare parts and accessories, restoration, customisation and miscellaneous scooterist stuff.
More at harryscooters.com
Motos Verdi
C/ Verdi, 88
The most classic Lambretta service available in Barcelona.
Taxi Vespa
C/ Viladomat, 316
Repair shop, restoration, spare parts and accessories for Vespa and other kinds of scooters.
More at taxivespa.com
Love Modculture? If you enjoy what you read or have benefitted from it and want to
help with the ever-increasing costs of the site and newsletter
, you can always
buy me a coffee at Ko-Fi
. Every penny is helpful and appreciated.