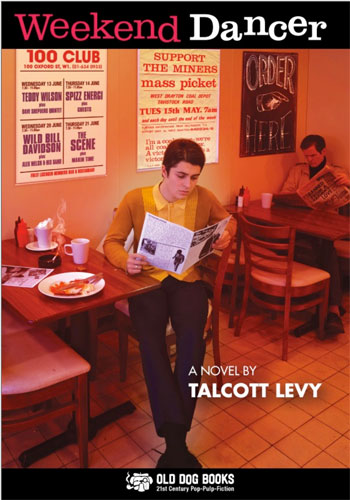 If you are looking for a mid-related stocking filler, look no further than Weekend Dancer by Talcott Levy, which is published by Old Dog Books.
Yes, another from the modern-day pulp fiction label, this time looking at the world of mod in mid-1980s Britain. As for the story, well…
Time is running out for the 'Weekend Dancer'. Life for this Jewish kid from Leytonstone had never been easy but things get even more difficult when his parents separate. To make matters more complicated he falls madly in love with Tina, the girl next door. The 'Weekend Dancer' thus embarks on an odyssey around London in a 48 hour race to win the girl.
En route this teenage Mod has to navigate the hostility of rival youth tribes and the race and class issues that so divide Britain in 1984. Caught between his love for politically active Tina, his own Jewish roots and his Mod mates, the Weekend Dancer begins to fall apart.
Inspired by the novel Absolute Beginners and the song of the same name by 'The Jam', Weekend Dancer brings together the themes of youth, identity, friendship and love in a powerful and moving 'rites of passage' novel. Packed with humour and visceral urban energy the novel celebrates the eccentricities of Jewish family life as well as the sometimes surprising detail of what it was like to grow up in 1980s Britain.
If that sounds like your kind of thing, it is available for £8.99. Old Dog Books titles are available from Amazon or directly from the label.