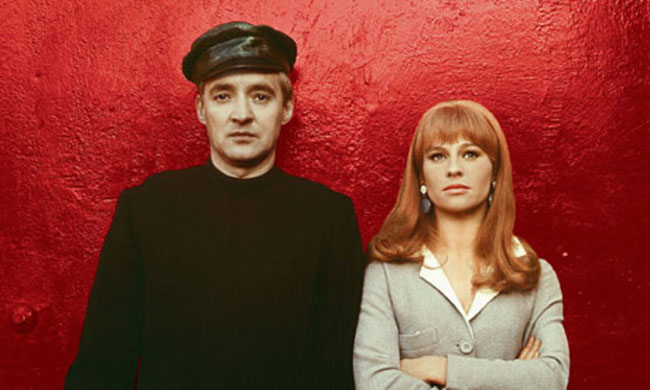 Note that I independently write and research everything in this article. But it may contain affiliate links.
Over 50 years since it first appeared on the big screen and Fahrenheit 451 is perhaps more relevant today than at any other time in its history.
Adapted from a Ray Bradbury novel, directed by François Truffaut and starring Julie Christie, it was almost impossible for Fahrenheit 451 to fail – but with a lukewarm reception on its launch and modest box office business, it wasn't exactly a roaring success for Universal. Don't let that put you off, it's a great film.
Fahrenheit 451 is set in a world of the near future (at least, from the mid-1960s), a world where houses are fire-proof and the printed word is banned, entertainment coming purely from the flat-screen TVs on the wall. I know, not a huge leap of imagination to see this scenario as reality.
Why are books banned? Simple – they promote independent thought and give false aspirations in a world that doesn't encourage free thinking. Again, not a million miles away from what might happen in the near future.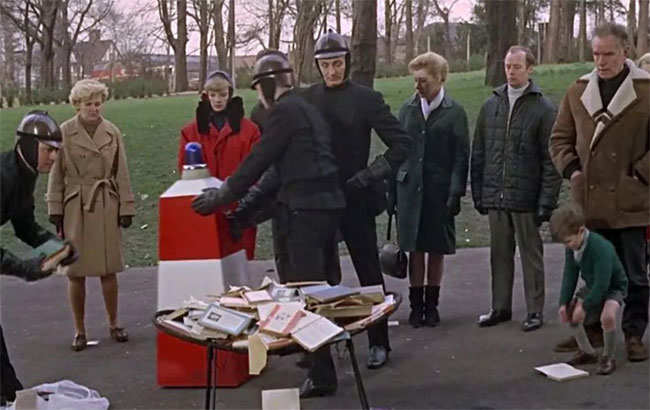 The redundant firemen (see houses above) are re-employed to start fires, specifically to seek out and burn any books still in existence. The people found with the books simply 'disappear'.
In this world we meet high-flying Guy Montag (Oskar Werner), a man set for promotion in the fire brigade. He's married to Linda (Julie Christie in her first role in the movie), living in a cool suburb at the edge of town.
On his commute home one day, he becomes engaged in conversation with Clarisse (also Julie Christie), developing a friendship for her whilst at the same time developing a secret interest in books. Over time that friendship blossoms as does the interest in books – as his relationship with his wife and his commitment to his job go in decline. It's only a matter of time before he's found out. Will he give up the books or give up his life?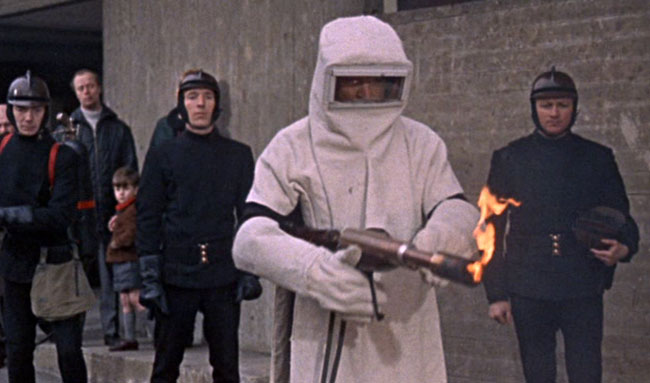 Aside from being an engaging story, Fahrenheit 451 is also very appealing to the eye. From the monorail for the daily commute (sadly no longer standing, should you fancy seeking it out), to the modernist-style housing and cool futuristic interiors, not to mention the 1960s version of Julie Christie in two roles.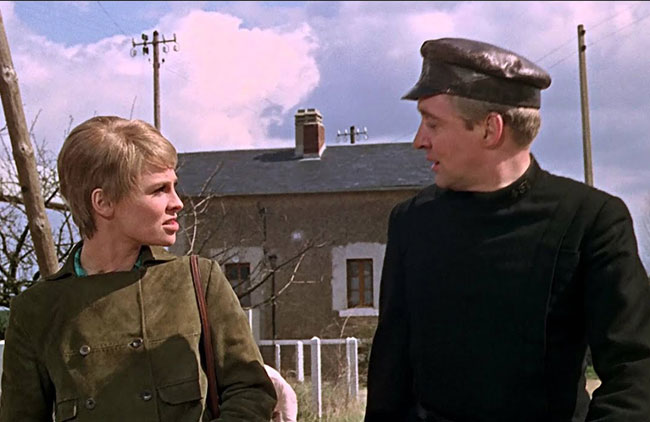 Purely as background viewing it's a winner, but throw in that prophetic tale and it's a much-underrated cult classic. Ok, it might be a little slow, the ending is a little contrived and the special effects are almost laughable, but it's a film you'll go back to over and over again – and each time you do, you just might see a little more of the modern world in it.
Under £5 on DVD at Amazon too – although it's a bit pricier on Blu-ray. Also, check out the various streaming services. This is the kind of movie that might pop up on there too.
Find out more about the DVD at the Amazon website
Also, if you want to know where the housing was located, that was the Edgcumbe Park estate in Crowthorne, Berkshire. Most of the houses are pretty much as they were, so if you want to move there, you can do just that.
You can find out more about the houses here.
Trailer below too..
Love Modculture? If you enjoy what you read or have benefitted from it and want to
help with the ever-increasing costs of the site and newsletter
, you can always
buy me a coffee at Ko-Fi
. Every penny is helpful and appreciated.