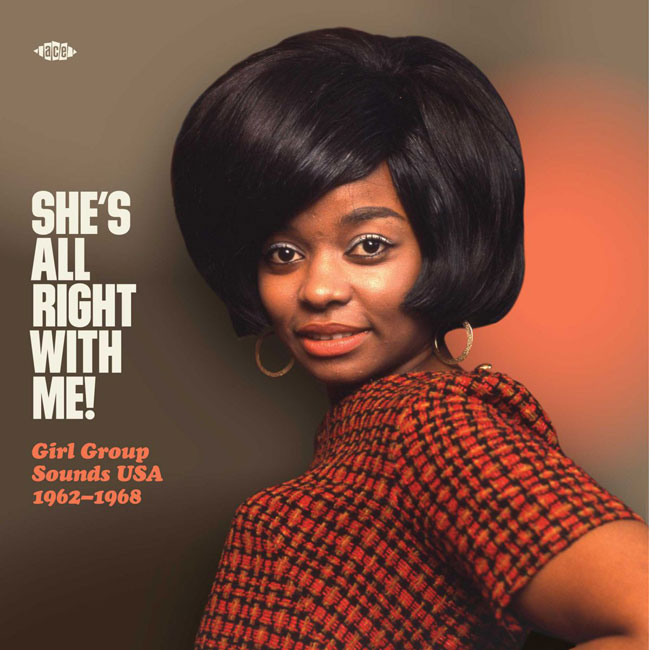 This looks a winner. She's All Right With Me! Girl Group Sounds USA 1962-1968, which is new vinyl from Ace Records.
Yes, a vinyl-only release from Ace Records, which is starting to become something of a norm these days. Vinyl is back and people can't get enough of it. Especially when it looks as impressive as this release.
The collection is described as 'an eclectic and gorgeously packaged' selection of American girl group artefacts from the 60s. If that's your bag, read on.
According to Ace, the album opens with 'Whirlwind' by producer Gary Paxton protegees the Rev-Lons (their final recording and apparently their best) and closes with 'He's All Right With Me' by the Mirettes (the Ikettes incognito).
Between those two on this 16=track compilation is the Supremes-style 'Cupid's Got A Hold On Me' by the Belles, the Sweethearts' recording of 'Beauty Is Just Skin Deep' (originally intended for the Ikettes) and 'Summertime Is Surfin' Time' by the wonderfully-named Surf Bunnies. Lesser-known grooves too such as 'Mr Everything' by New York-based Little Eva Harris and little-heard tunes from the Pets, Tren-Teens and Lovettes, all from New Jersey.
All on an album complete with Felice Taylor jacket and with a colourful inner sleeve featuring a 3,000-word track commentary and an array of illustrations. Impressive work as ever from Ace.
If you want it, the album is scheduled for the 26th June 2020, priced now at £17.99 if you fancy pre-ordering a copy. Tracks below.
Find out more at the Rough Trade website
Tracklisting:
Side 1
Whirlwind – The Rev-Lons
Cupid's Got A Hold On Me – The Belles
Too Bad He's Bad – Beverly Williams
Sir Galahad – The Elites
Is It Better To Live Or To Die – Mary Saxton
Beauty Is Just Skin Deep – The Sweethearts
I Say Yeah – The Pets
Summertime Is Surfin' Time – The Surf Bunnies
Side 2
First Love Baby – Lena Calhoun & The Emotions
Your Yah-Yah Is Gone – The Tren-Teens
So In Luv – Othello Robertson
You Are My First Love – Pat Hunt
I Need A Guy – The Lovettes
Sing Me A Love Song – Felice Taylor
Mr Everything – Little Eva Harris
He's Alright With Me – The Mirettes