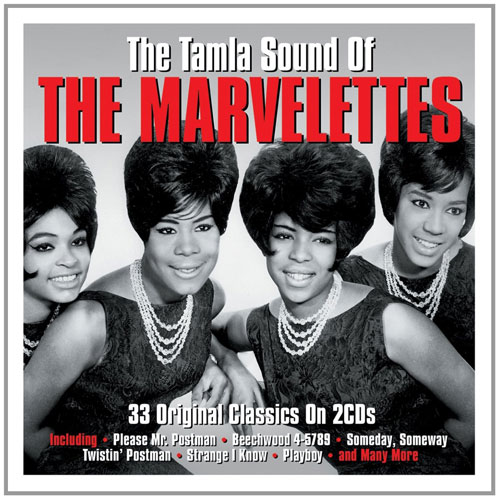 Another 'cheapie' on the shelves next week – The Tamla Sound of The Marvelettes.
As you probably know, The Marvelettes were one of the first of Motown's successful bands, hitting the number one spot with the classic Please Mr. Postman in 1961. They produced plenty of other top notch R&B tunes in that decade too, but never their popularity faded, with Motown focusing more of its attention on The Supremes as the decade progressed.
Anyway, if you haven't got a Marvelettes set in your collection, this one pulls together much of the band's early material from albums and single-only releases over two discs and 33 tracks.
All of that for just £3.99. Track listing below.
Find out more about the CD at the Amazon website
Disc: 1
1. Please Mr. Postman
2. Playboy
3. Mashed Potato Time
4. I Want A Guy
5. I Think I Can Change You
6. Twistin The Night Away
7. Lover Please
8. Forever
9. You Should Know
10. Way Over There
11. Angel
12. Happy Days
13. Strange I Know
14. So Long Baby
15. (I ve Got To) Cry Over You
16. Slow Twistin
17. I m Hooked
Disc: 2
1. Beechwood 4-5789
2. All The Love I Got
3. Twistin' Postman
4. Dream Baby
5. You Don't Want Me No More
6. Someday, Someway
7. The One Who Really Loves You
8. Mix It Up
9. Love Letters
10. Whisper
11. Hey Baby
12. I Know How It Feels
13. Oh I Apologize
14. Good Luck Charm
15. Too Strong To Be Strung Along
16. Goddess Of Love