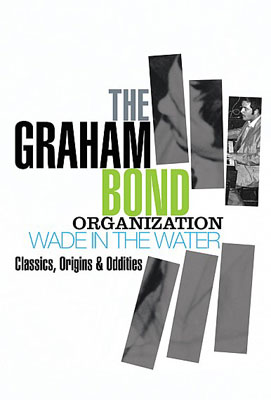 It came out around the Christmas period, meaning a lot of people missed it. Not @MonkeyPicks, who has just mentioned that The Graham Bond Organization Wade In The Water box set is out right now.
An impressive thing it is too. Released by Repertoire, it is described as the essential collectors' set, as well as the 'biggest and most comprehensive collection of work ever'. 96 tracks over four CDs, including tracks from the classic albums, some remixed for the first time by Pete Brown and Dick Heckstall-Smith from the original 4-track masters.
On top of that, rare are several unreleased performances, a 'wild live gig' by the original line-up (never heard before), rare demo sessions and some material of GBO backing other artists. There's also a 48-page booklet, featuring rare archive memorabilia and an introduction by Pete Brown.
Want more? See the full tracklisting below. You can buy it online now, priced at £22.34, which seems to be down from the pre-launch price.
Find out more at the Amazon website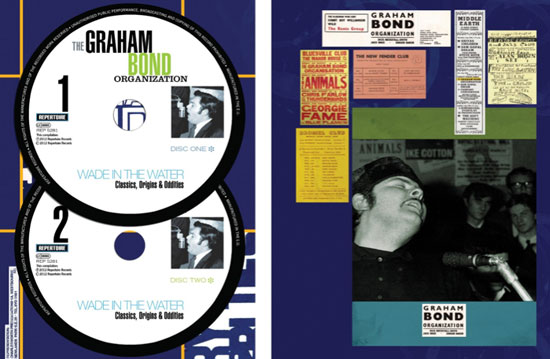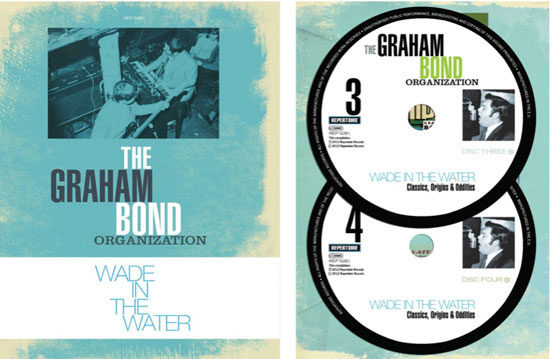 Tracklisting:
CD1
01. Roll ´Em Pete
(Previously unreleased)
Graham Bond – late January / early February, 1963
02. Cabbage Greens (Version 1)
Graham Bond – late January / early February, 1963
03. Baby What You Want Me To Do
(Previously unreleased)
Graham Bond – late January / early February, 1963
04. I Saw Her Standing There (Version 1)
Duffy Power with the Graham Bond Quartet – 20th February 1963
05. Shake, Rattle And Roll
Duffy Power with the Graham Bond Quartet – 20th February 1963
06. What'd I Say (Version 1)
Duffy Power with the Graham Bond Quartet – 20th February 1963
07. I Got A Woman
Duffy Power with the Graham Bond Quartet – 28th February 1963
08. I Saw Her Standing There (Version 2)
Duffy Power with the Graham Bond Quartet – 20th March 1963
09. Farewell Baby (Alternative take)
Duffy Power with the Graham Bond Quartet – 20th March 1963
10. Farewell Baby (Master take)
Duffy Power with the Graham Bond Quartet – 20th March 1963
11. Slippin' & Slidin'
(Previously unreleased)
Graham Bond Quartet – 16th May 1963
12. Spanish Blues (Version 1)
Graham Bond Quartet – 16th May 1963
13. Untitled Abbey Road Blues Instrumental
(Previously unreleased)
Graham Bond Quartet – 16th May 1963
14. It´s Happening
(Previously unreleased)
Graham Bond Quartet – 16th May 1963
15. Wade In The Water (Version 1)
Graham Bond Quartet – 16th May 1963
16. Swing-A-Ling (Part I)
Ernest Ranglin and the 'G.Bs' – early April 1964
17. Swing-A-Ling (Part 2)
Ernest Ranglin and the 'G.Bs' – early April 1964
18. Just A Little Walk (Part I)
Ernest Ranglin and the 'G.Bs' – early April 1964
19. Just A Little Walk (Part 2)
Ernest Ranglin and the 'G.Bs' – early April 1964
20. SO-HO
Ernest Ranglin and the 'G.Bs' – early April 1964
21. Say When (Part I)
(Previously unreleased)
Ernest Ranglin and the 'G.Bs' – early April 1964
22. Say When (Part 2)
(Previously unreleased)
Ernest Ranglin and the 'G.Bs' – early April 1964
23. Cabbage Greens (Version 2)
Graham Bond Organization – Mid April 1964
24. Long Legged Baby (Version 1)
Graham Bond Organization – Mid April 1964
25. Hoochie Coochie Man (Version 1)
Graham Bond Organization – Mid April 1964
26. Wade In The Water (Version 2)
Graham Bond Organization – Mid April 1964
CD2
01. Green Onions (Version 1)
Graham Bond Organization – Mid April 1964
02. High Heeled Sneakers (Version 1)
Graham Bond Organization – Mid April 1964
03. Honey Bee
(Previously unreleased)
Graham Bond Organization Mid April 1964
04. Long Tall Shorty (Version 1)
Graham Bond Organization – 5th May 1964
05. Long Legged Baby (Version 2)
Graham Bond Organization – 5th May 1964
06. Hoochie Coochie Man (Version 2)
Graham Bond Organization – 5th May 1964
07. Strut Around
Graham Bond Organization – May 1964
08. High Heeled Sneakers (Version 2)
Graham Bond Organization – May 1964
09. Little Girl (Version 1)
Graham Bond Organization – May 1964
10. Wade In The Water (Version 3)
Graham Bond Organization – 6th August 1964
11. Harmonica
Graham Bond Organization – August / September 1964
12. Half A Man (Stereo remix)
Graham Bond Organization – 16th December 1964
13. Keep A 'Drivin' (Stereo remix)
Graham Bond Organization – 16th December 1964
14. What Am I Living For?
(Previously unreleased – Stereo remix)
Graham Bond Organization – 16th December 1964
15. Neighbour Neighbour (Stereo remix)
Graham Bond Organization – 19th December 1964
16. Spanish Blues (Version 2 – Stereo remix)
Graham Bond Organization – 4th January 1965
17. Spanish Blues (Version 3 – Alternative take)
Graham Bond Organization – 4th January 1965
18. Tammy (Stereo remix) Graham Bond Organization
4th January 1965
19. I Want You (Stereo remix)
Graham Bond Organization – 4th January 1965
20. Wade In The Water ((Version 4 – Stereo remix)
Graham Bond Organization – 4th January 1965
21. Early In The Morning (Stereo remix)
Graham Bond Organization – 5th January 1965
22. Baby Make Love To Me (Stereo remix)
Graham Bond Organization – 5th January 1965
23. Baby Be Good To Me (Stereo remix)
Graham Bond Organization – 5th January 1965
24. Got My Mojo Working (Stereo remix)
Graham Bond Organization – 5th January 1965
25. Train Time (Stereo remix)
Graham Bond Organization – 4th February 1965
26. Little Girl (Version 2- Stereo remix)
Graham Bond Organization – 4th February 1965
27. Oh Baby (Stereo remix)
Graham Bond Organization – 4th February 1965
28. Hoochie Coochie Man ((Version 3 – Stereo remix)
Graham Bond Organization – 4th February 1965
CD3
01. Tell Me (I'm Gonna Love Again)
Graham Bond Organization – March 1965
02. Love Come Shining Through
Graham Bond Organization – March 1965
03. Please Don´t Say
Winston G. – March 1965
04. Like A Baby
Winston G. – March 1965
05. Walking In The Park (Stereo remix)
Graham Bond Organization – 30th June 1965
06. Don't Let Go (Stereo remix)
Graham Bond Organization – 30th June
07. My Heart's In Little Pieces (Stereo remix)
Graham Bond Organization – 30th June 1965
08. The Night Time Is The Right Time (Stereo remix)
Graham Bond Organization – probably 30th June 1965
09. What´d I Say ((Version 2 – Stereo remix)
Graham Bond Organization – 30th June 1965
10. Have You Ever Loved A Woman (Stereo remix)
Graham Bond Organization – 30th June 1965
11. Who's Afraid Of Virginia Woolf (Stereo remix)
Graham Bond Organization – 1st July 1965
12. Hear Me Calling Your Name (Stereo remix)
Graham Bond Organization – 1st July 1965
13. Last Night (Stereo remix)
Graham Bond Organization – 1st July 1965
14. Baby Can It Be True (Stereo remix)
Graham Bond Organization – 1st July 1965
15. Dick's Instrumental (Stereo remix)
Graham Bond Organization – 1st July 1965
16. Camels And Elephants (Stereo remix)
Graham Bond Organization – 1st July 1965
17. Lease On Love (Stereo remix)
Graham Bond Organization – 1st July 1965
18. Cold Rain
(Previously unreleased – Stereo remix)
Graham Bond Organization – 1st July 1965
19. Positive aka HHCK Blues
(Previously unreleased alternative take – Stereo remix)
Graham Bond Organization – 1st July 1965
20. Positive aka HHCK Blues
(Previously unreleased master take – Stereo remix)
Graham Bond Organization – 1st July 1965
21. When Johnny Comes Marching Home
(Previously unreleased – Stereo remix)
Graham Bond Organzation – 5th October 1965
22. Good Good Loving
(Previously unreleased – Stereo remix)
Graham Bond Organization – 5th October 1965
23. Only Sixteen
(Previously unreleased – Stereo remix)
Graham Bond Organization – 5th October 1965
24. St. James Infirmary
Graham Bond Organization – 10th January 1966
CD4
01. Soul Tango
Graham Bond Organization – 10th January 1966
02. Wade In The Water (Version 5)
Graham Bond Organization – 10th January 1966
03. Down In the Valley (Previously unreleased)
Graham Bond Organization – 10th January 1966
04. Waltz For A Pig
The Who Orchestra – 11th/12th/13th March 1966
05. Wade In The Water ((Version 6 –Previously unreleased)
Graham Bond Organization – 30th June 1966
06. You've Gotta Have Love Babe
((Version 1 – Previously unreleased demo)
Graham Bond Organization – November 1966
07. You've Gotta Have Love Babe (Version 2)
Graham Bond Organization – 18th January 1967
08. I Love You
Graham Bond Organization – 18th January 1967
09. Wade In The Water (Version 7)
Live – previously unreleased
Graham Bond Trio, March 1963
10. Long Tall Shorty (Version 2)
Live – previously unreleased
Graham Bond Organization, Autumn 1964
11. Queen Of Hearts (Live – previously unreleased)
Graham Bond Organization, Autumn 1964
12. Alcoholic Blues (Live – previously unreleased)
Graham Bond Organization, Autumn 1964
13. Green Onions (Version 2)
Live – previously unreleased
Graham Bond Organization, Autumn 1964
14. High Heeled Sneakers (Version 3)
Live – previously unreleased
Graham Bond Organization, Autumn 1964
15. The First Time I Met The Blues
(Live – previously unreleased)
Graham Bond Organization, Autumn 1964
16. Little Girl (Version 3)
Live – previously unreleased
Graham Bond Organization, Autumn 1964
17. Stormy Monday (Live – previously unreleased)
Graham Bond Organization, Autumn 1964
18. What'd I Say (Version 3)
Live – previously unreleased
Graham Bond Organization, Autumn 1964