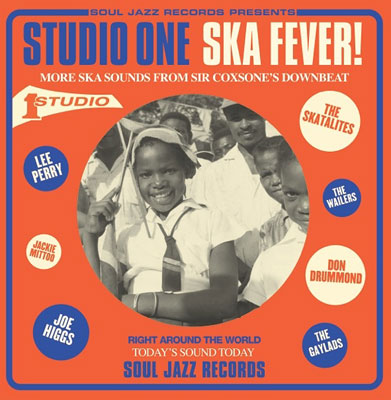 Just out on the Soul Jazz label (today in fact) is the Studio One Ska Fever! compilation.
It's a collection of ska tunes from Clement 'Sir Coxsone' Dodd's legendary Studio One Records, dating from the early to mid-1960s, the likes of Roland Alphonso, The Gaylads, The Ethiopians, Don Drummond, Jackie Opel and many more. An accompanying booklet contains extensive sleeve-notes from Studio One historian Rob Chapman (author of Never Grow Old and Downbeat Special), with information on musicians, tracks, label scans and more.
Take your pick from CD and 24-page booklet or heavyweight double-vinyl edition in a deluxe strong gatefold sleeve (with full sleeve notes). You can hear samples of tracks here and you can buy it from Sounds of the Universe or Amazon.co.uk on both formats.
 Tracklisting:
1. Hugh Godfrey – Mad World
2. Johnny Moore – Skauling Johnny
3. Bongo Man   – Where's Garvey
4. The Clarendonians – Rudie Bam Bam
5. Jackie Opel: Old Rocking Chair
6. The Wailers – Climb The Ladder
7. Jackie Mittoo – Jump For Joy
8. Lee Perry – Gumma
9. Soul Brothers  – Freedom Sounds
10. The Clarendonians – You Won't See Me
11. Roland Alphonso  – Cleopatra
12. The Gaylads – Don't Try To Reach Me
13. The Skatalites – Ska Parisienne
14. Joe Higgs & Roy Wilson – There's A Reward
15. The Skatalites – Timothy
16. Ethiopians   – Live Good
17. Don Drummond – Green Island
18. The Wailers – Mr Talkative