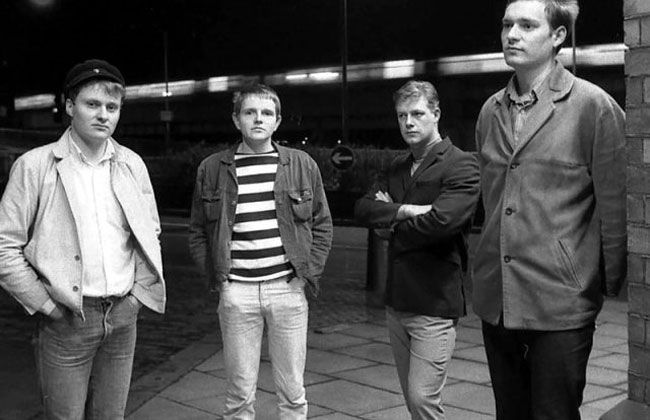 Note that I independently write and research everything in this article. But it may contain affiliate links.
Mod DJ Mark Ellis looks back at his first mod event – at the Assembly Rooms in Rotherham.
Memory can be very a choosey bugger…'Should I wear those rose tinted numbers, them ray bans that I can hardly see in or maybe strap Jodrell Bank to my head. Or try and peer backwards through the bottom of a pint glass of Tetleys finest.'
I've been consorting with my memory recently and boy is it mixed up…vague one minute…crystal clear the next. Of course you could blame this on the fact that I'm no spring chicken any more and hitting a more mature age has delivered me into the hands of creeping senility and….no no no…stop talking to yourself Mark.
Well, let me see…Summer '85..Thatcher Inc in full flower and yes the mod scene…Countdown label compilations, mod societies, almighty 'ding dongs' with the casuals, skinheads, psychbillies, trainspotters (it happened!), poodle haired metalheads, scooterboys, rugger fans or anyone else who so loved the mods…I REMEMBER IT WELL!
Waiting at Leeds Rail Station in the late August sunshine for the train to Rotherham with me old 'mukkahs' Paul Molloy and Steve Chaffer – 'moddyboddies' all – excited as hell – The Prisoners and The Direct Hits in one go…'fan-bleedin-tastic'.
Jump on the train (those old ones with the corridor running down the sides), I catch sight of some dapper chap 'high tailing' it down the platform to our carriage.
'Hi, my name's Nick.. you guys off to Rotherham?'
And so began our long strange friendship with a certain Mr Nick Brady of Leeds 9 modernist repute!
Rotherham was (and still is) a large 'rough and ready' township, situated somewhere between Sheffield, Barnsley and the Twilight Zone – the writing was on the wall in some respects.
Standing outside the Assembly rooms in Rotherham after running the Rotherham gauntlet of taunting, jeering, 'fat knacker' townies and the atmosphere was electric. Hipster clad, very cool looking girls, smart modernist chaps and a whole bunch of hip Brian Jones lookalike 'psychedelics' (the first time I'd clocked this style) and every person looked like a million dollars.
This essentially was my first 'sojourn' to a major event with a high mod count and just remembering the sheer ice cool style on display that night brings it all back – the passion and audacity of the whole thing – smack dab in the middle of what had to be the most culturally devoid decades (only surpassed by today's sorry excuse).
Into the 'cavernous' interior of the Assembly Rooms (or is that my memory being myopic) and you couldn't move for people shooting the breeze with each other and everyone and then the dancing!
Selective Memory does not kick in here…the dancing supplied by the mods in the 80's was, to be quite honest, utterly fantastic and this night introduced me to (and perfectly illustrated) some of the best dancefloor moves I have ever set eyes on.
Memory…
'Wack da doo doo doo de doo doo Wack Wack' – my introduction to Young Holt – nifty jazz and niftier dancing – hipshake, windmill, turn on a sixpence. But it was the bands we had come for and they didn't disappoint. BLISTERING! This word will suffice – Graham Day and the Boys rippin' the paint off the walls with the best set I had seen. The Direct Hits giving it some in an equally superb set. Sweat and noise.
Now memory has decided to squint its eyes a bit and a detailed synopsis of the set list of both bands is kind of impossible to conjure up. But it's the whole sense of that evening that shoots back into clarity…a sense that something BIG was afoot. The mod scene was really starting to 'rev up' back then.
Amongst the fray, mutterings that the local soccer casuals were waiting outside, beating the hell out of anybody who didn't fit their bill…us!
This added to the excitement in the Assembly Rooms…our heads were spinning.
GIG OVER!
Outside – let's face the music and dance. The police were outside, mopping up, a couple of vans full of natives baying for our blood.
Now to get home.
We could have left at 10.30 and got the last train back home but The Prisoners were still sermonising at that time so…what to do?
We wandered…15 of us around the town – slangin' match with big 'biffers' and then we had to decide where to flop down. Roughing it was and is not my style but needs must as the tiny little Rail Station was shut up till 6am. I tell you my friends, that night was cold and the eventual sleepless night huddled in a factory doorway covered in branches was not a particularly happy memory!
We staggered cold limbed and bleary eyed, down to the grand opening of the piss ant station by a very 'nazi looking' female guard at 6am…ears ringing 'Won't you please come back to me, Melanie'
We thought we were a foolhardy lot – braving the elements and an Industrial 'OK Corrall' – a reckless Wild Bunch (Brady Bunch!) until…
…What's that noise coming from the end of the platform?
A movement in the mouth of the rail tunnel – 12 parka clad figures stumble out of the gloom after a post Prisoners snooze in said tunnel!?!
'Morning boys!'
The Humanity!
Mark Ellis
Want a taste of The Prisoners in 1985? Check out this clip of the band ripping through Melanie…
Love Modculture? If you enjoy what you read or have benefitted from it and want to
help with the ever-increasing costs of the site and newsletter
, you can always
buy me a coffee at Ko-Fi
. Every penny is helpful and appreciated.