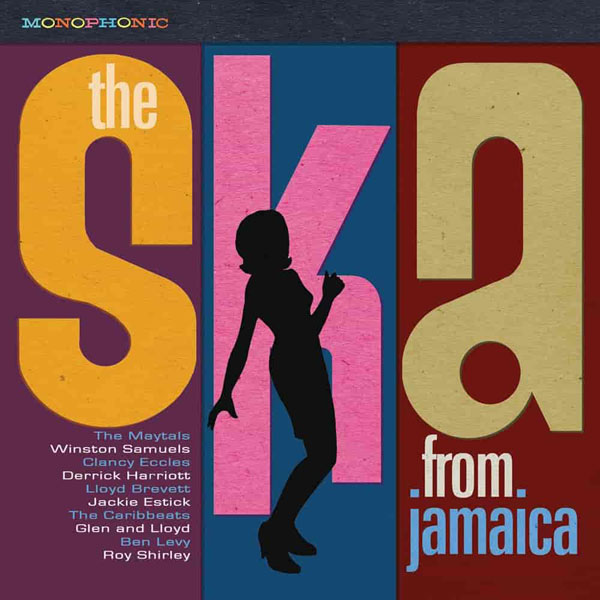 There was vinyl released for Record Store Day, but this is The Ska From Jamaica double CD set.
You can still buy copies of the vinyl on eBay if you want it. But if you are happy with CD, it available to order now, with plenty of bonus tracks here as an incentive.
There's a back story to this collection too. The album was originally scheduled for release in 1966 via R&B Records, but it never happened. Instead, it was 'lost' for over half a century before the master tapes rediscovered in the Trojan archive earlier this year.
As I said, the vinyl album featuring the work of leading producer Lindon Pottinger was released in a limited run, with a dozen tracks from the Ska Beat label between 1964 and 1966.
But there was more available and the CD set now bumps up the number go tracks to 71 (if my maths is correct). 30 tracks of those tracks have been unavailable on any format since the 1960s and virtually all other tracks unavailable for decades. If you love ska, this is something of a must-have.
The tracks are listed below and if you want a copy, you can pre-order now. It lands on 13th November 2020 and sells for £13.99.
Find out more at the Rough Trade website
DISC ONE: THE SKA FROM JAMAICA
1. THE SKA (FROM JAMAICA) – Jackie Estick
2. LET'S JUMP – The Maytals
3. WHAT HAVE I DONE – Winston Samuels
4. SAMMY NO DEAD – Clancy Eccles
5. CLING TO ME – Horrell Dawkins
6. SKA MARY – Bobby Aitken & The Carib-Beats
7. MONKEY SKA – Derrick Harriott
8. TIME WILL TELL – Winston Samuels
9. PARADISE – Roy Shirley & Ken
10. DOREEN – Ben Levy *
11. TOO LATE – Lloyd & Glen
12. WAYWARD SKA – Lloyd Brevett
BONUS TRACKS
13. BE PREPARED – Winston Samuels *
14. DRY WEATHER HOUSE – Count Lasher *
15. I DON'T NEED YOUR LOVE – Chuck & Dobby
16. KEEP SMILING – Ben Levy *
17. JOY AND JEAN – The Maytals *
18. LO-KI – Winston Richards *
19. MY BEST FRIEND – The Charmers *
20. STOP KNOCKING – Roy & Yvonne *
21. MISS IDA – Clancy Eccles *
22. MY BRIDE TO BE – Winston Samuels
23. SEED YOU SOW – Clive Bonnie
24. NEVER KNEW LOVE – Ben Levy *
25. WHAT IS KATTY – King Rocky *
26. BUTTERFLY – Horrell Dawkins
27. NEVER AGAIN – Winston Samuels *
28. YOUR LOVE – Jimmy James *
29. TELL ME – Roy & Yvonne *
30. CHELIP CHELIP – Bobby Aitken & The Carib Beats *
DISC TWO: THE SKA IS HERE TO STAY
1. SKA IS HERE TO STAY – Karl Bryan
2. UP AND DOWN – Winston Samuels
3. CALLING – Roy & Ken
4. DERRICK! – Derrick Harriott
5. TRIBUTE TO SOBERS – Count Lasher *
6. SCARAMOUCHE – Bobby Aiken & The Carib Beats
7. ROAM JERUSALEM – Clancy Eccles *
8. YOU'RE MY ANGEL – Winston Samuels *
9. MY DARLING – The Maytals *
10. DAISY – Jackie Estick *
11. FUNNY – Winston Grennon *
12. COME WHAT MAY – Winston Samuels *
13. A TEENAGER'S PRAYER – Dobby Dobson *
14. RASCAL BOY – Lord Creator *
15. DON'T DO THAT – Clancy Eccles *
16. I'M SORRY – Winston Samuels *
17. MATTIE RAG – Baba Brooks *
18. JERICHO WALL – Ezekial Brown *
19. LIVE AND LET OTHERS LIVE – Lloyd & Glen *
20. I'LL MAKE YOU GLAD – Ben Levy *
21. THUNDER BALL – The Originators *
22. TURN ON THE LIGHTS – Winston Grennan *
23. BROKEN HEARTED – Winston Samuels *
24. MY BLUE ROSE – Dobby Dobson *
25. GUNS TOWN – Clancy Eccles
26. HOT IRON – The Originators
27. RUDIES GIVE UP – Lloyd & Glen
28. FAST MOUTH – The Cables
29. ORANGE STREET SPECIAL – Bobby Aitken & The Carib Beats
* Tracks new to CD