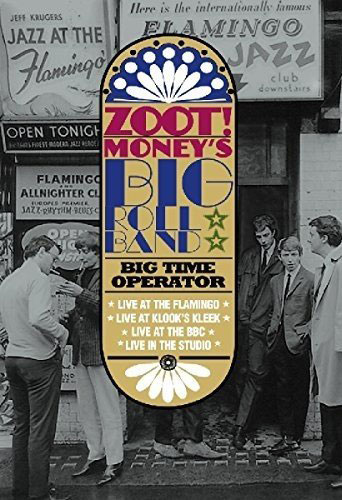 That was a title and a half. Probably appropriate as the Zoot Money's Big Roll Band Big Time Operator box set is quite a substantial package as well as a limited edition.
Just 2,000 are being produced by Repertoire, with each four-CD box signed by Zoot Money and containing a 54-page book including photos sourced from the legendary Jeremy Spencer archive, an essay by Chris Welch and a foreword by Zoot Money and Andy Summers reminiscing about the unique atmosphere of the Flamingo Club.
As for the box itself, that's a remastered set featuring the pick of the live output by the much-loved R&B combo. Rare and historic 1966 recordings at The Flamingo and Klook's Kleek clubs, BBC radio shows, presented by the late Brian Matthews, include interview spots with Zoo and a fourth CD version of Zoot's 1965 studio album It Should've Been Me with extra bonus tracks.
All the tracks listed below. If you want one, act fast. You can pre-order the Zoot Money's Big Roll Band Big Time Operator box set now ahead of the 20th October release date, with the price at £39.74.
Find out more at the Amazon website
Thanks to Mark for the tip off!
Disc: 1
1. Chauffeur
2. The One And Only Man
3. I've Been Trying
4. Florence Of Arabia
5. Let The Good Times Roll
6. James Brown Medley: I'll Go Crazy Papa's Got A Brand New Bag
7. Mashed Potato U.S.A.
8. Nothing Can Change This Love
9. Barefootin' (Tracks 1 – 9 from, Live At Klook's Kleek)
10. Good
11. Bring It On Home To Me
12. Please Stay
13. You Know You'll Cry
14. Something Is Worrying Me
15. Stubborn Kind Of Fellow
16. The Many Faces Of Love (Tracks 10 – 16, BONUS TRACKS 1965 STUDIO SINGLES)
Disc: 2
1. I Got You (I Feel Good)
2. Smack Dab In The Middle
3. Boot – Leg
4. Train Train
5. Ain't That Peculiar
6. People Gonna Talk
7. It Should've Been Me
8. Hallelujah I Love Her So
9. Self Discipline
10. Rock Me Baby
11. Stormy Monday Blues
12. The Uncle Willie
13. When I Met My Baby
14. Blues March
15. You Don't Know Like I Know
16. Big Time Operator
17. Hide Nor Hair
18. Haunted House
19. La La La La La / The 'In' Crowd (Tracks 1 – 19 from , Live At The Flamingo)
20. Let's Run For Cover
21. Self Discipline
22. Big Time Operator
23. Zoot's Sermon (Tracks 20 – 23, BONUS TRACKS 1966 STUDIO SINGLES)
Disc: 3
1. Cool Jerk
2. Big Time Operator
3. Barefootin'
4. I Can't Turn You Loose
5. Chauffeur
6. Picture Me Gone
7. Star Of The Show
8. Let The Good Times Roll
9. Something's Worrying Me
10. Ain't That Love
11. You Don't Know Like I Know
12. Let's Run For Cover
13. People Gonna Talk (Tracks 1 – 13 from, Live at the BBC)
14. The Uncle Willie
15. Zoot's Suit (e)
16. Gin House
17. Rocking Chair (Tracks 14 – 17, BONUS TRACKS 1964 STUDIO SINGLES)
Disc: 4
1. I'll Go Crazy
2. Jump Back
3. Along Came John
4. Back Door Blues
5. It Should've Been Me
6. Sweet Little Rock And Roller
7. My Wife Can't Cook
8. Rags And Old Iron
9. The Cat
10. Feelin' Sad
11. Bright Lights Big City
12. Fina (Tracks 1 – 12 from It Should've Been Me)
13. The Star Of The Show
14. The Mound Moves
15. Nick Knack
16. I Really Learnt How To Cry
17. Stop The Wedding
18. Just A Passing Phase
19. What Cha Gonna Do 'Bout It
20. Coffee Song (Tracks 13 – 20, BONUS TRACKS 1966/67/68 IN THE STUDIO)