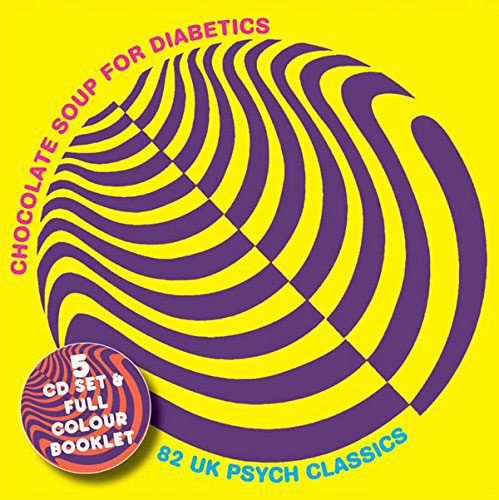 Last Friday saw the return of Chocolate Soup For Diabetics Volumes 1-5, which is back as a budget box set via the Particles label.
This is the entire run of albums from a series that dates back (I think) as far as 1980. The albums of late 1960s British psych classics were originally on vinyl, but have seen a CD release before on CD. However, this latest release brings all five volumes together, throwing in what's described as a 'lavish full-colour booklet' with discographies and histories of every act, as well as many rare photographs.
But best of all, the 82-track collection is available for a rather budget price. Grab a set for £20.30, which works out at around £4 per disc (plus 30p for the book). Sounds a winner if psych is your thing. Track listing below.
Find out more at the Amazon website
Track listing:
Volume 1
1. THE VOICE / The Train To Disaster
2. NUCHEZ S / Open Up Your Mind
3. TINTERN ABBEY / Vacuum Cleaner
4. ONE IN A MILLION / Double Sight
5. THE MISUNDERSTOOD / Children Of The Sun
6. DANTALIAN S CHARIOT / The Madman Running Through The Fields
7. NUCHEZ S / B.G. s One Eye
8. THE FLIES / I m Not You Stepping Stone
9. ONE IN A MILLION / Fredereek Hernando
10. THE FIRE / Father s Name Is Dad
11. TINTERN ABBEY / Beeside
12. THE FRESH WINDOWS / Fashion Conscious
13. APPLE / The Otherside
14. THE UNEXPLAINED / A Walk Down Emily Lane
Volume 2
1. MIKE STUART SPAN / Children Of Tomorrow
2. WIMPLE WINCH / Rumble On Mersey Square South
3. FLEUR DE LYS / Circles
4. CRAIG / I Must Be Mad
5. APPLE / Buffalo Billy Can
6. THE SCORE / Please Please Me
7. WINSTON S FUMBS / Snow White
8. HIM & THE OTHERS / She s Got Eyes That Tell Lies
9. BIG BOY PETE / Cold Turkey
10. THE HUSH / Grey
11. THE TICKLE / Subway (Smokey Pokey World)
12. THE SYN / 14 Hour Technicolour Dream
13. STATE OF MICKEY & TOMMY / With Love From 1 to 5
14. PAPER BLITZ TISSUE / Boy Meets Girl
Volume 3
1. THE FACTORY / Path Through The Forest
2. FELIUS ANDROMEDA / Meditations
3. WIMPLE WINCH / Save My Soul
4. FLEUR DE LYS / Mud In Your Eye
5. THE AUSTRALIAN PLAYBOYS / Sad
6. GRADED GRAINS / Animal Magic
7. THE ACCENT / Red Sky At Night
8. CHAPTER FOUR / In My Life
9. THE POETS / Wooden Spoon 1
0. THE SMOKE / Have Some More Tea
11. THE GAME / Help Me, Mummy s Gone
12. GRADED GRAINS / Lucifer Sam
Volume 4
1. CHORDS FIVE / Universal Vagrant
2. THE ANTEEEKS / I Don t Want You
3. THE PERISHERS / How Does It Feel?
4. THE EXCEPTIONS / The Eagle Flies On Friday
5. THE REBEL ROUSERS / As I Look
6. ALAN AVON & THE TOY SHOP / Night To Remember
7. THE DODOS / I Made Up My Mind
8. ROGER YOUNG / It s Been Nice
9. THE ANSWERS / Just A Fear
10. FORCE FIVE / Don t Know Which Way To Turn
11. THE DARWINS THEORY / Hosanna
12. THE TRANSATLANTICS / Look Before You Leap
13. THE LONGBOATMEN / Take Her Anytime
14. LINDA VAN DYCK / Stengun
15. GARY WALKER / You Don t Love Me
16. CALEB / Woman Of Distinction
17. THE TREND / Shot On Sight
18. FAMILY / Scene Through The Eye Of A Lens
19. STEVE ALDO / You re Absolutely Right
20. THE PEASANTS / Let s Get Together
21. THE ORIGINAL ROADRUNNERS / Waterloo Man
Volume 5
1. THE QUOTATIONS / Cool It
2. THE TRANSATLANTICS / Don t Fight It
3. THE LONGBOATMEN / Only In Her Hometown
4. THE WAYS AND MEANS / Breaking Up A Dream
5. CHORDS FIVE / I Am Only Dreaming
6. THE MOVING FINGER / Shake & Finger Pop
7. THE AUTHENTICS / Climbing Through
8. THE MICKEY FINN / Garden Of My Mind
9. FORCE FIVE / Baby Let Your Hair Down
10. ST. LOUIS UNION / English Tea
11. THE MAGIC LANTERNS / I Stumbled
12. THE BAD BOYS / She s A Breakaway
13. THE SONS OF FRED / Baby What You Want Me To Do
14. BOO & THE BOO-BOOS / Oriental Boo
15. MIKE RABIN / Head Over Heals
16. CALEB / Baby Your Phrasing Is Bad
17. WAYNE GIBSON / Baby Baby Baby Pity Me
18. THE PETARDS / Tartarex
19. THE J&B / Wow! Wow! Wow!
20. KING SIZE TAYLOR / Thinkin
21. THE FOUR SQUARES / Don t You Know I Love You