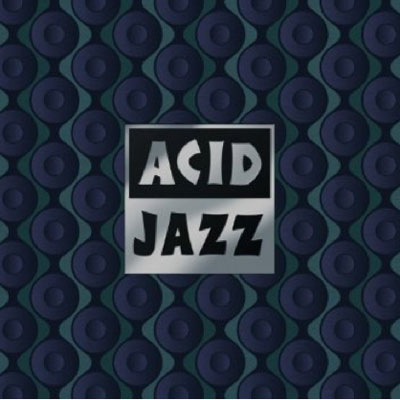 Whether this is aimed at you depends on how you wide your musical tastes range. Because one thing is for sure, the Acid Jazz – The 25th Anniversary Box Set isn't strictly aimed at mods.
But it is an interesting and eclectic selection of music, wider than perhaps you would expect. The box itself is said to contain:
1 x square secure box with the Acid Jazz logo in embossed silver foil
4 x Audio CD's + wallets • 1 x video DVD + wallet featuring an exclusive interview with Eddie Piller & Dean Rudland plus 12 vintage Acid Jazz promotional videos
1 x 24 page booklet featuring the Acid Jazz story with unique pictures written by Dean Rudland
1 x 52 page booklet featuring the Acid Jazz artwork throughout the last 25 years
1 x 7-inch vinyl record featuring 2 unreleased original Acid Jazz recordings exclusive to the box set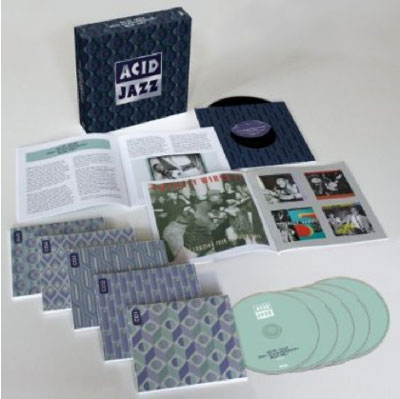 That's only half the story though, as the real tale here is the five hours of music contained within. Disc one features old records that were played in the clubs prior to the widespread use of the phrase – soul, funk, jazz, you get the idea. Disc two features bands and sounds that was influenced by those sounds, disc three covers bands who defined the acid jazz sound 'back in the day' and disc four covers 'after hours' sounds (for want of a better phrase).
If you want to know how that translates to tracks, check out the full tracklisting below. The box is released via Harmless on 5th November 2012 , with Amazon pricing in at £40. There's also a video below, as well as that tracklisting, should you want to know more.
Find out more at the Amazon website
CD1 – PUT IT ALL TOGETHER AND WHAT DO YOU GET
1. Golden Lady Jose Feliciano Original Album Version 4.20
2. Love The One You're With The Isley Brothers Original Album Version 3.39 3. Lady Day & John Coltrane Gil Scott Heron Original Album Version 3.34
4. Is It Something You Got Tyrone Davis Original 7" Single Version 2.34
5. Don't You Care Alice Clark Original Album Version 2.48
6. You Spanky Wilson Original 7" Version 2.10
7. Light My Fire Erma Franklin Original Album Version 2.39
8. Right On Clarence Wheeler & The Enforcers Original Album Version 4.39
9. Bert's Apple Crumble The Quik Original 7" Version 2.11
10. Who's Afraid Of Virginia Wolfe Part 2 Jimmy Smith Original Album Version 4.58
11. Milestones Mark Murphy Original Album Version 2.27
12. Smokey Joe's La La Googie Rene Original 7" Version 2.53
13. Black Whip Boogaloo Joe Jones Original Album Version 6.46
14. Murriley Charles Earland Original Album Version 6.28
15. Expansions Lonnie Liston-Smith Original Album Version 6.05
16. Go Bang # 5 Dinosaur L Original Francois K 12" Mix 7.33
17. I'm A Man Chicago Original Album Version 7.38
18. I Can't Dance With You Small Faces Original 7" Version 3.11
19. I Don't Do This (To Every Girl I Meet) Sydney Joe Qualls Original Album Version 3.12
CD2 – SOMETHING HAPPENING AT THE DANCE
1. Blacker Ballistic Brothers Original Album Version 6.09
2. The Masterplan Diana Brown & Barry Sharpe Original 12" Version 7.05
3. Hot Music S.O.H.O. Original 12" Jazz Version 5.06
4. Know How Young MC Original 12" Mix 4.01
5. Don't Scandalize Mine Sugar Bear Original 12" Version 4.13
6. The Nervous Track Nuyorican Soul Original 12" Ballsy Mix 6.28
7. Earthly Powers A Man Called Adam Original 7" Mix 4.55
8. I'm Gonna Love You Jestofunk Original MC Turbo 12" Sax Mix 4.20
9. Super Strut The Apostles Original Album Version 4.20
10. Jazzy John's Freestyle Stonebridge Original 12" Dub Mix 3.38
11. Helping Hand Arthur Miles Original 12" Mix 4.39
12. From The Ghetto Dread Flimstone Original 7" Version 4.35
13. Bonita Manana Espiritu Original 12" Mix 4.06
14. If The Papes Come A Tribe Called Quest Original 12" Mix 4.14
15. BNH Brand New Heavies Original Album Version 5.52
16. Frederick Lies Still Galliano Original 7" Version 4.59
CD3 – HOW'D WE GET US HERE…?
1. Jazz Thing Gang Starr Original 12" Mix 4.48
2. Get Yourself Together Young Disciples Original 12" Mix 5.23
3. Dream Come True Brand New Heavies Original 12" Mix 3.45
4. Love Will Keep Us Together The James Taylor Quartet Original Ian Green 7" Mix 3.41
5. The New Avengers Snowboy Original 12" Mix 4.32
6. Fresh In My Mind A Forest Mighty Black Original 12" Mix 4.38
7. Oh Shit Pharcyde Original Album Version 4.29
8. Black Whip Chapter & Verse Original 12" Mix 3.59
9. Back By Dope Demand King Bee Original 12" Mix 3.35
10. Theme From Starsky & Hutch James Taylor Quarter Original 12" Mix 5.52 11. Always There Incognito Original John Morales 12" Edit 3.34
12. Too Young To Die Jamiroquai Original Album Version 6.03
13. Apple Green Mother Earth Original Album Version 4.24
14. Love Sick The Night Trains Original 12" Mix 4.26
15. Beads Things & Flowers Humble Souls Original 12" Mix 4.05
16. The Ladder One Creed Original Album Version 5.03
17. Funky Jam Primal Scream Original 12" Mix 5.25
 
CD4 – SMOKERS DELIGHT
1. Cosmos SX 2000 Paul Weller Original 12" Dub Mix 7.19
2. Non Corporealness Mother Earth Original Album Version 6.04
3. Rassellas Mr Scruff V Manasseh Original Album Version 5.55
4. Movements In Dub (Roots) Roots Radics meets the Scientist
Original Album Version 5.08
5. Render Your Heart Dread Flimstone Original 12" Mix 5.02
6. Chase The Devil Max Romeo Original 7" Version 3.27
7. You Never Get Away Delroy Wilson Original 12" Dub Mix 7.22
8. Leaders & Believers Emperors New Clothes Original UNKLE Album Mix 5.14 9. Astralisation Snowboy Original 12" Mix 6.10
10. The Groove Jazzy Jeff & The Fresh Prince Original 12" Instrumental Mix 5.33 feat Grover Washington Jr
11. I Wanna Get High Cypress Hill Original 12" Mix 2.56
12. Galactica Rush Jhelisa Original 12" Instrumental Mix 6.01
13. Nothing Sandals Original 12" Dub Version 8.02