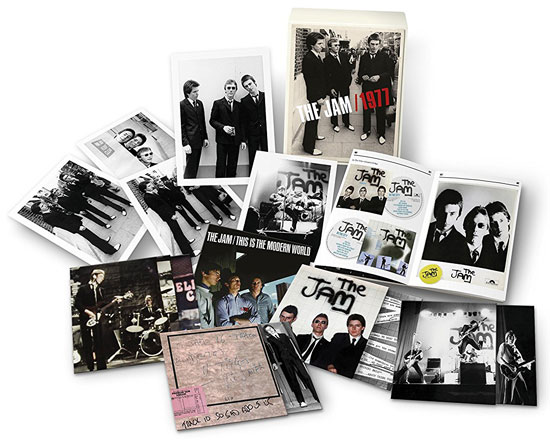 Good news if you love the early work of The Jam. The 1977 box set from Universal pretty much has everything recorded from that year.
1977 was the year The Jam burst onto the scene, releasing two albums and having three hit singles. To celebrate 40 years since that happening, Universal has pulled together In The City and This Is The Modern World in remastered form, throwing in unreleased demos and live recordings too on the four CD, one DVD collection.
Disc one features In The City, disc two has 11 demos from the first album (six of which are unreleased), disc three is This Is The Modern World, disc four is a live, previously unreleased recording from the Nashville in 1977, along with Peel Sessions from 1977 and finally, disc five is a DVD featuring TV appearances and promo videos from 1977.
To top it off, there's a 144-page book with new liner notes, period photos, cuttings, reviews and memorabilia, with the discs in LP-style wallets with printed inner bags. Fiver postcards and the box itself completes the listing.
If you want the tracks, they are listed below. The box set is available to pre-order now ahead of the 20th October release date. It sells for £52.99.
Find out more at the Amazon website
Disc 1: In The City (original album remastered)
1. Art School
2. I've Changed My Address
3. Slow Down
4. I Got By In Time
5. Away From The Numbers
6. Batman Theme
7. In The City
8. Sounds From The Street
9. Non-Stop Dancing
10. Time For Truth
11. Takin' My Love
12. Bricks & Mortar
+ single & B-side extras
13. All Around The World
14. Carnaby Street
Disc 2: The Polydor Demos: February 1977
1. Art School (demo)*
2. In The City (demo)
3. I Got By In Time (demo)*
4. I've Changed My Address (demo)*
5. Time For Truth (demo)
6. Sounds From The Street (demo)
7. Non Stop Dancing (demo)*
8. Bricks And Mortar (demo)*
9. Takin' My Love (demo)
10. So Sad About Us (demo)
11. Slowdown (demo)*
Disc 3: This Is The Modern World (original album remastered)
1. The Modern World
2. London Traffic
3. Standards
4. Life From A Window
5. The Combine
6. Don't Tell Them You're Sane
7. In The Street Today
8. London Girl
9. I Need You (For Someone)
10. Here Comes The Weekend
11. Tonight At Noon
12. In The Midnight Hour
Disc 4: Live 1977
John Peel sessions
1. In The City
2. Art School
3. I've Changed My Address
4. The Modern World
Recorded 26.4.1977 – Transmitted 2.5.1977
5. All Around The World
6. London Girl
7. Bricks & Mortar
8. Carnaby Street
Recorded 19.7.1977 – Transmitted 25.7.1977
Live at the 'Nashville' – September 10th 1977 (previously unreleased)
9. Carnaby Street
10. The Modern World
11. Time For Truth
12. So Sad About Us
13. London Girl
14. In the Street Today
15. All Around The World
16. London Traffic
17. Sweet Soul Music
18. Bricks & Mortar
19. In The City
20. Art School
21. In The Midnight Hour
22. Sounds From The Street
23. Slowdown
Disc 5: DVD
1. In The City (Polydor promo – 1977)
2. Art School (Polydor promo – 1977)
3. In The City ('Top Of The Pops' – 19 May 1977)
4. All Around The World ('Top Of The Pops' – 18 August 1977)
5. All Around The World ('Marc' – 24 August 1977 )
6. The Modern World ('Top Of The Pops' – 3 November 1977)
7. In The City ('So It Goes' – 20 November 1977)
8. Bricks and Mortar ('So It Goes' – 20 November 1977)
9. Carnaby Street ('So It Goes' – 20 November 1977)
10. Slowdown ('So It Goes' – 20 November 1977)
11. All Around The World ('So It Goes' – 20 November 1977)
* Previously unreleased