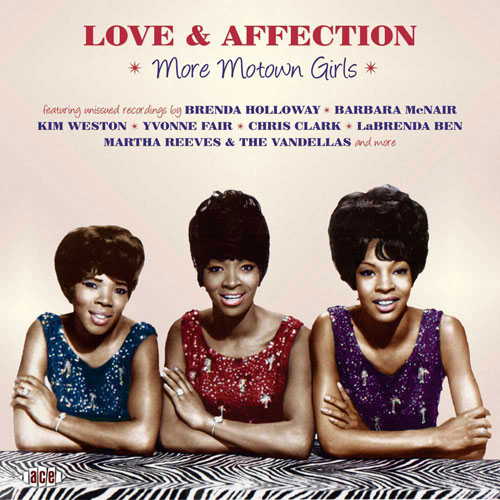 The follow-up to Finders Keepers: Motown Girls 1961 – 67
is on its way from Ace Records, going by the name of Love & Affection: More Motown Girls.
It sounds like the same formula, which is certainly no bad thing. That's digging into the Motown archives to find some girl group gems that have somehow managed to avoid us over the years and decades.
25 tracks are on the new volume, none of which have appeared on a CD or on vinyl before. A couple are 'abandoned' but most of what you will fins here is described as 'complete and ready to put out'. Basically the label had an embarrassment of riches back in the day.
The booklet gives the story of the tracks selected for this particular compilation, as well as 'sprinkled clues' about Ace knows there is left in the Motown vaults. That hints of more volumes to come, although with the work needed to find and compile the tracks, that might be another couple of years off.
Track listing below, with a release date of 30th October 2015. You can pre-order now for £12.99.
Find out more about the CD at the Amazon website
Track listing:
1. Reassure Me That You Love Me – Brenda Holloway – Brenda Holloway
2. Any Girl In Love (Knows What I'm Going Through) – Gladys Knight & The Pips – Gladys Knight and The Pips
3. My Love Is Your Love (Forever) – Barbara Randolph – Barbara Randolph
4. This Is The Love (I've Been Waiting For) – Martha Reeves & The Vandellas – Martha Reeves and The Vandellas
5. I Can't Make It Without You – Debbie Dean – Debbie Dean
6. Midnight Johnny (Early Version) – Liz Lands – Liz Lands
7. Many Good Times – The Lewis Sisters – The Lewis Sisters
8. Just Go On Sleeping – LaBrenda Ben – LaBrenda Ben
9. Lonely Teardrops – Brenda Holloway – Brenda Holloway
10. Now That Love Is Gone – Hattie Littles – Hattie Littles
11. Fugitive – LaBrenda Ben – LaBrenda Ben
12. Envious (Fast Version) – Linda Griner – Linda Griner
13. Mr Pride And Mr Gloom – Connie Haines – Connie Haines
14. Momma Tried To Warn Me – Oma Heard – Oma Heard
15. Check Yourself – Chris Clark – Chris Clark
16. Come Back Half Way – Barbara McNair – Barbara McNair
17. Mother Tell Me What To Do – Martha Reeves & The Vandellas – Martha Reeves and The Vandellas
18. Girls Need Love And Affection – The Marvelettes – The Marvelettes
19. Give Back The Good Things – Rita Wright – Rita Wright
20. Go For Yourself – The Lollipops – The Lollipops
21. The Good Times Are Gone – Barbara McNair – Barbara McNair
22. The Things Time Can't Erase – Gladys Knight & The Pips – Gladys Knight and The Pips
23. Close My Crying Eyes – Yvonne Fair – Yvonne Fair
24. Forgotten – Chris Clark – Chris Clark
25. Lover Man (Oh Where Can You Be) – Kim Weston – Kim Weston