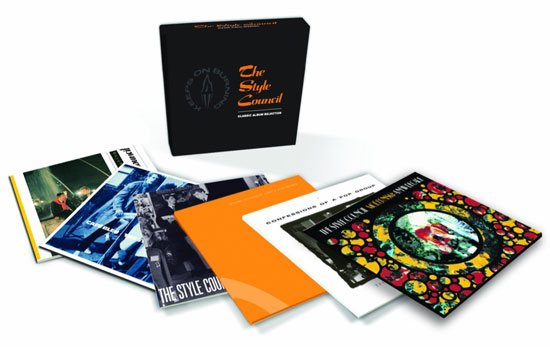 A new Style Council box set? Well, on the off-chance you haven't got Complete Adventures, you can always pick up the Style Council Classic Album Selection box set.
Not sure who it is actually aimed at though. At a guess, the Weller completist who wants the lot, because there's nothing new here, packaging aside. The box is said to mark the 30th anniversary of the band, featuring all the band's studio albums in slipcases (no booklets) in the black and orange box.
That means:
1. Introducing The Style Council
2. Cafe Bleu
3. Our Favourite Shop
4. The Cost Of Loving
5. Confessions Of A Pop Group
and the unreleased (at the time)
6. Modernism: A New Decade
The same tracklistings as the original albums, so it really is all about the packaging. Oh yes – and the price. Amazon is doing this six-disc set for £14.83, which is just over £2 per disc. With that in mind, it's probably not a bad buy if you have a collection to complete or if you never got round to picking up all the Style Council albums on CD.
It's on pre-order now, shipping on 15th July 2013.
Find out more at the Amazon website