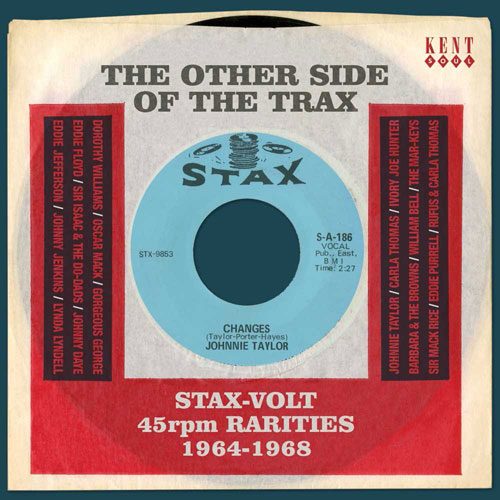 Another winner coming soon from Ace Records – The Other Side Of The Trax: Stax-Volt 45rpm Rarities 1964-1968 which is via the Stax label.
Here is the headline: 24 Stax singles from the 'Blue' era that have never been on CD before. In fact, most haven't been available on vinyl since their original releases in the mid-1960s.
Almost all of the tracks are taken from Stax' original production masters, with the exception of Johnnie Taylor's popular northern soul tune 'Changes', which appears for both the first time on CD and in stereo.
Tracks all listed below, with the release date down for 29th January 2016. £13.99 is the retail price of this one. Oh yes, the usual Ace packaging too, which includes a label scan of every featured 45 and plenty of background.
Find out more at the Amazon website
Track listing:
1. Changes – Johnnie Taylor – Johnnie Taylor
2. Separation – Carla Thomas – Carla Thomas
3. This Kind Of Woman – Ivory Joe Hunter – Ivory Joe Hunter
4. Sho' Gonna Mess Him Up – Rufus Thomas – Rufus Thomas
5. You Belong To Her – Barbara & The Browns – Barbara & The Browns
6. Don't Stop Now – William Bell – William Bell
7. Beach Bash – The Mar-Keys – The Mar-Keys
8. My Pride Won't Let Me – Eddie Purrell – Eddie Purrell
9. I Need Somebody – Johnny Daye – Johnny Daye
10. (Uh-Oh) I'm In Love Again – Eddie Jefferson – Eddie Jefferson
11. Watchdog – Dorothy Williams – Dorothy Williams
12. You'll Never Know How Much I Love You – Oscar Mack – Oscar Mack
13. Please Be Honest With Me – Barbara & The Browns – Barbara and The Browns
14. Ain't Got No Girl – William Bell – William Bell
15. A Boy Named Tom – Carla Thomas – Carla Thomas
16. Sweet Thing – Gorgeous George – Gorgeous George
17. Hey Now – Eddie Floyd – Eddie Floyd
18. The Big Dipper – Sir Isaac & The Do-Dads – Sir Isaac & The Do-Dads
19. We're Tight – Rufus & Carla Thomas – Rufus & Carla
20. I Gotta Have My Baby's Love – Sir Mack Rice – Mack Rice
21. Under My Nose – Eddie Floyd – Eddie Floyd
22. Bashful Guitar – Johnny Jenkins – Johnny Jenkins
23. Here I Am – Lynda Lyndell – Linda Lyndell
24. Strange Things (Happenin' In My Heart) – Johnnie Taylor – Johnnie Taylor