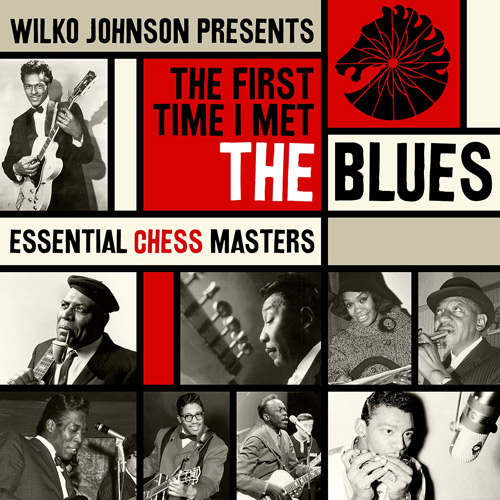 An interesting as well as affordable collection on its way, namely Wilko Johnson Presents The First Time I Met The Blues (Essential Chess Masters).
Spectrum Audio is the label (hence the affordable price tag), with the album essentially a collection of classic blues tunes from the Chess archives – the same label that released Wilko's Going Back Home album with Roger Daltrey back in 2014.
The artists chosen are the ones that have had a 'profound and life lasting effect' on Will himself, including the likes of Muddy Waters, Howlin' Wolf, Bo Diddley, Chuck Berry and more over two CDs and 40 tracks. The music that inspired so much of the original 1960s beat scene and ignited the dance floors of the early mod scene.
It lands on 20th May and is available to order now, selling for £6.99.
Find out more about the CD at the Amazon website
Track listing:
Disc: 1
1. I Can't Be Satisfied – Muddy Waters
2. Louisiana Blues – Muddy Waters
3. Juke – Little Walter
4. Sugar Mama – John Lee Hooker
5. Blues With A Feeling – Little Walter
6. (I'm Your) Hoochie Coochie Man – Muddy Waters
7. Just Make Love To Me – Muddy Waters
8. Last Night – Little Walter
9. Mannish Boy – Muddy Waters
10. My Babe – Little Walter
11. Bo Diddley – Bo Diddley
12. Don't Start Me To Talkin' – Sonny Boy Williamson
13. Pretty Thing – Bo Diddley
14. Maybellene – Chuck Berry
15. Who Do You Love – Bo Diddley
16. Smokestack Lightnin' – Howlin' Wolf
17. Roll Over Beethoven – Chuck Berry
18. Mona – Bo Diddley
19. Johnny B. Goode – Chuck Berry
20. Memphis, Tennessee – Chuck Berry
Disc: 2
1. So Many Roads, So Many Trains – Otis Rush
2. First Time I Met The Blues – Buddy Guy
3. Howlin' For My Darlin' – Howlin' Wolf
4. Spoonful – Howlin' Wolf
5. Back Door Man – Howlin' Wolf
6. Goin' Down Slow – Howlin' Wolf
7. Help Me – Sonny Boy Williamson
8. Gunslinger (Bo Diddley's A Gunslinger) – Bo Diddley
9. Nadine – Chuck Berry
10. No Particular Place To Go – Chuck Berry
11. High Heel Sneakers – Tommy Tucker
12. I Don't Want 'Cha – Tommy Tucker
13. Slip In Mules – Sugar Pie DeSanto
14. Long Tall Shorty – Tommy Tucker
15. Soulful Dress – Sugar Pie DeSanto
16. Killing Floor – Howlin' Wolf
17. Checkin' Up On My Baby – Sonny Boy Williamson
18. The Same Thing – Muddy Waters
19. I'm In The Mood – John Lee Hooker
20. Bring It On Home – Sonny Boy Williamson