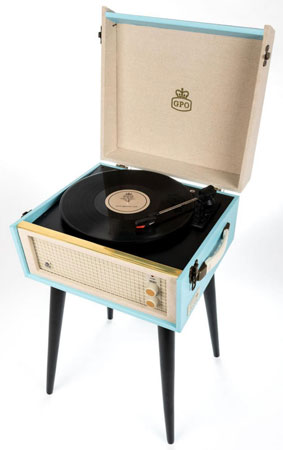 Urban Outfitters has been making something like this for a while now. But the Dansette-style GPO Retro Bermuda record player with legs definitely undercuts it for price.
Of course, it is all down to the sound as well as the looks at the end of the day – and with the Bermuda not quite out yet, there's no way of doing a compare and contrast. But if you are after one of these, it's worth checking out.
This one definitely has the look in either the blue or the red. In fact, it looks pretty much exactly like the original Dansette Bermuda record player from the 1960s. They don't come cheap either, have a look at the original Dansettes on eBay for an idea of that.
as for the inner workings, it has a fully automatic return tone arm, a three-speed deck, built-in dynamic full-range stereo speakers plus MP3 and USB play-back options, so you can record from LP to USB.
The legs mean you can go freestanding if you like, but this is a portable player too.
As for price, £148.99 is being quoted, which is cheaper by some way compared to the UO Dansette.
Find out more at the Nice Stuff website
Via Retro To Go