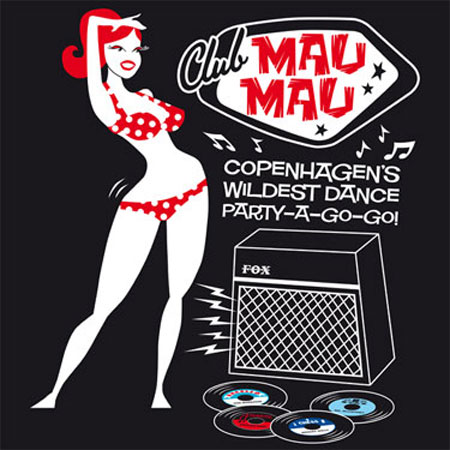 Note that I independently write and research everything in this article. But it may contain affiliate links.
Peter Markham talks us through the Copenhagen-based mod club, Club Mau Mau.
1. When and why did you set up the club?
Club Mau Mau is a Copenhagen based 60s style Beat Club formed in 2005 by a group of DJs who arrange concerts and events around the area of the Danish capitol. The club was inspired by like minded people in other European cities such as Amsterdam Beat Club, Bama Lama Lu Parteee in Helsinki and the late Dirty Water Club in London, but also original 60s clubs such as The Scene Club in London and the sounds that they played. The original idea for the club was that you can actually go out to a concert and listen to good music afterwards also, and maybe would like to stay and dance the night away! When we started there wasn't really anything going on in terms of 60s style clubs in Copenhagen, the Northern Soul and Ska clubs were not doing anything at that time, but have since started up again.
2. Who are you DJs? Do you have guest DJs coming in too? If so, anyone we might know?
Club Mau Mau's experienced DJs have spun records as far away as New York, London, Amsterdam, Frankfurt, Stockholm, Oslo etc. The resident DJs are: Brocky Holly (US), Von Markham (DK/UK), Mr. McCaffrey (DK/IRL) and original '79 Revival Mod, English Karl (UK). The DJ line-up is often extended with various guest DJs. Brocky Holly and English Karl both sell rare vinyl online, contact them if you are looking for that special record! Club Mau Mau DJs totally compliment each other with their similar but different styles and all four have a unique collection of rare, obscure and sought after 45's in which more are added weekly, if not daily. Some of our guest DJs have included: Fab Carrieri (The ModFather Group, IT), Dirk (Crypt Records, DE), Batman & Robin (Amsterdam Beat Club, NL), Marcus Cawood & Johanna (Club Flipside, SE), Lee Tea (The Branded, UK/SE), Sir Maggot (99th Floor/Swank!, SE), Ana (Gíjon, ES), Krusher Karlsen (The Purple Society, SE), Peter Rosén (Club Target, SE), Jolly Green Jan9 (DE), Matty (Mod Dance Party, NOLA, US), Jay Burnside (FIN) and Thomas Jamt Roaas (The Sound Laboratory, NO).
3. What kind of musical territory do you cover?
The concept of the club revolves around dancable 60s Beat, Garage, Soul, R&B and Mod related sounds. The records being played are all original 45s and the bands being booked have a certain 60s feel to them. Even though there is often being played songs favoured by the Northern Soul and Mod crowds, Club Mau Mau is not a Mod or Northern Soul club, but Mods, Scooterists and other like minded people intererested in the 60s sound / scene often frequent Club Mau Mau. In fact Club Mau Mau's diverse range of 60s related music and styles attracts people from every walk of life. Depending on the audience and mood, we might through in a two-tone, ska, '79 Mod revial or 80's Garage Punk disc on for good measure.
4. Give us an idea of a few tracks you might hear if you dropped in?
Here's a few tracks than have been on the turntables more than a few times:
The Poets – That's The Way It's Got To Be (Decca)
The Palace Guards – Gas Station Boogaloo Downtown (White Cliffs)
Nathaniel Mayer – I Had A Dream (Fortune)
Melvis & His Gentlemen – Barefootin' (Sonet)
Rhythm & Blues Inc. – Louie, Louie (Fontana)
The Remains – Once Before (Epic)
John Mayall & His Blues Breakers – Crawling Up A Hill (Decca)
Slim Harpo – Shake Your Hips (Excello)
The Moments – Money, Money (World Artists)
Gino Washington – Come Monkey With Me (Wand)
The Megatons – Shimmy, Shimmy Walk Pt.1 (Dodge)
The Action – Baby You've Got It (Parlophone)
Homer Banks – 60 Minutes Of Your Love (Minit)
The Kinks – She's Got Everything (Pye)
Bill & Will – Goin' To The River (Checker)
Liverpool Five – The Snake (RCA Victor)
Ray Columbus And The Art Collection – Kick Me (I Think I'm Dreaming) (Colstar)
Thee Midniters – Jump, Jive and Harmonize (Whittier)
The Rolling Stones – Stupid Girl (London)
Betty Harris – Mean Man (Sansu)
5. What do you think you offer that other clubs might not?
Half our our events feature live bands, and on our DJ nights we also show 60s film clips to add to the atmosphere of the club's decor of Modern Danish furniture. We are not trying to display the rarest records or try and impress fellow DJs (but saying this the four resident Club Mau Mau DJs do have some of the rarest and most sought after records and sounds on the international scene), we play to the punters and we realize that you have to throw in a few more well known songs for the ordinary person to appreciate it, so you will hear 'Green Onions' and 'The Snake' as well as other 60s Mod club classics thrown in between more obscure tracks.
6. Your current venue – how long and have you been there and how does it work for the club?
Club Mau Mau's live events are usually held at Studenterhuset (Copenhagen's Student house) in downtown Copenhagen, but also at Musikcaféen, Loppen and Raahuset. DJ All-Nighters are being held at Isola Bar once a month and occasionally at Din Nye Ven. The original idea was to move the club around in different locations which works rather well.
7. And how many people do you tend to attract for each night? Do you think anything might put people off coming along?
The DJ nights can attract everything from 15-75 people and people drop in and out of the club all night, Danish people tend to go out late so it's usually the busiest around closing time at 5:00 a.m. The gigs attract everything from 50-200+ people. The club were we have our DJ nights, it's still allowed to smoke there, so some people are put off by this, others enjoy this tremendously.
8. What's your view on the current state of mod/soul nights?
We do things with together with the other Mod and Soul clubs in Copenhagen, but some of them come and go pretty quickly, we are not too concerned because our musical tastes are not going to change over night, so we're also going to be here in 5 years. We don't need to indulge in crossover sounds or have talcum powder on the dancerfloor, to get things going…
9. What's the best and worst thing that's happened with the club?
A lot of people that were regulars when we first started out would rather sit a home nowadays, but there's the next generation coming out now, especially the people behind The Pretty Face Mod Club and David Peter & The Wilde Sect that are trying to create what one might call 'Swinging Copenhagen'. The older Garage people stay away, dabble in drugs and are more interested in collecting rare psych records, the older Revival Mods come out once in a while.
10. Finally, we need the lowdown on the club – listing details, how often, how to get in touch, that kind of thing.
Join our mailing list by mailing to [email protected], also http://www.myspace.com/clubmaumau is updated on a regular basis, http://www.clubmaumau.dk needs a bit of a brush-up or search Facebook for 'Club Mau Mau' for info on upcoming events, podcasts etc.
Love Modculture? If you enjoy what you read or have benefitted from it and want to
help with the ever-increasing costs of the site and newsletter
, you can always
buy me a coffee at Ko-Fi
. Every penny is helpful and appreciated.