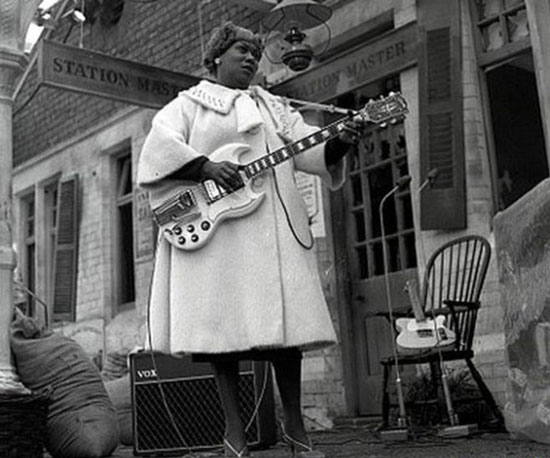 Note that I independently write and research everything in this article. But it may contain affiliate links.
Neil Henderson looks back at the Blues And Gospel Train in 1964 when some of the biggest names in blues played a disused railway station in Manchester in front of a local TV film crew.
Really, you couldn't make it up could you…a fantasy scenario – a host of top-line blues stars brought in from Stateside to perform on a disused railway station in the suburbs of a rainy 1964 Manchester! But believe me, it happened and what's more, it was caught on film too.
The adventurous idea was the brainchild of 25-year-old TV director Phil Casson and producer John Hamp as part of their forward-thinking approach to Granada TV's light entertainment programming, a one-off special (broadcast on 19th August 1964) that would make the current diet of 'Beat Room' and 'RSG' pale by comparison.
But to understand how this actually came about, we must first backtrack two years to Sunday 21st October 1962 and Manchester's Free Trade Hall. While, 30 miles up the East Lancs Road, The Beatles were playing a Sunday night booking at The Cavern to promote 'Love Me Do', the seeds of the UK blues & beat boom was being germinated in a rain-sodden Manchester back street, as the city played host to the American Folk Blues Festival.
It was to be the tour's only UK date and presented the likes of John Lee Hooker, Willie Dixon and T-Bone Walker to eager British fans for the very first time. They travelled far and wide to taste the authenticity, including a scouting party from London which had amongst others, Mick Jagger, Bill Wyman & Brian Jones amongst its ranks.
The European tour was the idea of German blues and jazz enthusiasts Horst Lippmann & Fritz Rau and was promoted by Stockport-based Paddy MacKiernan under the Jazz Unlimited banner. It was the first time British fans could get up close to stars that also included Memphis Slim, Sonny Terry & Brownie McGhee, Helen Humes, Jump Jackson and 'Shakey' Jake Harris.
For the two thousand or so people in attendance that night, the visit provided a springboard for a wider and greater acceptance of the blues – and a scene really started to grow. A 19-year-old local photographer, Brian Smith, caught it on film and remembers: 'I went alone as I'd heard T-bone Walker played like Chuck Berry – I didn't realise it was the other way around! He was such a showman, playing guitar one-handed, on his back or behind his head! When JL Hooker came out he looked very cool, the crowd stood up and started clapping wildly, he seemed rather chuffed by his reception!'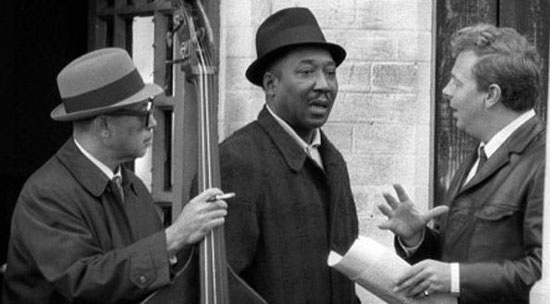 The following year saw a return to the UK with an equally impressive line-up, headlined by Muddy Waters, Sonny Boy Williamson, Otis Spann and Memphis Slim – all who were soon to be hailed heroes to Mods and beatniks alike – and teatime regulars on Ready Steady Go. And here's the connection. Not only being fans themselves but realising the musical (and historical importance) Granada TV's Casson and Hamp approached the head of the station, Sidney Bernstein with the idea to film the '63 tour as a one-off studio special.
'It was a groundbreaking time,' a younger-looking than his 73 years Hamp told me recently. 'We had all sorts of ideas for what we then called 'light entertainment', they were very receptive, we got away with murder, really,' he laughed. He wasn't without a proven record though – already, Hamp was producing the famous Scene at 6.30 news programme and his later career highlights included TV features with The Beatles, Little Richard, Jerry Lee Lewis, Count Basie, Sarah Vaughan and Burt Bacharach.
And at his peak in the 70s, he was also responsible for such classic programmes as The Comedians and Wheeltappers & Shunters Social Club. He was given the go-ahead and entitled I Hear The Blues, it was broadcast on 18th December 1963 in a rustic, bare wood stage setting with a studio audience brought in close.
A house band consisting of Willie Dixon, Matt Guitar Murphy (later in the Blues Brothers film), Otis Spann and led by Memphis Slim supplied the backdrop to intense blues supplied by Big Joe Turner, Lonnie Johnson, Sonny Boy Williamson, Queen Victoria Spivey and Muddy Waters. It's a surviving testament to the talents and quality of these blues artists at their very peak. And what's more, it's worth it just to see the young Mod in black shades grooving to the sounds of 'Mojo working.'
And on to Thursday, May 7th 1964 and to that disused railway station (actually it was Mauldeth Rd and not Chorlton or Cheadle as is oft remembered). The Folk Blues And Gospel Caravan found itself in the suburbs of Manchester – the setting, a deserted railway platform 'dressed up' as a deep south railroad complete with sacks, cargo, crates, wanted posters and even a few chickens and a couple of goats and a sign claiming 'Chorltonville'.
Hamp recently laughed: 'We blew the whole budget and had over 70 of the stage and maintenance staff building the set – much to Bernstein's annoyance.' The programme is a revelation – Muddy Waters, the first to appear, is eagerly besieged by a youthful Mancunian mob exiting an incoming train, excitedly crowding around him as he attempts to demonstrate some downbeat electric blues.
The programme settles down somewhat after that as Cousin Joe Pheasant (a surprise hit on the tour) went to the piano to perform his famous 'Fried Chicken Blues' to the delight of the crowd. As is often the way 'up north', this lead to a quite spectacular rainstorm, even by our standards. Enter side of the platform (brought in by horse and carriage) the hugely underrated Sister Rosetta Tharpe. Her performance of 'Didn't It Rain' (an appropriate last-minute switch) included an ear-splitting guitar solo. 'Pretty good for a woman, ain't it?' she quips as the song comes to a close.
A legendary Twisted Wheel DJ wrote of Tharpe in his R&B Scene magazine the following week: 'Her guitar playing was a real shock – powerful and modern – it certainly changed a few people's ideas about gospel music. While never Rosetta never loses touch with her music, she also has a great sense of fun and clearly the audience loved her every note.'
Otis Spann, Willie Smith and Ransome Knowling lay down a solid backbeat for the artists to overlay, while the typically great Sonny Terry & Brownie McGhee blow some hard folk style blues for the eager audience. Hamp remembers: 'The band were real tight, on top of their sound and we were using radio mics for the very first time so it had the feel of a true live recording, Muddy waters wasn't much for a soundcheck anyway.'
In an age of MTV/Media driven and manufactured pop, the creations of Phil Casson and John Hamp are a reminder to a long lost, golden age where music stood for itself and kids were ready for anything. 42 years on, it was a long-held assumption that the footage no longer existed – in fact, Granada TV themselves were understood to not own it.
But on a similar damp, wet evening in February of 2006 (approximately 1.5 miles from the original station site) and hosted by The Manchester Music Archive, the film was shown to a sell-out audience of Blues and R&B fans – compared by local music culture historian CP Lee and with a performance from blues legend Victor Brox – and witnessed by the great John Hamp himself. At the end of the showing, the room burst into applause. Hamp himself just laughed:
'Pretty good, eh?'
Damn right.
Love Modculture? If you enjoy what you read or have benefitted from it and want to
help with the ever-increasing costs of the site and newsletter
, you can always
buy me a coffee at Ko-Fi
. Every penny is helpful and appreciated.