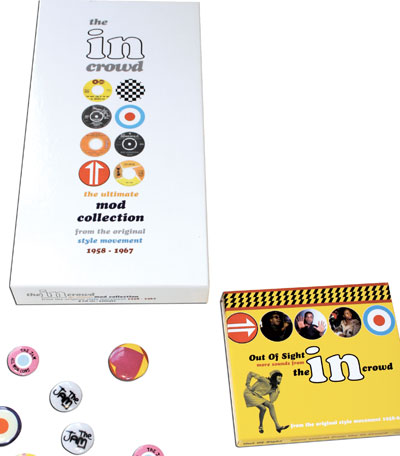 Note that I independently write and research everything in this article. But it may contain affiliate links.
What actually is 'mod' music? Depending on who you ask, it could be either R&B, soul, ska, beat, jazz or even power pop. So where do you start? By checking out our list of the best mod compilations currently available to buy, that's where.
1. The all-rounder: In Crowd Box Set (Universal)
It's an obvious choice full of fairly obvious tunes, but if you want a great starting point to soul and beat from the 1960s, the In Crowd Box Set is pretty much unbeatable. Described as 'the ultimate mod collection', it packs in 100 tracks that mix classic 60s dancefloor soul (some more obvious than others) with some of beat's finer moments. Which mean everything from James Brown, Little Milton and Etta James through to The Birds, The Creation and The Small faces. If that's not enough, a box set-sized booklet is packed with details on the tunes and a pile of colourful images. It has just gone out of print, but you should be able to find one easily enough.
More on The In Crowd Box Set at Amazon
Also worth checking out: The follow-up, Out of Sight: More Sounds from the In Crowd is also worth a look, as is the uber-cheap The Mod Scene beat/hammond collection from Decca. Sadly, two other worthy entries, Blow Up A Go Go (modern-era mod spins) and the beat-heavy Doin' The Mod series are now out of print. Again, hunt around, you should find secondhand copies, especially on eBay.
2. R&B: New Breed R&B (Kent)
Hard to pick the the best R&B compilation when Ace records knocks out so many good ones, but let's stick to the original CD inspired by the club that's done more than anywhere to re-popularise the genre, New Breed R&B. Produced in conjuction with Manchester's Hideaway Club, this 2001 collection certainly isn't representative of what the club is spinning today. In fact, it probably never was, but the 24 tracks of early blues-inspired dancefloor grooves from the 50s and 60s here still hold up as the best way of discovering mod-friendly R&B – outside of going to a club yourself.
More on New Breed R&B at Amazon
Also worth checking out: The other 'New Breed' albums from Kent, King New Breed Rhythm & Blues and New Breed R&B with Added Popcorn, along with the excellent Birth of Soul series, compiled by the late Dave Godin.
3. Club soul: UK Sue Label Story (Ace)
Another one from Ace records, but when you're talking top-notch vintage soul, the label is a byword for it – and the UK Sue Label Story is the pick of its mod-friendly club soul output. As you'll probably know, Sue was the R&B arm of Island Records, with releases picked by legendary DJ at The Scene, Guy Stevens. With a mix of soul, R&B and a bit of jazz, the UK Sue Label Story pretty much nails the mod dancefloor of the early to mid 1960s, throwing in classics from the likes of Inez & Charlie Foxx, Ike & Tina Turner, Jimmy McGriff, Derek Martin and Bobby Parker. Quite simply, a must-own.

More on UK Sue Label Story at Amazon
Also worth checking out: Well, for a start, check out the other Sue Label compilations from Ace or for a different tact, get the pick of Atlantic's vaults with At The Club, enjoy some Chess with Chess Club Rhythm and Soul or take in some across the board mod gems from the 60s with Looking Good from the BGP label. Sadly the wonderful From Route 66 to the Flamingo (Stateside) is no long in print, but it often turns up in the bargain bins – similar to the Sue compilation in content, but well worth picking up if you see it on the cheap.
4. Ska/reggae: Trojan Mod Reggae Box Set (Trojan)
You could go for an obvious selection of ska hits or you could dig a little deeper and opt for the Trojan Mod Reggae Box Set. Compiled by leading mod DJ (and ska expert) Dave Edwards, you do get the odd favourite (like John Holt's Ali Baba and Baba Brooks' Guns Fever for example), but much of what's here are lesser-known but equally impressive ska/reggae tunes that have been spun on mod-friendly dancefloors from the 60s to the present day. Almost three hours of top-notch ska plus sleevenotes for less than £7 – it's a steal.
More on the Trojan Mod reggae Box Set at Amazon
Also worth checking out: Stating the obvious, but make sure you also pick up the Trojan Mod Reggae 2 box for the same bargain price. In fact, many of the Trojan boxes are great value – ska, rudeboy, suedehead etc etc. But if you just want a CD chock-full of classics, look no further than Liquidators: 24 Original Ska Classics, which does exactly what it says on the tin.
5. Hammond/Jazz: Mod Jazz Volume One (Kent)
Fancy some jazz in your collection, but a little scared of the genre? Mod Jazz Volume One is for you. In truth, it could be any of the volumes in this excellent series, but 'one' seems like the ideal starting point. Dancefloor-friendly jazz that stays well clear of the more challenging side of the genre. Which means, in this case, the likes of Yeh Yeh and Watermelon Man by Mongo Santamaria, Mose Allison's Seventh Son and the wonderful Why Don't You Do Right by Mark Murphy. Bliss for either kicking back or showing your jazzy moves.
More on Mod Jazz Volume One at Amazon
Also worth checking out: Stating the obvious somewhat, but all the other Mod Jazz albums are worthy of both your attention and money, five additional volumes in total, of which the Further Adventures of Mod Jazz is the most recent. If that's not enough, everyone's collection should have a Jimmy Smith compilation present, not to mention some Jimmy McGriff or possibly some Mose Allison. Check out the compilation first though, you can always dig deeper later.
6. Garage/psych: Nuggets – Original Artyfacts from the First Psychedelic Era, 1965-1968 (Rhino)
The start and end point of garage and psych, the original Nuggets box is pretty much an essential purchase. The Rhino box is an expanded take on the original Nuggets album, which picked out the best in obscure beat and garage from the US mainland in the mid to late 60s. 118 tracks in total over four CDs, I honestly don't think there's a duff track on here and it goes without saying that it's full of classics that sound both fresh and relevant in the modern era. No point picking out the best, just check out the tracklisting for your own. Or better still, just buy it and give your ears a treat and your brain an education via the excellent booklet.
More on Nuggets at the Amazon website
Also worth checking out: Compared to the original Nuggets box, the subsequent compilations have had a rough ride, but I absolutely love Nuggets II, predominantly British garage, psych and freakbeat. In fact, it's up there with the original for me. Likewise, Children of Nuggets covers the 80s rebirth of garage and psych. if that sounds like your kind of thing, you'll love it. For something a little easier on the pocket, check out Decca's Freakbeat Scene (less than £3!) or get deeper and noisier with the Pebbles series of albums. Last, but not least, fans of dancefloor-friendly psych should lap up Rob Bailey's Beat Bespoke compilations, now up to volume 3, they're packed full of late 60s floorfillers from around the world – and available on both CD and vinyl.
Love Modculture? If you enjoy what you read or have benefitted from it and want to support the growing costs of the site, you can always become a website supporter.