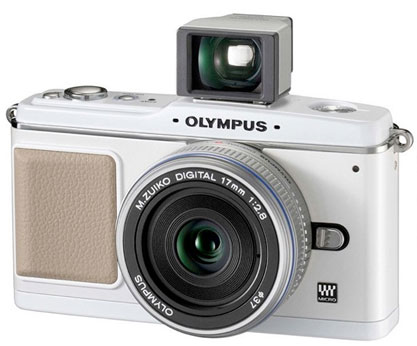 Looking for a camera every bit as cool as the shirt on your back? We have scoured the world for five of the best 1960s-style cameras, covering all styles and all budgets.
1. Olympus Pen E-P1 micro four thirds camera
We'll start off with one of the more expensive, most advanced and certainly most hip cameras around – the Olympus Pen E-P1 Micro Four Thirds camera, a modern take on the classic Olympus Pen camera, first seen in 1959.
Micro Four Thirds? It's a new technology that offers the quality of a digital-SLR, but less of the weight and bulk. Which means everything can be shrunk down to something as compact and cool as this. In terms of specifics, it offers a 12.3 megapixel Live MOS sensor, TruePic V image processing, a 3-inch LCD screen with live view, image stabilisation, 20 shooting modes, 720p HD video recording and art filters, not to mention a pile of accessories – everything from lenses to leather cases and external flash units.
Not cheap, the starter kit comes in at £699. But if you want something that's both cutting edge and cool, the E-P1 is worth checking out. Failing that, check out the Olympus Trip for more classic Olympus, albeit film-based.
Find out more at the Jessops website

2. Minox DSC spy camera
It was first introduced in the 1930s, but the Minox spy camera will forever be associated with James Bond, Harry Palmer and the 1960s. Now it's back in digital form as the Minox DSC (digital spy camera).
At first glance, not much has changed, but the new version now offers up digital photos via a 5-megapixel sensor, video recording and storage via microSD card. An add-on unit throws in a flash and 1.5-inch LCD screen if you want to make sure you capture those secret documents with extra detail. Shop around if you want one, you should be able to find a DSC for under £200.

Find out more at the Minox website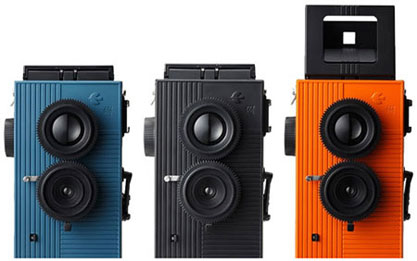 3. Blackbird Fly film camera
Fancy transporting yourself to the age of Absolute Beginners? Well, you could buy an authentic Rolleiflex for a serious wedge of cash or you could buy this rather cool reproduction from SuperHeadz, the Blackbird Fly.
Limited editions out of Japan, the cameras are a modern take on the classic twin lens reflex camera, but adapted to use 35mm film. Just look down the top to frame your image, then take an old-fashioned square photo. Various colours available, but unlikely to be around forever – expect to pay just under £70 for one.
Find out more at the Ikon website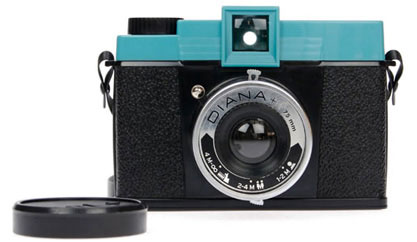 4. Lomo Diana 35mm film camera
A round-up of cool vintage cameras just has to feature something from Lomo, in this case the Lomo Diana 35mm film camera.
Originally produced in the 1960s by the Great Wall Plastic Factory in Hong Kong, it was 'famous' for producing distinctive, slightly out-of-focus images. The new version still does that via 120 film, offering two sizes of photo, two shutter speeds and a host of add-ons, filters and accessories to experiment with and collect.
Lomo has produced a seemingly endless stream of limited editions of the Diana, all of which you can check out on the Lomo website. If you want to pick one up near to home, Urban Outfitters sells a standard Diana+ for £50.
Find out more at the Urban Outfitters website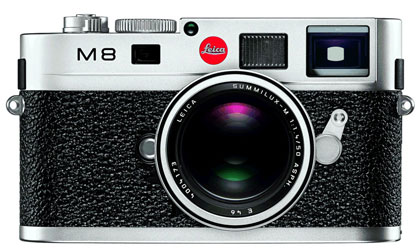 5. Leica M8 rangefinder camera
No round-up of hip vintage cameras would be complete without the word 'Leica' in it. I was going to pick the D-Lux 3, purely because of its stylish 60s-style leather case, but really there's only choice – the Leica M8 rangefinder camera.
An update to the classic Leica rangefinder (which has been around since the 1930s), the digital version packs the 1960s styling as well as a 10.3-megapixel sensor, 6-bit coding, a 2.5-inch screen, an all-metal body and the option to use classic M-series lenses from days gone by on the digital version.
It's probably one of the most stylish cameras to be seen with, but ultimately this is an enthusiast's camera with a price to match. Expect to pay between £2,500 and £3,000 for one, up to £4,000 for the updated M8.2. Even more for some of the limited editions.
Find out more at the RG Lewis website