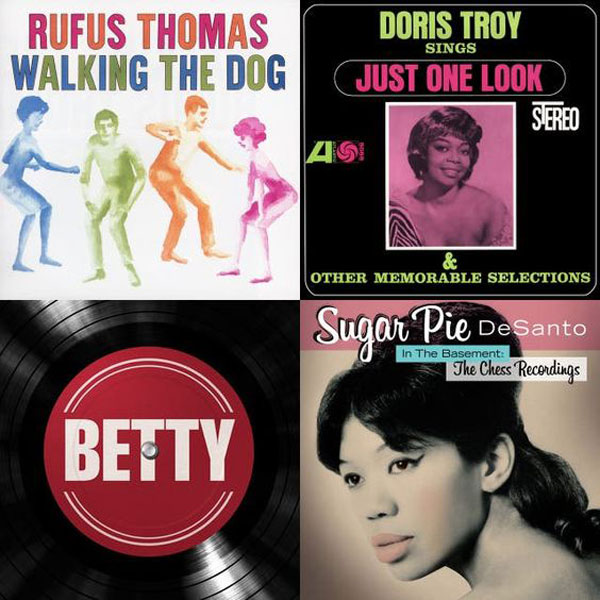 Note that I independently write and research everything in this article. But it may contain affiliate links.
Best 100 mod tunes of all time? One man had it nailed. The result was The Mod Top 100 as compiled by Randy Cozens.
Some time ago, we ran an article with Eddie Piller that mentioned the Mod Top 100 by Randy Cozens. We accidentally lost the complete list from the site, but now it's back – to inspire a new generation. Obviously the article isn't written by the late Randy Cozens, but it's only right that his name should be next to it. This was his work and a hugely influential one too.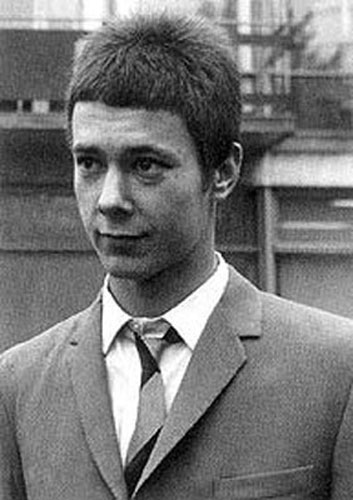 According to Eddie in that past interview on the site, Randy Cozens, a mod from the 60s who later founded the 6TS soul club, used to write letter after letter to 'Sounds', 'NME' and all the other music papers in 1979 urging young mods to check the 'real heritage of their mod forefathers' at a time when revival bands were the music of choice.
Eventually, 'Sounds' asked Randy to compile a Mod Top 100 of what was termed 'real mod music'. The list ran as part of a Bank Holiday edition in August '79, made up of 97 soul/jazz records, two ska records and one false track (named after Ian Clarke, the soul DJ) to prevent anyone claiming they have all 100.
Eddie, like many others, started to collect the tunes on the list, developing a tasty setlist for DJing and a passion for the music of that era. He wasn't alone. The list has been massively influential since.
The list is reproduced below in full and while many modern-day collectors might write a number off as 'tired' or 'old hat', it's hard to disagree with their merits as top-notch dancefloor tunes of the early to mid-60s.
If you're looking for a place to start collecting vintage soul, this is it – and many of the tracks can still be picked up for a fairly modest rate. Alternatively, check out Spotify if you want to try before you buy.
The Mod Top 100: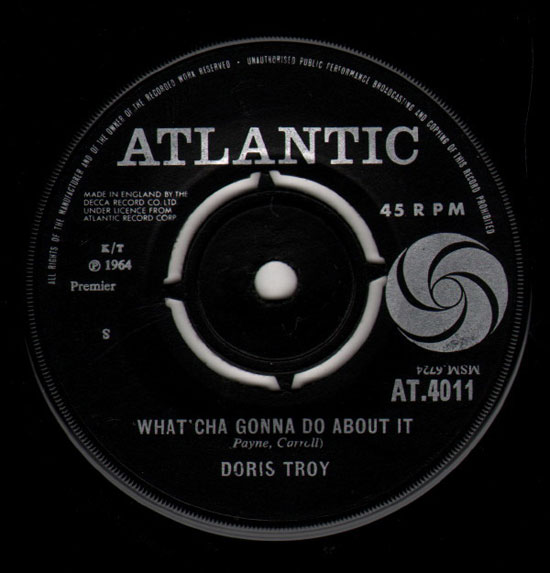 1. What'cha Gonna Do About It – Doris Troy (Atlantic)
2. So Far Away – Hank Jacobs (Sue)
3. Come See About Me – Nella Dodds (Pye Int)
4. Hole In The Wall – George Stone (Stateside)
5. Que Sera Sera- The High Keys (London)
6. Getting Mighty Crowded – Betty Everett (Fontana)
7. I Don't Wanna Fuss – Sugar Pie Desanto (Pye Int)
8. Walking The Dog – Rufus Thomas (London)
9. Hold What You Got – Joe Tex (Atlantic)
10. Time Is On My Side – Irma Thomas (Liberty)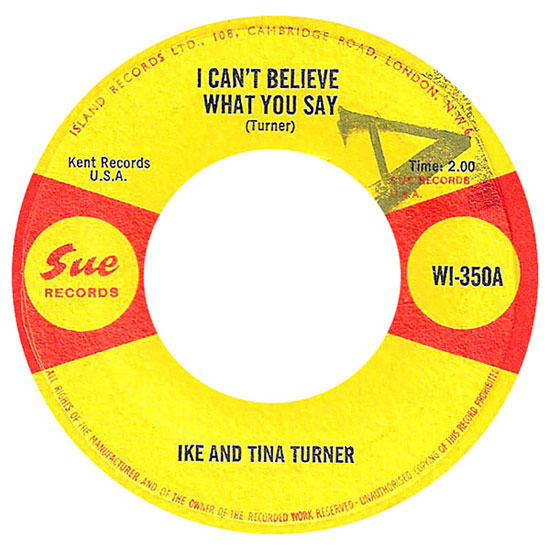 11. I Can't Believe What You Say – Ike And Tina Turner (Sue)
12. The Drifter – Ray Pollard (UA)
13. Any Day Now – Chuck Jackson (Stateside)
14. The Monkey Time – Major Lance (Columbia)
15. La De Da, I Love You – Inez And Charlie Foxx (Sue)
16. The Cheater – Bob Kuban And The In Men (Stateside)
17. I'm In Your Hands – Mary Love (King)
18. The Jerk – The Larks (Pye Int)
19. I Had A Talk With My Man – Mitty Collier (Pye Int)
20. Oh No Not My Baby – Maxine Brown ((Pye Int)
21. Gotta Have Your Love – The Sapphires (HMV)
22. Everybody Needs Somebody To Love – Solomon Burke (Atlantic)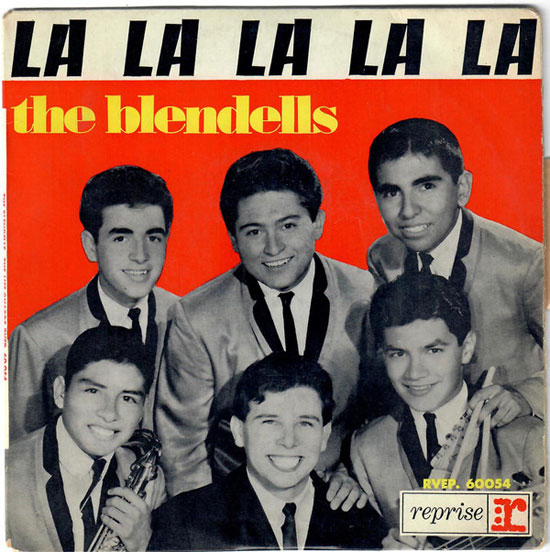 23. La La La La La – The Blendells (Reprise)
24. Ride Your Pony – Lee Dorsey (Stateside)
25. Selfish One – Jackie Ross (Pye Int)
26. Tired Of Being Lonely – The Sharpees (Stateside)
27. El Watusi – Ray Barretto (Colombia)
28. Treat Her Right – Roy Head (Vocallion)
29. Who's Cheating Who? – Little Milton (Chess)
30. Out Of Sight – James Brown (Phillips)
31. Mercy Mercy – Don Covay (Atlantic)
32. Open The Door To Your Heart – Darrell Banks (Stateside)
33. A Little Piece Of Leather – Donnie Elbert (Sue)
34. Go Now – Bessie Banks (Red Bird)
35. Searching For My Love – Bobby Moore (Chess)
36. You Can't Sit Down – Phil Upchurch Combo (HMV)
37. The Duck – Jackie Lee (Fontana)
38. Doctor Love – Bobby Sheen (Capitol)
39. She Blew A Good Thing – The American Poets (London)
40. Watch Your Step – Bobby Parker (Sue)
41. Love Ain't Nothin' – Johnny Nash (Pye Int)
42. Randy – Earl Jean (Colpix)
43. Rancid Polecat – Ian And The Clarks (Liberty)
44. Oowee Baby I Love You – Fred Hughes (Fontana)
45. A Touch Of Venus – Sandy Wynns (Fontana)
46. Don't Let Me Be Misunderstood – Nina Simone (Phillips)
47. Ain't Love Good, Ain't Love Proud – Tony Clark (Pye Int)
48. I've Got A Woman – Jimmy McGriff (Sue)
49. Candy – The Astors (Atlantic)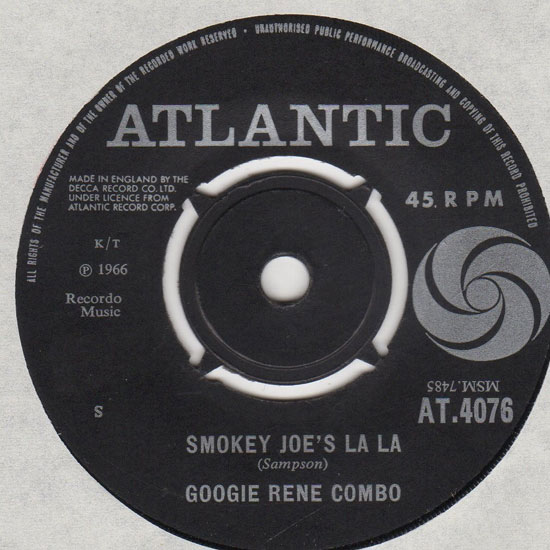 50. Smokie Joe's La La – Googie Rene Combo (Atlantic)
51. Mr Bang Bang Man – Little Hank (London)
52. It's Rough Out There – Jerry Jackson (Cameo)
53. Oh How Happy – Shades Of Blue (Sue)
54. Ain't Nobody Home – Howard Tate (Verve)
55. Dimples – John Lee Hooker (Stateside)
56. Long After Tonight Is Over – Jimmy Radcliffe (Stateside)
57. Twine Time – Alvin Cash (Stateside)
58. Lipstick Traces – The O'Jays (Liberty)
59. Let The Good Times Roll – Bunny Sigler (Cameo Parkway)
60. There's Nothing Else To Say Baby – The Incredibles (Stateside)
61. Peaches And Cream – The Ikettes (Stateside)
62. What's Wrong With Me Baby – The Invitations (Stateside)
63. Hole In The Wall – The Packers (Pye Int)
64. Finders Keepers – Gloria Jones (Stateside)
65. Nothing Can Stop Me – Gene Chandler (Stateside)
66. See You At The Go Go – Dobie Gray (Pye Int)
67. Love Makes The World Go Round – Deon Jackson (Atlantic)
68. Cool Jerk – The Capitols (Atlantic)
69. The In Crowd – Ramsey Lewis Trio (Chess)
70. Rescue Me – Fontella Bass (Chess)
71. 60 Minutes Of Your Love – Homer Banks (Liberty)
72. Sweetest Thing This Side Of Heaven – Chris Bartley (Cameo)
73. A L'il Loving Sometimes – Alexander Patton (Capitol)
74. You've Got To Pay The Price – Al Kent (Track)
75. Make Me Yours – Bettye Swann (CBS)
76. The Pain Gets A Little Deeper – Darrow Fletcher (London)
77. Talk Of The Grapevine – Donald Height (London)
78. Always Something There To Remind Me – Lou Johnson (London)
79. Steal Away – Jimmy Hughes (Pye Int)
80. Yes I'm Ready – Barbara Mason (London)
81. Gee Whiz – Carla Thomas (Atlantic)
82. My Girl Sloopy – The Vibrations (London)
83. Gypsy Woman – The Impressions (HMV)
84. You Don't Know Like I Know – Sam And Dave (Atlantic)
85. I'll Take Good Care Of You – Garnett Mimms (UA)
86. Nothing Takes The Place Of You – Toussaint McCall (Pye Int)
87. The 81 – Candy And The Kisses (Cameo)
88. Mr Pitiful – Otis Redding (Atlantic)
89. This Can't Be True – Eddie Holman (Cameo)
90. You Got Too Much Going For You – Jimmy Beaumont (London)
91. Help Me – The Spellbinders (CBS)
92. Higher And Higher – Jackie Wilson (Coral)
93. That's Enough – Rosco Robinson (Pye Int)
94. I Wanna Be – The Manhattans (Sue)
95. Spring – Birdlegs And Pauline (Sue)
96. Peace Of Mind – The Magnificent Men (Capitol)
97. Hey-Sah-Lo-Nay – Mickey Lee Lane (Stateside)
98. Mercy – Willie Mitchell (London)
99. Gypsy Woman – Derek And Patsy (Island)
100. Dr Kitch – Lord Kitchener (Jump Up)
Listen to the Mod Top 100 on Spotify:
Of course, this is the modern world and yes, you can look up each of those 45s and pick them up. A good number are pretty cheap too if you fancy a hunt around eBay. But if you have a Spotify account, someone has done a lot of the legwork for you.
A not-quite-complete version of the Mod Top 100 is on Spotify. Not full because a couple of the tracks have fallen off the catalogue there, but the vast majority are there, offering you over four hours of Mod classics to keep you going during your work or leisure time.
If you want to hear it, have a listen to Randy Cozens' Mod Top 100 here. If I find the time I might compile my own and see if I can dig out those missing tunes from the far corners of Spotify.
Save
Love Modculture? If you enjoy what you read or have benefitted from it and want to
help with the ever-increasing costs of the site and newsletter
, you can always
buy me a coffee at Ko-Fi
. Every penny is helpful and appreciated.