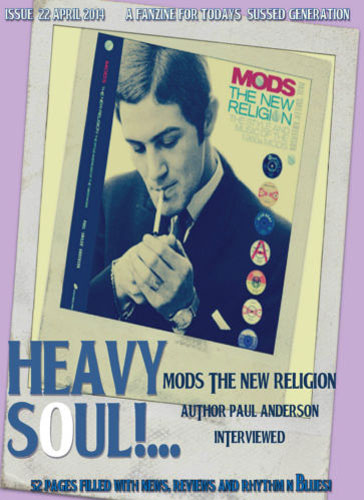 Good value as ever from the Heavy Soul fanzine, with issue 22 offering all the features plus a 20-track CD.
In the magazine you get interviews with  Paul Anderson about the 'Mods The New Religion' book, The Past Tense on their new split 7-inch with The Loop, Mole from State Records / The Higher State, Sam Burnett from the reformed Back To Zero and Emma Rose-Dias talks about the new  For The Love Of Mod DVD. Plus much more too.
That much more includes a CD, tracklisting of which is below. If you want a copy, you can get one online priced at £5.75.
Buy Heavy Soul at the eBay website
Tracklisting:
1. RAVIN' BLUE – It's Not Real
2. SONNY FLAHERTY / MARK V – Hey Conductor
3. THE DOORS – Peace Frog
4. THE TRUTH – She's A Roller
5. DAVID BOWIE – Good Morning Girl
6. BO DIDDLEY – I'm A Man
7. SONNY JACKSON – My Babe
8. JOHNNY DARROW – Don't Start Me Talking
9. RAY CHARLES – Get On The Right Track
10. GIL SCOTT-HERON – Free Will
11. KNUT KIESEWETTER TRAIN – Roll On the Left Side
12. MONGO SANTAMARIA – Sweet Tater Pie
13. THE SOUL SISTERS – Good Time Tonight
14. CHARLOTTA TILLMAN – Baby I'm Serious
15. THE O'JAYS – I'll Never Forget You
16. THE TEMPTATIONS – The Girl's Alright With Me
17. SLY & THE FAMILY STONE – Underdog
18. DAVE BARKER – Funky Reggae
19. NORA DEAN – Barbwire
20. JACKIE SHANE – Any Other Way