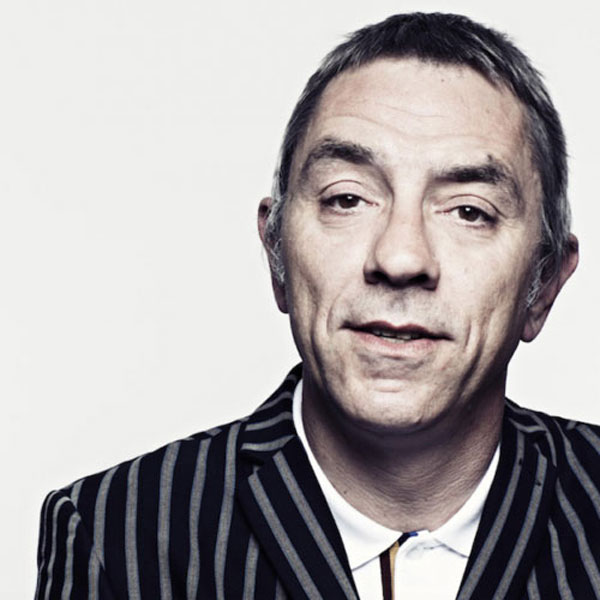 Note that I independently write and research everything in this article. But it may contain affiliate links.
An interview with Eddie Piller by Eneida, while he was guesting at the Magic In The Air Club in Barcelona, asking the questions about mod past and present.
"The first question…why Mod?"
Eddie Piller:  "Well, I could always say that it was 'cos I grew up in a mod household…I was around mods since I was a kid…and this would be true. I mean how can you be bounced on Marriott's knee and not end up as a mod? BUT the reality of it was that by the mid 70's any memory of the concept of modernism in our house was a few photos on the wall and a great record collection. My introduction to the mod scene came through meeting other young mods at gigs in '78/early '79. Bands like The Buzzcocks, The Jam, The Jolt, Stiff Little Fingers – people like that."
"The live scene in London at the time was awesome. 20 live gigs a night, every night. I suppose I had liberal parents who let me go both to West Ham United (where I met an awful lot of mods) and live gigs (probably because of my mum's experience with The Small Faces) from a very young age. Although London was a violent place at the time, it was fundamentally much safer than it is now, as the violence was more between different gangs (mainly football) and if you weren't involved, people generally left you alone!"
bunny and eddie
"You seem to be doing quite a lot of mod gigs at the moment…what is the main difference between the nights you play now, and the ones from '79?"
Eddie Piller:  "Amazingly, I can remember very, very few mod discos in '79. Maybe just a couple in South East London (The Hercules?). Mod nights always featured bands. There weren't even dj's, just tapes before bands. Long Tall Shorty's manager Jerry Floyd (now dead) was the first guy I remember playing records at gigs. He used to play between the bands at The Marquee. First time I heard "Green Onions" it blew my bloody head off! (sounds funny now!)
Yeah, the main difference is that now there are so few nights that feature bands…A complete reversal…However, this just reflects society in general, where the popularity of live music has just faded away with the advent of dj's. Maybe we're seeing a change at last, as house music is in its death throws, and bands like The Hives, Strokes, Vines, Datsuns, Von Bondies, D4, Dirt Bombs, Moony Suzuki, 80's B Line Disaster and Pleasure Beach all playing aggressive "60's influenced" rock to ever growing audiences – long may this continue!"
"So how did the mod interest in Northern Soul come about?"
Eddie Piller:  "For two reasons. The first was that there was a guy called Randy Cozens who used to write letter after letter to "Sounds", "NME" and all the other music papers urging young mods to check the real heritage of their "mod forefathers"…soul. He didn't use the word 'northern', that didn't come into the mod lexicon till the early 80's. Just soul. To be honest, 'mod' was not a broad church at that point either, we only really saw the revival bands as the only route to mod.
It wasn't that we didn't like soul…none of us had come across it. I mean there was nowhere (radio or nightclub) that you could hear it. Anyway, Randy was a mod in the 60's and he had stuck with it, literally on his own, fed by his passion for stuff like Maxine Brown, Nella Dodds stuff like that.
He was so persistant in writing to editors that eventually 'Sounds' magazine asked him to compile a "Mod Top 100″ of 'real mod' music. It appeared in the Bank Holiday edition of August '79…97 soul/jazz records, two ska records and one false track (named after Ian Clarke, the soul dj) to prevent anyone claiming they have all 100!"
"I soon started collecting tracks from the list. I have about 94 now (I saw Randy a couple of years ago and told him that I was having trouble finding Derek and Patsy "Gypsy Woman". Three days later, his own copy arrived through the post!).
The man was/is one of the faces to me and without him, well, musically his list was such a help. It's the reason I started djing! This chart exposed mods to 60's soul for the first time, and although it didn't make much of an impact at first (the scene was going through one of its periodic psychedelic influences at the time!) after a while the drizzle effect started to come through."
"The second major factor was when Randy set up the 6Ts Soul Club with his old mate (and Northern soul veteran) Ady Croasdell and their early nights in Belsize Park and Covent Garden (before the 100 club) brought mods and a few Northern Soul exiles together for the first time. Soul didn't take over the mod scene for a few years to come, but it gave us a parallel universe in which we could exist as mods amongst other people, a weird experience at the time as mods were so tribal."
"Already the boundary of mod was broadening. You had the bands, the psychedelic scene (Groovy Cellar, Regal), Soul and R&B (which also included those groups like The Step, 9 Below Zero and The Q Tips who were definitely considered 'mod' at the time). The initial scooter runs and the Tony Class South London disco scene. Lots of choice, and the beauty of it was that our influences mean't that we could be open to all or just to one part. I found that the later 'tunnel vision' of the mod scene (it seemed to crystalise with 'freakbeat') was damaging. It (to me at least) was always about moving forward while looking back – ADOPT ADAPT EVOLVE. That's when I drifted off to the jazz scene with Peterson, Paul Murphy and Baz Fe Jazz. I found I could be a mod in a fresh scene that didn´t care about the petulant crap that the mods of the mid 80's got caught up in. The Jazz scene of the late 80's was the 'real' mod scene for me. Acid Jazz was just a logical extension of that!"
"When you were around in the early 80's, were the Untouchables about too?"
Eddie Piller:  "Well, the only Untouchables I knew then were the American Mod band that I signed to Stiff records and repaid us by having the last two mod chart hits of the revival period ("Free Yourself" and "I Spy For The FBI" – a soul cover! Things had already changed!)
There were lots of societies and clubs around at the time. The main one being the Phoenix, which was a great idea. A Mod network and advertising forum before the internet. Trouble is that it was run by a very evil man, who (it transpired later) was only organising mods for rather "nefarious" purposes. I was involved at the start, but after a while, I realised that it was the 'club/society' aspect of the scene that was killing it. Rules? I mean fuck off! After that I had nothing to do with any of them, I still regard the whole "Mod Society" thing as divisive."
"What do you think about girls and the role they play in organising and participating in the mod scene now compared to then?"
Eddie Piller:  "Well, in '79, I can remember a number of girls who ran their own fanzines (for example, "Own Up Time" from Wembley was edited by Tina Skinner who is now head of promotion at EMI records). There were a couple of female bands that we used to follow…The first were "bandwagon jumpers" really – they were called The Modettes (soon changed their name to Mo-Dettes, I mean who were they trying to fool? I hated the name!) but they were very early. So were the Dolly Mixtures, who were fantastic.
We used to go everywhere to see them and Simon Miller, a friend of mine from Epping even had their logo tattooed on his arm! On the whole, I think that there were more girls involved on the scene then, but that there are more dj's and organisers now!"
"How have the clothes evolved since '79?"
Eddie Piller:  "Well, I always think how much of a shock the mod revival must have been to some of the original mods…I mean '78 was only ten or eleven years from the death of mod. To put that into context, a guy who was a mod in '67, could have been just turned 30 when we came out (see Randy Cozens above). We were so different from them in almost every way. It must have freaked them out. Who were these little kids who dressed like tickets (or "A Bombs" as we used to disparagingly call them ourselves!) and called themselves Mods! We chose mod for its iconography.
A specific desire to identify with each other, and a more specific desire to be different from the punks, who were still around at the time. We chose a parka, Fred Perry, Ben Sherman, Clarks Hush Puppies, even white socks as badges. We dressed like the bands we went to see because we were just like the people in the bands we went to see.
There was very little pretention. I mean how could a band that were only a year older than their audience be pretentious? That did come later, of course, but at first there was just an overwhelming appreciation of just being. If you saw someone who dressed like you on the train, you just went and said "hello!" We met people from all over the country and several of them are still my friends today, 23 years later!"
"I think that Paul Weller very often dictated the style of the scene. He pushed people to get into the whole ethic…so did Ian Page. So gradually clothes became more important. Shops opened to cater for us…"Well Suspect" and "The Regal" in Carnaby Street. Intrepid trips into the deepest "east end" revealed stocks of original Denson shoes and tailoring.
By '82, it had become very much about clothes. I had my first suit made by Stevie Starr in East Ham when I was 17 when my mates down at the Horse and Wells in Woodford were wearing Gabbicci and Farah (they thought I was mad!). I mean, what was that about if it wasn't "Clean Living In Difficult Circumstances"?"
"Do you have any regrets about the period you turned your back on the mod scene?"
Eddie Piller:  "No not really. The scene in the mid 80's was dire and stale. I can remember the day that I walked away quite clearly. I was djing on a mod rally. I played "Ain´t Love Good" – Jimmy James and the floor was full. I then spun Archie Bell And The Drells – "Tighten Up", and people walked off the floor in disgust! I thought to myself that if you can't get that (something I considered to be an ultimate mod 'dancer') then I'm in the wrong place. It hadn't been played at that time, and people just didn't get it! I mean it's on Atlantic for god's sake!
That was on a weekend when a mod or scooter boy (can't remember which) had gone mad and stabbed 4 of his mates (all from East London) and I just thought "sod this!" Mark Johnson and the Phoenix in charge, and ever decreasing number of bitter people arguing about crap, and discouraging new faces. Not one single band that wasn't playing scooter run cabaret. Nah…it was over!"
"When The Prisoners split, I just decided to take the mod thing one step further with the James Taylor Quartet, but the novelty was, we didn´t tell the mod scene. We just did it! Consequently a lot of fresh people got into the scene that was building up, including a lot of 'disaffected' mods, who realised that they could still be mods but have a better time outside of the mod scene.
That's why a lot of people look back at Acid Jazz as the logical extension of mod. And the best thing about it was that journalists wrote about us. Something that would never happen for the mod scene (except in an ironic or disparaging manner). The mods were coming in through the back door!"
"That was why I turned my back on the scene. I also turned my back on the style and went through a period when I got into the early rock thing…Stuff like Chicago and the Allman Brothers (check their Spencer Davis cover!)…It was while I was producing Mother Earth (who were also a very 'mod' band) – the hippy thing. To be honest, I was a bit sick of the whole corporate mod thing too. It had got to the stage where I was famous for being a mod and it was boring. I mean BBC Wales were phoning me up asking for 'the official mod reaction' to the death of Steve Marriott or someone else wanted to interview me over the mod reaction to Paolo Hewitt's book or something like that.
F*** Off! It was so boring and most definitely what Pete Meaden warned us about, so I thought "what the fuck", grew my hair and a beard and tried very hard to look like George Harrison. I've seen that I've had some stick about that on this website, and that explains exactly why I did it in the first place…I mean I love mod, but boy, there are some wankers involved in the mod scene!"
"There are a group of mods that seem to be ever present…people like Paul Weller, Graham Day, you, Paul Hallam, etc. Do you see yourself ever stopping it?"
Eddie Piller:  "S'funny, but I´ve seen Paul Weller lately and we talked about this very subject. I saw Graham last week too, he's exactly the same as he was 20 years ago – still cutting it! There are people like Terry Rawlings, Steve Diggle, Tony Perfect, Hallam, Paul Moody, John Reed (the Weller biographer) and many many more that are all bumping along in their own world, with very little contact with the mod 'scene'.
They have just grown up like this and don't even think about it, it´s just how they are, every day and I suppose I'm the same. The call is strong and you know what they say…Touched by the hand of Mod!"
"Pete Meaden, Paul Weller, Steve Marriott, Reg King, Suggs (for the pinstripe suit and bowler hat on the helter-skelter in the video) and the late Don Hosie…thank you all!"
Thanks to Eneida for the interview with Eddie Piller and to Eddie for doing it.
Love Modculture? If you enjoy what you read or have benefitted from it and want to
help with the ever-increasing costs of the site and newsletter
, you can always
buy me a coffee at Ko-Fi
. Every penny is helpful and appreciated.