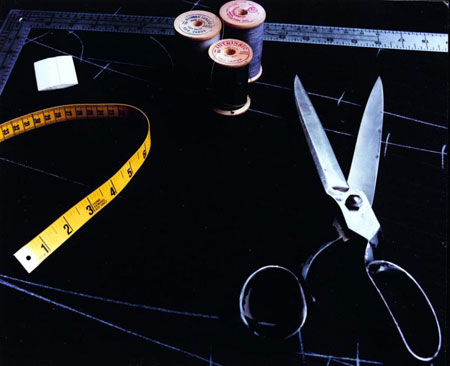 Note that I independently write and research everything in this article. But it may contain affiliate links.
As the city guides are still a work in progress, we've compiled all of our previous tailoring recommendations in one handy list. Right here in fact.
We have compiled these listings via recommendations, although some of those are some years old now. In other words, use these as a guide and give the tailor a call first to confirm pricing and if they are still in business.
If you know anymore, please do let us know.
Birmingham:
Modern Tailoring
Address: 142 Handsworth New Road, Winson Green, Birmingham, B18 4QB
£150 for a suit with your own material. Described as 'very good and quite cheap'. Moreover, they give a date and it is actually ready on time (not something that applies to many tailors).
Bristol:
Territto Tailoring
Address: 33a Park Street, Bristol, BS1 5NH (0117) 927 3130
Said that he 'knows exactly how to make a Mod suit'. Been making suits since the late 60s, so he is familiar with those little touches that make a 60s suit.
Dublin:
Tommy Hogan
Address: 45 Lower Gardiner Street, Dublin +353 1 8744653
500 – 700 euros for a suit depending on material. Tommy Hogan is a 'top quality tailor, extremely friendly and helpful'. Definitely not the type of tailor you have to argue with to get your clothes exactly the way you want. He is the tailor of choice for mods, suedeheads etc in the Dublin and surrounding areas and seems to enjoy making suits that aren't the norm – even making suggestions for extras you might like.
Glasgow:
Steven Purvis
Address: 8 Chancellor Street, Glasgow, G11 5RQ 0141 357 2665
£90 for trousers, £500 for a suit – inclusive of material. 'He's very good and knows all the details.'
Ilford:
Roger Crawford
Address: 183 Ilford Lane, Ilford 020 8478 1095
'He was a mod himself in the early 60s and made clothes for the original mods and then late 60s skinheads. He is still working and at highly competitive prices.'
Leeds:
George The Tailor (Kristoffers)
Address: 2 Sowood Street, Leeds, LS4 2JZ 0113 230 4587 or 0781 7576710
Competitive prices for lined trousers and suits, however George no longer does the 60s-style shirts since going part time. Please call first to confirm price for the work you require.
Very helpful and will be happy to talk through any ideas or concerns prior to a suit being ordered. All mod details known – tunnels, vents etc etc…and even a few suggestions offered. Very helpful and polite and knows exactly what is required for a 'mod' style.
Leicester:
Parbat Tailors
Address: 33, Melton Rd, Leicester, LE4 6PN (0116) 266 8101
Suit £120, trousers £20-25, both excluding material. Call to confirm. Described as 'very cheap', quality is uneven, but 'I've seen worse'.
Liverpool:
H. Coleman
Address: 24 Newington, Liverpool, L1 4ED (0151) 709 4998
Mixed reports. Has been talked of as the 'best priced and friendliest tailor in Liverpool'. But other reports have suggested work has not been done to the standard required.
Peter Harland
Address: Stanley Street, Liverpool (0151) 236 0561
Mohair suits costs approximately £395. Other prices on request. 'His knowledge of fine hand crafted garments is second to none. His range of cloth, some of which he has from the late 1960s and early 1970s are exquisite'.
London:
Franco Santoro – Bespoke Tailors
Address: 26 Kingly Street, London, W1 (0207) 4378440
Around £350 plus material (or take our own) for a two piece suit. A quality tailor with several mods on the London Scene down as happy customers. Quick Turnaround too.
George's Tailors
Address: 50 Wightman Road, Harringay, London, N4 1RU (0208) 341 3614
'Having worked in Carnaby Street in the early 80s, George has a good eye for 60s detail & cloth. Happy to offer advice or create your own designs, a two-piece Kid Mohair Whistle (Cloth covered buttons etc) will set you back around £400…recommended!'
John Savva
Address: 6 Windmill Street, (Nearest tube Goodge Street), London, W1 020 7636 1826
Please contact the tailor with your requirements got price. 'Working as part of a friendly, family-run business, John Savva is a skilled West End tailor who can cut you a good suit far cheaper than Savile Row, and he's familiar with mod style.'
Luke Gents & Ladies Tailors
Address: Barking Road (near the junction of Balaam Street), Plaistow, London, E13
'Luke's is a family run business who offer a bespoke service at well below normal London prices and who are happy to make the clothes people ask for. They have a wide selection of cloth or are happy to make things up from yours. Relaxed service who are ok if deadlines are tight.'
Tailoring 2000
Address: 51 Lexington Street, London, W1R 3LG (0207) 439 1633
25 years experience tailoring for mods. Expert tailoring in suits, skirts, trousers, waistcoats, dresses and shirts. A variety of styles catered for, and also open to new ideas.
Threadneedleman Tailors
Address: 187a Walworth Road, London, SE17 1RW (0207) 701 9181
For prices, please give the shop a ring with an idea of what you are looking at having made. Recent Mod/60s related customers have included the likes of Paolo Hewitt (scribe), Dennis Greaves (Nine Below Zero), Ian Page (the Affair/Secret Affair) and Rob Bailey (New Untouchables) all having suits made, as well as plenty of faces from the Mod/Skinhead scene.
Manchester:
James Personal Tailor
Address: 2nd floor, 52 Cross St, Manchester, M2 7AR (0161) 832 7678
Quite expensive – prices up to £600 for a suit, including material, have been quoted. Call to confirm prices. A highly regarded Manchester tailor of long standing, and despite the prices, one that retains a very loyal customer base, with people travelling as far as from Edinburgh to have suits made! Quality is very high, attention to detail also very high too – suits may take a while due to this care & attention. An excellent choice of material too.
Vic McClements (Gents Bespoke Tailor)
Address: Cavell House, 1st floor, 56 Dale St, Piccadilly, Manchester, M1 2HN (0161) 236 1224
£50 for trousers with his own material, £40 if you provide your own. A tailor, but also offers a full alteration service.
Sheffield:
Ashley Rogers
Address: City Road, Sheffield
A tailor who has been making suits for the mod scene for many years, and is recommended by many in Sheffield. Quoted as 'inexpensive', though check with the tailor for exact prices.
Barney Goodman
Address: 393 Ecclesall Rd, Sheffield, S11 8PG (0114) 266 7438
Suits approximately £380, overcoats around £370 and trousers £80. Please call to confirm. 'I have used and trusted this traditional gentleman's tailor for years, and have always been very satisfied with the service and quality of the goods produced.'
Colin Starsmore Bespoke Tailor
Address: 18 Station Road, Darnall, Sheffield, S9 4JU (0114) 244 0033
£250 – £300 for a suit. Trousers start from £40. Been used for many years by the mod scene. Said he 'definitely knows his stuff'.
Staines:
Robert Tracy Ltd
Address: 127 High Street, Staines, TW18 4PD 01784 451584
Price of a suit is around £400 to £450, but please enquire first to confirm. 'They knew exactly the style I was looking for and when my suit was finished I was well chuffed. It cost me £415 and is worth every penny.'
Sunderland:
Joe Hind
Address: 42 Frederick Street, Sunderland (0191) 5679142
The longest established tailor in Sunderland, also known for making bespoke coats! To discuss requirements, or to enquire about specific items (and prices) call the number provided.
Tyldesley:
Pronto Tailoring
Address: 225 Elliott Street, Tyldesley, M29 8DG 01942 879581
Based 10 miles west of Manchester and opposite Tyldesley Town Hall. Pronto Tailoring has been in business for over 30 years, all suits are made on the premises and a free tour of the tailoring workrooms is available on request. Good tailoring knowledge and knowledge of mod styles. Prices start from £260 for a suit.
Love Modculture? If you enjoy what you read or have benefitted from it and want to
help with the ever-increasing costs of the site and newsletter
, you can always
buy me a coffee at Ko-Fi
. Every penny is helpful and appreciated.