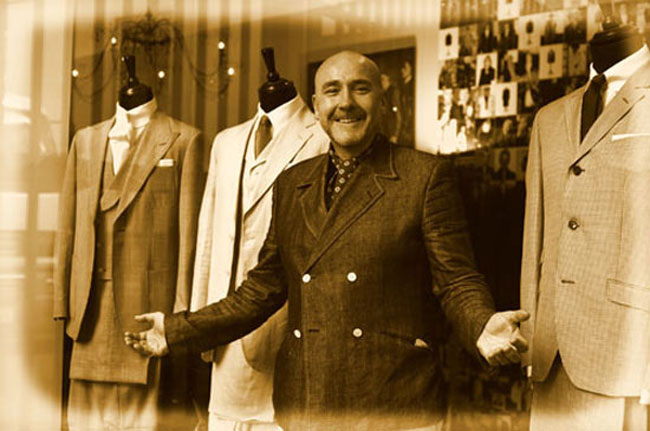 Note that I independently write and research everything in this article. But it may contain affiliate links.
An interview with Mark Powell. The Soho 'face' and tailor to the stars speaks to Jason Holmes about his style influences and why he lives in the historic quarter.
Mark Powell has a glint in his eye and his handshake is firm when he greets me in his Marshall Street shop. As one would expect from a man born in Poplar, east London, he has a no-nonsense attitude. At 50, he remains one of London's most iconic and influential bespoke tailors, having made suits for Mick Jagger, Ronnie Kray, David Bowie and Harrison Ford.
Seated behind a wooden desk on an antique chair, a silk scarf tied around his neck, he sends Shivaun – his number 2 in command – to the Old Coffee House across the road to fetch pints of lager to oil the chat.
'My mother was a theatrical costumier, having worked for Charles Fox, just before and after the war,' he begins. 'My dad was in the textile game. I got this shop [on Marshall Street] for the first time in 20 odd years. Between then and now, I've built up my name having studios and ateliers all around Soho and the West End. Which is phenomenal, I think you'll agree.'
I do. This is the man to whom the great and the good of music and film, not to mention London's underworld, have gone for their suits.
Clearly, Powell is a man who has been a style visionary for a long period of time. 'I had my first pair of Levi's Red Tag when I was 7 or 8,' he says. 'By the time I was 11, I was a suedehead. I'd go down to West Ham at 12 in tight Frenchy jumpers, love beads, long hair parted in the middle. I was dressing like very stylish older guys on the street.
'But I first really excelled in my style as a soul boy in 1975. Music has always influenced me. I love jazz because it is a music that was of the modern era. I love Charlie Parker and Miles Davis. James Brown too. But I was grounded in street culture. I'm an East Ender, and East Enders have always been a little bit edgier if they are extrovert. By the time I was 17 or 18, I drew more on nostalgia. After that, I created anything I wanted.'
When asked what he thinks of how modern London men dress now, he grows terse.
'I get cheesed off when I see the way men dress now. One of the saddest things that has happened is how black guys, who were highly influential in street fashion, have been sucked into this R'n'B loop of bulls**t 'bling'. And gay guys now all want to look like Muscle Marys. Quentin Crisp once said 'When I was young, all I wanted to do was meet a guy who was tall dark and handsome', and now every gay guy wants to be that tall dark and handsome man. They've lost their individual edge.'
When I ask him about his rivals in the tailoring game, he is generous. 'John Pearse I quite like, because he's got a bit of heritage. Chris Kerr is more of the old school, his dad's a very good cutter, great showbiz tailors. But Savile Row is a bit of a farce,' he says, his voice tinged with annoyance.
Powell's very much a Soho man, and he can be regularly seen supping cappuccinos in Bar Italia on Frith Street or holding forth in the Groucho or Blacks.
'I live above Bar Italia on Frith Street. Soho is full of advertising and marketing folk, and these are the people who make up the bulk of my business. I charge between £1,800 and £2,800 for a suit. In business, I trust only Shivaun. She's a wonderful woman. I'd never had a creative team because individual creativity should be respected,' he says, pint in hand. 'The maverick attitude should command respect, but if you say what you want in the fashion game, you're seen as a threat.'
Today Powell is dressed in a double-breasted denim jacket, white trousers and sandals. 'They're cheap sandals,' he laughs. 'Don't photograph them, I only wore them because it's hot today, but I was inspired by the great dressers of the cinema like Cary Grant, James Cagney, and the gangster actors of the 1930s. Speaking of which, there are a couple of British film projects I'm looking into.'
'Such as?' I ask as I polish off my beer. 'There's one I'm trying to work on about a 1950s gangster called Jack Spot. It's a bit like a British Once Upon a Time in America, starting in the 1930s with the battle of Cable Street with the Jews and the Blackshirts, then all the racetrack stuff of the 1940s, then 1950s' Soho. Then there's a film I might be involved with about Freddie Foreman, Jamie Foreman's dad. He was a Kray associate.'
Powell's spirit is infectious. This is a man who loves what he does. I ask him, what with the current royal fervour still lingering post-wedding, if he thinks Prince Charles is the best-dressed man in England.
'No way,' he answers, incredulously. 'The last great royal dresser was Edward VIII. Prince Michael of Kent also dresses very well.'
And what's the biggest error a tailor can make? 'That would be conservatism,' he says quickly. 'Or over-detailing. But remember this: a man should not be without a very good overcoat, one good suit, and one thing that is always overlooked is good accessorising, like watch chains or antique tie pins. They bring a suit to life.'
On his plans for the future he says: 'If I could go in with a heritage brand, I could define my look within that, with brands like Aquascutum or Jaeger, as I did with Marks and Spencer.' In 2007, Powell designed a capsule collection for Marks and Spencer that introduced him to a wider commercial audience.
'But I'd love to go global,' he says after casually mentioning that Paul Weller is in the June issue of Italian Vogue wearing his suits. 'I'm 50 years old, and I don't want to be around here as a bitter old tailor, do I?'
Three pints later and with everyone, including the photographer, flushed by laughter, I ask one final question.
'What's the secret of life?'
He ponders this for a few moments, then smiles at Shivaun before answering in that disarmingly honest way of his: 'You have to believe in what you are, and try and give a lot of love to everybody else. Clothes and tailoring are my passion, but like all passions…they can be self-destructive.'
© Interview by Jason Holmes and also in print at the Soho Clarion
Love Modculture? If you enjoy what you read or have benefitted from it and want to
help with the ever-increasing costs of the site and newsletter
, you can always
buy me a coffee at Ko-Fi
. Every penny is helpful and appreciated.