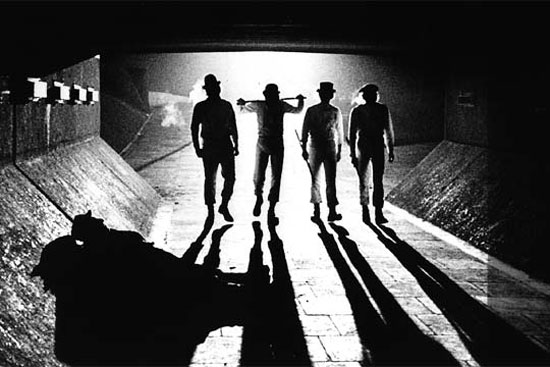 Note that I independently write and research everything in this article. But it may contain affiliate links.
The Scenester checks out a screening of the cult classic at its original location.
The prospect of seeing this troubling moral maze of a film in one its striking settings was so tempting, your pal Scenester fair leapt onto the Piccadilly Line tube at Leicester Square, bound for Uxbridge and the leafy suburb where this vast campus is situated.
The brutalist architecture of many of the University buildings seem perfectly suited to the 'future shock' style of film that A Clockwork Orange is superficially part of, and the sight of an enormous print of the familiar 'mouth of hell' poster, with Alex leering at us, upraised knife in hand, hung like a warning flag on the outside wall of the lecture theatre this screening would take place in.
Sponsored by a household name motor company, 'See Film Differently' did an excellent job with their presentation, securing a Question and Answer session with Jan Harlan, assistant and brother-in-law to Director Stanley Kubrick, together with an exhibition about the film.
After the welcome, where a string section performed extracts from the classical music soundtrack in the café, we were ushered into the Lecture Theatre. This, as the cineastes among you will know, is where the 'Ludovico technique' is carried out on our humble narrator, to condition him against criminal acts by the watching of film material under the influence of nausea-inducing drugs. I felt a little queasy to think that we were about to voluntarily watch a violent film in the theatre where the film's protagonist was forced to watch violent films in the furtherance of medical science. As an aside, Alex's parents' flat block (the Orwellian-sounding Muncipal Flat Block 18A, Linear North) is Brunel's Tower D, and the John Crank building doubles as the Ludovico Medical Facility reception area.
A recently shot introductory word from Malcolm McDowell was more than welcome, and I can report that his white-haired, weathered face still possesses the bluest orbs in Christendom, with apparent independent movement in their sockets.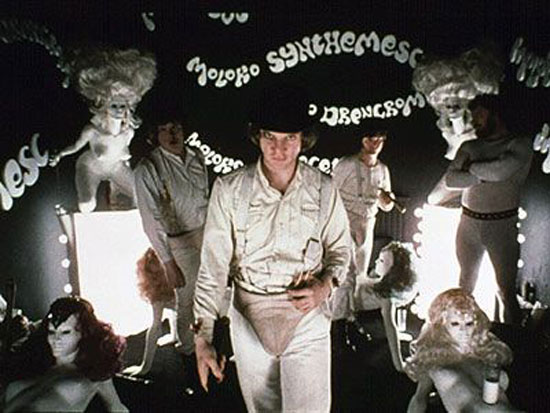 I am sure that the vast majority of you will have seen A Clockwork Orange, but for those of you who haven't, I'll be as succinct as I can. Our 'hero', Alex, (what is his surname? Alex De Large? Alex Burgess?) is a classic young hooligan, from an averagely paid but not poor family, in (or rather, regularly out of) education, who together with his group of similarly inclined 'drugs', stalk the city in search of people to assault, houses to rob and females to satiate their lust upon. The film opens up with an awe-inspiring shot of the bowler-hatted and white-overalled Alex, about to sink a glass of 'milk with knives' (psychedelic drugs, or is it amphetamine?) in the gang's favourite haunt, the 'Korova Milk Bar' where such additives to the drinks are the norm. It sets the scene perfectly, and establishes the style of the film early, where sets are garish, intimidatingly large and decor is loud and brash. Suitably sharpened up by their drugs, they go off into the night, where they encounter their old enemy 'Billyboy' and his gang, who are about to rape an unfortunate girl on the stage of a derelict Opera House. Alex throws wounding insults at Billyboy to provoke him, in the film's characteristic mock-Shakespearian/Biblical speech style.
After the near-lynching of Billyboy's gang, interrupted only by the appearance of the 'Millicents' (Police) outside, the scene changes to perhaps the most troubling in modern mainstream cinema. The gang arrive via their stolen sports car at the remote house of an infirm writer, and pretending they have a friend who has had an accident, gain access to the house and proceed to beat and torture the helpless man and then rape his wife in full view of her husband. The lascivious glee, with which these terrible acts are carried out by the gang, made the film a particular beet noire of the UK press on release, and for many years following. The Press' blaming of real acts of violence by young hooligans on the film was surely what prompted director Stanley Kubrick to withdraw it from circulation within the UK. Its re-release came after Kubrick's death in 1995.
Tensions within the gang develop, and after an argument over supremacy, Alex finds himself betrayed by the gang, and in prison for manslaughter. Alex's troubles only really begin here. His long incarceration prompts him to request he become an early subject of a new conditioning experiment (the 'Ludovico technique') which will ensure his rapid release from jail, at the price of being unable to engage in any future acts of violence. Alex's naivety is touching, as the technique will do exactly that, and rob him of his free will into the bargain. I counted just one swearword in the whole film, which Alex uses when he is nearly blinded with a smashed milk bottle by one of his own gang; 'bastards'. It is a powerful example of 'less is more' in a film which is chiefly remembered for its excess.
After the screening, we were introduced to Jan Lenser, who recalled with obvious fondness his days as an assistant to the perfectionist Kubrick, long hours, punishing workloads and all. Jan told us he moved to UK from his native Germany and was taken by the charm of the British radio shows (presumably Radio 4), which talked about rose-pruning techniques at eight in the morning! Jan answered questions from the floor, the first one being about his first job, not, as one person suggested, as tea-boy for a film studio, but as a teacher. Your narrator asked him about Stanley Kubrick's collection of recorded music (every format imaginable, and on a vast scale) which, I was pleased to hear, has been preserved as part of the wider Kubrick archive. Why A Clockwork Orange? as then asked. We were reminded that the title was writer Anthony Burgess' own choice, Jan felt that it was simply the shocking union of an organic and a mechanical object, although this did strike up a debate, as some audience members recalled hearing the Cockney expression 'queer as a clockwork orange' (i.e. very queer, or strange, indeed).
The exhibition was held in a space on the first floor, and it's for this part of the evening's entertainment that I must offer my congratulations to the team who put it together. A central raised area was decorated with the white, bulbous lettering of the film's 'Korova Milk Bar' scene, advertising such tempting wares as 'Drencrom', 'Velocet' and 'Synthemesc' although myself and Mme Scenester made do with the complimentary, and only slightly less intoxicating, drinks on offer. The orchestra returned for an encore, and we passed around the walls, which were covered with production stills and posters, as well as some good quality photographic copies of rarer posters (like the 'triangles and bodies' poster), which we were barred from photographing, for presumed copyright reasons. Copies of the Stanley Kubrick Archive book were on display, taking in not just 'A Clockwork Orange', but all of Kubrick's films, and if the rest is like the brief glimpse I had, it would be a worthy addition to any cinema fan's shelf. The lateness of the hour and the vagaries of the tube system meant we had to cut short our time at this excellent exhibition.
I'll definitely be looking out for future 'site specific' presentations by 'See Film Differently'.
A Clockwork Orange is available from Amazon for £3.99 on DVD.
Love Modculture? If you enjoy what you read or have benefitted from it and want to
help with the ever-increasing costs of the site and newsletter
, you can always
buy me a coffee at Ko-Fi
. Every penny is helpful and appreciated.