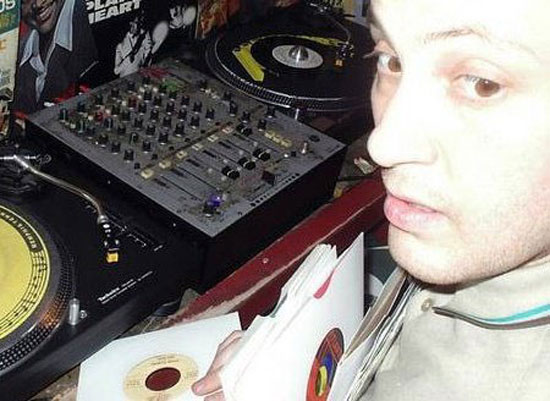 Note that I independently write and research everything in this article. But it may contain affiliate links.
Liam Large, the man behind the Jukebox Jam club night and record label, talks us through both ventures.
1. First off, tell us a bit about yourself as a DJ and collector.
I was a little bit of an odd kid, from the age of around 9 I spent all my pocket money on records – it was enough to buy one LP a month. Firstly it was 60s soul and blues, I still have some of those LPs, Otis, Ray Charles, Elmore James, James Brown and so on… Then I rapidly and hungrily got into hip hop and that naturally gets you into the full spectrum of black music. And it did, more or less.
2. Jukebox Jam mixes live music with a vintage-style club vibe. Where did the idea for the night come from?
I used to (try) to put on nights which covered a broad spectrum of styles and it seemed that not many people shared the same wide appreciation – or maybe we were just useless promoters, possibly a mixture of both! Anyway, it's much easier to put a night across if you narrow the focus down, and I'd been naturally narrowing my own buying habits down to an R&B focus anyway, so it seemed a good idea to start a pure R&B night.
As far as putting bands on, I just thought it would make the night better, break it up and give it more focus. I had been playing a fair few nights which were just dee-jaying, and some of them had started to seem a bit more like mini record conventions, with the rest of the crowd detached from the music and the small collection of nerds playing it in the corner. The bands are a good bridge.
BTW, I've always hated the name itself. My mate Gabe spoke to the venue, they asked for a name and it was the first thing which popped into his head. By the time I had moaned about it, it was already up on the venues web page, it was too late. So that was that, but funnily enough a lot of people remark on how they like it, so fair enough. If I'd been left to my own devices I probably would have thought of something too clever clever with references nobody would get, so just as well to have something so direct, or obvious I spose.
3. You've got the Jukebox Jam label now, how did that come about?
I've been working for Jazzman for quite a few years now, doing sleeve notes, research, the odd bit of design and so on. I wanted to do some RnB reissues, it seemed at the time that the area wasn't too well covered. It was also an obvious move to get Jazzman to put them out, seeing as how he is set up for it all, probably better than anyone else. Gerald wasn't too sure at first – would there be enough people interested and so on. He's sold on it now though, since they've all moved quickly so far.
4. Give us an overview of the releases so far, if you can.
I had the idea for the first single in place for about 2 years before we finally got it out. The Rose Mitchell is just such an amazing record, I knew that it would appeal to all kinds of people, and therefore be a good one to establish the label. The fact that the 45 issue is so rare and also poorly pressed meant that it might appeal to record collectors too – my peers I guess, and as such people who generally stay away from reissues. The same with the follow up, the alternate version of 'Pneumonia' hasn't been released on a 45 before. In terms of only releasing unreleased stuff, it would be impossible to keep that up for every release, but I did want to send a message out to collectors and DJs that these wouldn't just be opportunist reissues. Similarly, I didn't want to do lookalike repros, but do original artwork etc which references the era directly, much like the posters for the night I suppose. Between me and Gerald, we couldn't decide on a name, so he came up with the idea of having a different name and design for every release, which certainly gives me a lot more work to do!
5. How have sales been? Have you found that there's a significant niche for these releases in 2010?
Well, we are doing limited runs of 500 so there has been no danger of them hanging about, really. We could press and sell more, but I think it's better in the long term that your records aren't lying around in every record shop and all over the internet. If people know that it's going to be gone within a month or so they tend to buy it quicker.
6. How easy is it to license the tunes you want to release? Is there anything you've been unable to get hold of?
It's a mine field and the answer is that some are straightforward, but the majority aren't at all. Even establishing ownership is difficult with smaller labels. Then finding a contact can be harder still. With R&B, because we are talking about very old recordings, any label with a significant output is likely to have changed hands a number of times over the years. Many are now owned by the majors, having been acquired in bundle deals years ago. This presents its own problems as they really aren't interested in our paltry license fee. It's a travesty really, as many of these companies are sitting on a lot of material and have no interest in doing anything with it. In fact, in many cases they aren't even aware they own it – sometimes you have to convince them, and even then they don't want to take your money because it isn't a significant enough deal.
But anyhow, one of the main reasons I did this with Gerald at Jazzman is because he has all the experience with these matters. I've seen through working with him on various projects that you can find almost anyone if you persist. But even with Jazzman, where we probably do the most reissue 45s out of anybody, we still run up against the wall with some of the majors.
7. All the releases so far have been vinyl 45s – is there a bigger plan for maybe albums in future?
There will be a CD compilation at some point, hopefully this year, but in terms of vinyl it will probably be 45 only, unless there is maybe a call for a particular look at one artist / label etc. For the moment, I want to crack on with the 45s.
8. Anything you can tip us off about for future releases?
Not really I'm afraid! For a few reasons – one that I'm quite indecisive and keep changing my mind. Secondly, we have to be aware that other people might be thinking about putting stuff out, so I don't want to be working on things only to see that someone has got to it before us, or just booted it. Whatever it is though, I hope to keep it interesting, not too predictable. Obviously, we have to put out stuff that I think we will sell, but I also want to put out things which might not be the most obvious choices. I guess a mixture, really. All good RnB and related though.
9. How do you view vintage R&B right now? Is there still much to dig out or could the bubble be about to burst?
For me personally, it still seems like there is a ton of stuff out there to discover. It also depends on your tastes – I have no problem going further back than '56 for instance, I don't have a cut-off sound-wise and I like the purer blues and more rocking sides along with the popcorn style and early soul sounds that are popular with the mods. Plus there are the white band tie-ins, instrumentals and all kinds of other stuff – the amount of material recorded during the 50s and early 60s is immense, everyone was at it and the lines between genres hadn't been so firmly defined.
10. Finally, how do you view the current state of mod/soul/R&B clubs either in London or generally in 2010?
I think the general health is a little better than it was a couple of years back. I know some people will probably disagree but then some people just like to moan. In terms of pure mod nights, maybe there are less 'branded' do's just now, but I think there are probably more quality music nights in general. There are decent ska and rocksteady nights, there are good 60s soul clubs, the garage side of things is well covered and then there are RnB nights such as ours.
One thing is that you have to know your limits and there are a few good nights in little, intimate venues now. The mod scene and in general the audience for this kind of music is not big so there isn't much point in booking massive venues. Fill a small room with a good crowd that is more or less of your own making and you will have a good atmosphere, which is really the making of any night. In truth Peter Parkers is just a little too small for the night, but we will stay there for the time being as it's better to have somewhere too small than too big. Especially as the bar take is never enough for venue owners regardless. And besides, I definitely prefer smaller rooms.
Over the past couple of years I've noticed a fair few people putting on 'retro' or 'vintage' themed nights, which means that there must be a wider appetite even if many of them look a little scattershot and maybe 'fly-by-night' in their approach. But if some people are latching on, perhaps 10% of these newcomers are keepers, and it's important to attract these people. The challenge for us and other people doing proper music based nights is to assert ourselves as being a little bit better than some of the more, should I say, 'opportunist' nights about, and the only way to do that is by getting a good number of people along who are properly into it, not just out for a 'retro fancy dress party' or what have you. I don't mean everyone in attendance has to have a big record collection – lord forbid – but a good proportion should have a working understanding of why they are at the club in the first place, otherwise what's the point?
Jukebox Jam 45s at Jazzman Records
Love Modculture? If you enjoy what you read or have benefitted from it and want to
help with the ever-increasing costs of the site and newsletter
, you can always
buy me a coffee at Ko-Fi
. Every penny is helpful and appreciated.