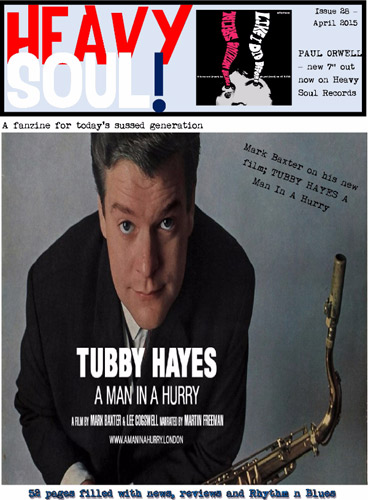 Hot off the press (well, almost) is issue 28 of the Heavy Soul mod fanzine.
In April's edition you will find interviews with Mark Baxter​ on his new film about Jazz legend Tubby Hayes (more on that on this site too), DJ David Edwards​, Dirty Water Records​, Paul Orwell​, Ed Silvester​ (on life as a mod in the early '80s), Dizzy Holmes​ of Detour Records, Gareth Atkinson​ from Track Records on the new 7-inch by The Interns and The Mourning After too.
You will also find articles on John Fred, The London Modernist Literary Event by Jon Marsh, The Mike Stuart Span, Garage band The Bare Facts, Italian singer Brunetta and much more – along with a CDR featuring 20 tracks, which are listed below.
You can get it directly from the folk behind it, priced at £5.50.
Find out more at the Rowed Out website
CD tracklisting:
1. TUBBY HAYES – Voodoo
2. NINA SIMONE – African Mailman
3. SILAS HOGAN – Just Give Me A Chance
4. JAMES BROWN – Hold It
5. IKE TURNER – The Groove
6. SLIM HARPO – Don't Start Crying Now
7. LITTLE WALTER – You Better Watch Yourself
8. JOHN FRED & THE PLAYBOYS – Boogie Children
9. THE STANDELLS – Dirty Water
10. THE BARE FACTS – Bad Part Of Town
11. CLIFF BENNET & HIS BAND – Take Your Time
12. BRUNETTA – Baluba Shake
13. THE GRAHAM BOND ORGANISATION – Wade In The Water
14. MANFRED MANN – Don't Ask Me What I Say
15. JOE BATAAN – Continental Square Dance
16. THE VELVELETTES – A Bird In The Hand
17. THE VALENTINO'S – Sugar Dumpling
18. PRINCE BUSTER – My Sound That Goes Around
19. DEREK MORGAN – Hold You Jack
20. ERROL DUNKLEY – Please Stop You're Lying