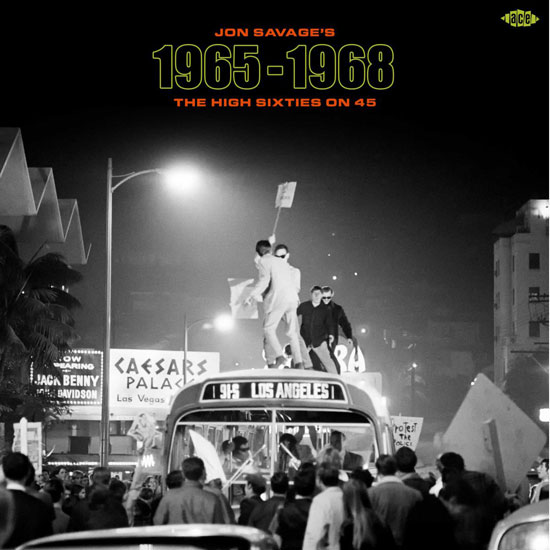 Past releases have been on CD, so Jon Savage's 1965-1968 double vinyl set by Ace Records is something of a treat.
Since 2016, author Jon Savage has collaborated with Ace Records in a 'mapping' of the mid-to-late 60s in terms of 45rpm singles. The collection started with a two-disc set of 1965, gradually working through until 1968 over subsequent double CDs – 96 songs in total.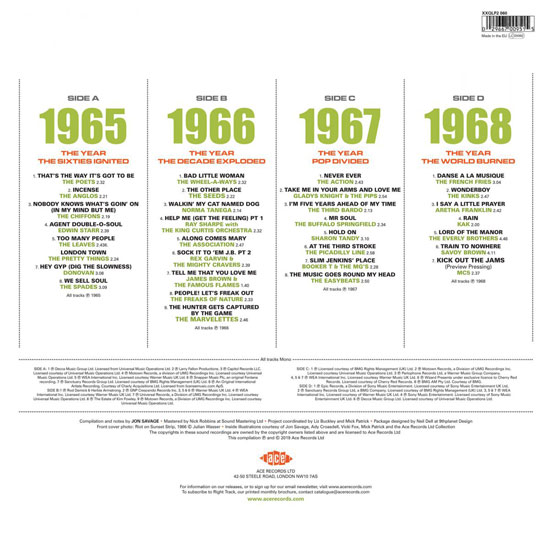 The sets were too big to release on vinyl, as they would have required a triple album for each. So instead, Ace Records has compiled a selection of highlights over a two-disc vinyl set.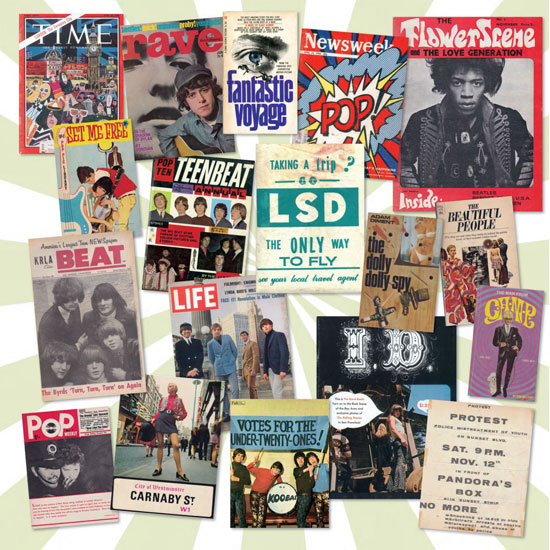 One year per side, beginning in early 1965 and ending in very late 1968, with the idea of giving a 'flavour' of each CD compilation, and an idea of their reach across the two albums.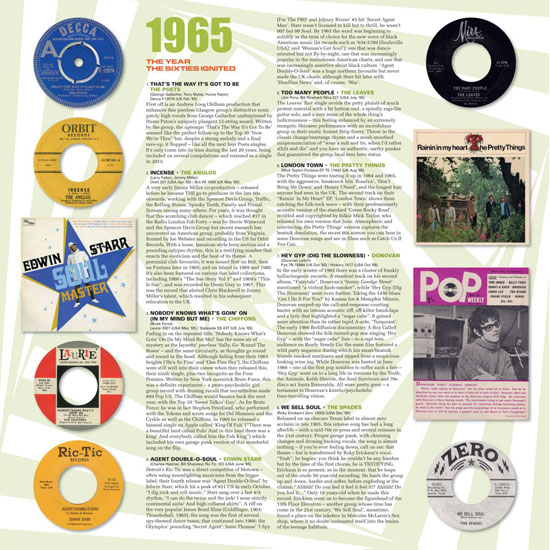 You'll also find songs that have not been released on any official vinyl album before, including the single version of 'Rain' by Kak, the overdubbed 'People! Let's Freak Out' by the Freaks Of Nature and the preview pressing of the MC5's 'Kick Out The Jams', to name but three.
Pressed on 180g orange vinyl and housed in a heavy-duty gatefold jacket, with 'copiously illustrated' track notes on the inner bags, it is available to pre-order now ahead of 28th June release date, priced at £27.62.
Find out more at the Amazon website
Track listing:
Side 1
That's The Way It's Got To Be – The Poets
Incense – The Anglos
Nobody Knows What's Goin' On (In My Mind But Me) – The Chiffons
Agent Double-O-Soul – Edwin Starr
Too Many People – The Leaves
London Town – The Pretty Things
Hey Gyp (Dig The Slowness) – Donovan
We Sell Soul – The Spades
Side 2
Bad Little Woman – The Wheel-A-Ways
The Other Place – The Seeds
Walkin' My Cat Named Dog – Norma Tanega
Help Me (Get The Feeling) Pt 1 – Ray Sharpe with The King Curtis Orchestra
Along Comes Mary – The Association
Sock It To Em JB Pt 2 – Rex Garvin & The Mighty Cravers
Tell Me That You Love Me – James Brown & The Famous Flames
People! Let's Freak Out – The Freaks Of Nature
The Hunter Gets Captured By The Game – The Marvelettes
Side 3
Never Ever – The Action
Take Me In Your Arms And Love Me – Gladys Knight & The Pips
I'm Five Years Ahead Of My Time – The Third Bardo
Mr Soul – The Buffalo Springfield
Hold On – Sharon Tandy
At The Third Stroke – The Picadilly Line
Slim Jenkin's Place – Booker T & The MG's
The Music Goes Round My Head – The Easybeats
Side 4
Danse A La Musique – The French Fries
Wonderboy – The Kinks
I Say A Little Prayer – Aretha Franklin
Rain – Kak
Lord Of The Manor – The Everly Brothers
Train To Nowhere – Savoy Brown
Kick Out The Jams (Preview Pressing) – MC5