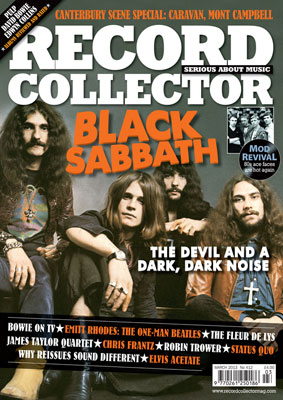 The Black Sabbath cover might not be your cup of tea, but the mod revival feature in this month's Record Collector just might be.
It's a feature looking at and talking to some of the bands of that era – The Chords, Purple Hearts, Secret Affair and the Lambrettas. Here's the opening words from it (you'll have to buy it to read the rest):
Maybe Yesterday, Definitely Tomorrow
The late-70s mod revival was seen as the most exciting thing since the big bang. Then, when new romantic came along, it was mocked as too retro. But the stock of The Chords, Secret Affair, Purple Hearts, Lambrettas and other bands is on the rise once more, because these sharp-dressed lads really did have something to say. Tim Peacock talks to their generation.
During 1977's self-styled summer of hate, the idea that a full-blown mod revival was only two years away would probably have been laughed out of existence in most quarters. Nostalgia for the 60s was redundant in punk's "Year Zero" and, as The Clash's Joe Strummer famously barked, "No Elvis, Beatles or The Rolling Stones" would now be tolerated.
Out in suburban Surrey, however, The Jam's youthful, capital-centric frontman Paul Weller had a different slant on the young idea. In 1975, captivated by the energy and attitude of The Who's debut LP My Generation, he'd steered his band towards the sharp mod-style look of the mid-60s. The group's live set of incendiary originals was interspersed with covers of old Who and US soul numbers, while both their image and record sleeves bore mod touchstones such as Rickenbacker guitars, Union Jack suits and pop art painting as their popularity swelled across 1977-78.
The 60s mod ideal hadn't entirely perished alongside swinging London, but during the early to mid-70s, it was mostly left to the stalwart scooter clubs in the north of England and the northern soul scene to keep the flame alight. Yet as punk's first wave receded in 1978 after the Pistols messily imploded and The Clash grappled with Give 'Em Enough Rope, The Jam's success in forging something new and exciting from both the contemporary energy of punk and the streetwise mid-60s mods struck a chord in teenage bedrooms the length and breadth of the UK.
"I was fascinated by 60s culture and the whole mod thing, it was sort of an entrée to punk for me," recalls …
On top of that, there's an interview with The Fleur De Lys, with an interview with drummer Keith Guster. So well worth checking out – it is on the shelves now.