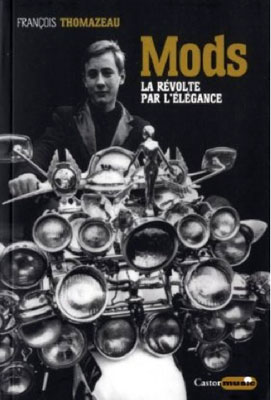 We are pointing out Mods: La révolte par l'élégance by Francois Thomazeau and Darren Tulett, but we're also asking for information on it. Feel free to leave a comment about the book if you know more than us.
There's every chance you do. First off, thanks to Mischa, who saw it listed on Amazon. We've never seen it or heard about it prior to that, but a bit of research found a blog post, which gives us the following (translated) details:
MODS, The Revolt of the elegance of Francois Thomazeau is out!
Paperback, 177 pages, foreword by Darren Tulett, we begin with the chapter 'precursors' and ending with 'Modernism has a future' through all the themes of culture MOD: music, fashion, film, literature, revival, scooters.
Some photographs and interviews scattered throughout the book and end  bonuses, small Discography and Bibliography.
The perfect book to offer his young nieces and nephews to start a french umpteenth revival.
From that, you can assume it's written in French, so perhaps only for completists and anyone who has a good reading knowledge of the French language. As we said, if you know more about the book (aside from the familiar cover shot), do let us know. If you want to take a chance on it, it is published by Le Castor Astrol and available via Amazon in the UK for £9.45.
Find out more at the Amazon website