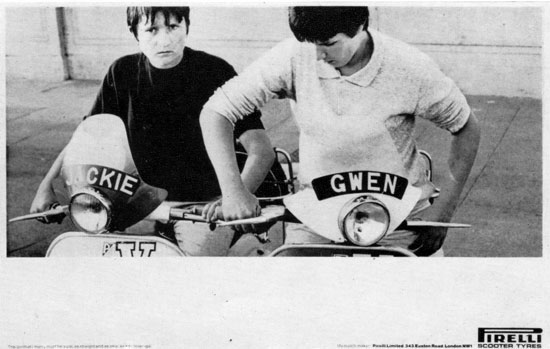 A few images from 1964, when these 1960s mod-themed Pirelli scooter tyres adverts ran in the magazines.
The images were created for Pirelli by the Dorland agency, with the photos taken by James Mortimer, quite obviously cashing in on mod's height and the hipness of the scooter at the time.
The first two images are the clearest we have, with the second two here despite the quality. Hopefully, you get the idea from them though. The final two are from a campaign showcase at the time, showing off all the images from the ads.
You do wonder whether the originals still exist. The agency still seems to exist, although it looks to have subsequently merged. Maybe Pirelli has them? Whoever does have them, be nice to see the images in all their glory once more.
As a footnote, if these images infringe anyone's copyright, we will happily remove the shots from the site.